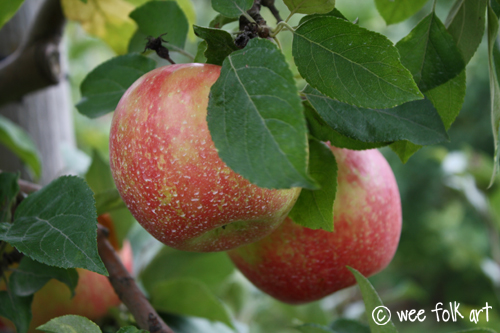 We skipped ahead a week… but I know everyone else is jumping around a somewhat too. We were a bit behind on some of our apple activities so I wanted to keep that theme going. Also, our leaves are also just finally coming into full color. So next week will be a better week to gather pretty leaves to go along with the Leaf Man story and I'm really looking forward to the stained glass project. It adds such pretty color to the house.
This week we made our Apple Prints. We only had one apple left in the house and the kids were not happy that they couldn't eat it after we used if for the prints. We are going to try and sneak in another apple picking trip this weekend if we can.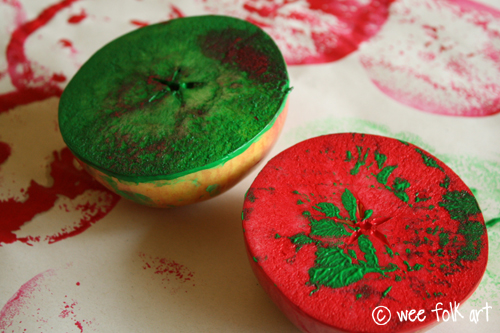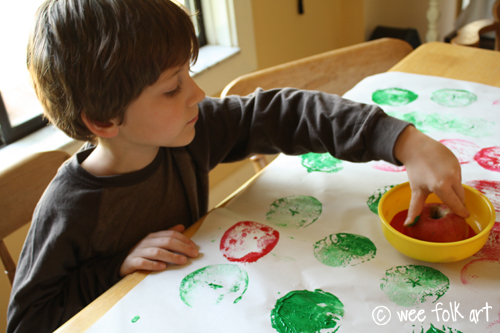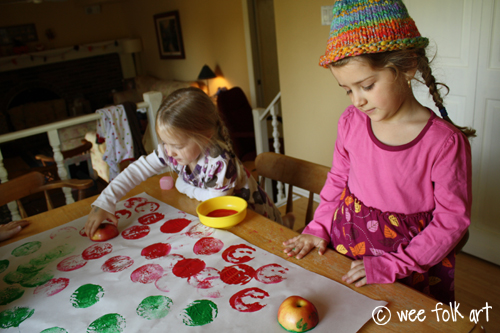 ---
This week we are working on Week Eight of our Harvest Time unit. I will be posting a weekly update to give everyone a space to chat about the program. If you would like more information about the program you can learn more and download the free homeschooling curriculum on our Harvest Time page. All of the directions for the art projects, recipes and activities are included in the curriculum guide. If your family is participating in the Harvest Time curriculum either for homeschooling or after school enrichment we would love to hear about it! Please leave a comment in this post in regards to your experiences with Harvest Time's Week Eight activities. You are welcome, and highly encouraged to leave links to your Harvest Time's Week Eight blog posts or pictures in the comment section of this post.
Harvest Time Week Six
Primary Book: Seasons of Arnold's Apple Tree
Enrichment Book: How Do You Know It's Fall?,
Activities: Quilt Block,
Field Trip Idea: Orchard,
Art: The East River,
Poem: Little Boy Blue,
Flower Fairies: ABC Review
Links from Our first time completing the Unit…
Autumn Tree Nature Study
If your family is working on the Harvest Time curriculum either full time or just for some family fun enrichment, you are welcome to add the Harvest Time button on your website. You can save the button to you computer and upload as a photo to your site (you may want to link it back to the Main Harvest Time Page http://weefolkart.com/content/harvest-time-preschoolkindergarten-curriculum) or just copy the green text below and add it to you site.

<a href="http://weefolkart.com/wp-content/uploads/archive/harvest-time-preschoolkindergarten-curriculum"><img src="http://weefolkart.com/wp-content/uploads/archive/harvest-time-button.jpg"></a>