NOTE: Wee Folk Art is on vacation for the next week as we head to Wisconsin to see The Little Lady… and her mommy and daddy, of course 🙂 We will have lots to share when we return. For those of you new to our site in the past year or two, we are resharing our links to our Leprechaun crafts and stories. Hope you enjoy 🙂 I will be checking emails so if you have any questions, comments or concerns, I will be available. Have a great week, and see you back here on Wednesday, February 29… YAY! Leap Year 🙂
Last year we shared the goings on in the Gnome Thicket when the leprechauns came for a visit. If you are new to Wee Folk Art, you'll want to check out the crafts and the stories. Poor Britta was beside herself. Below is a list of links in the order that they were shared last year.
And, if you have been missing hearing stories from The Thicket, not to worry. There is going to be a wedding there this summer and you are all invited! More info to follow!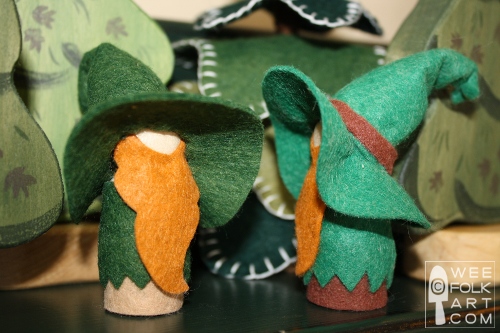 The Leprechauns have returned to The Thicket. If you dare, you can make your own leprechaun… but be warned, Wee Folk Art accepts no responsibility to the havoc they may wreak! An introduction to the gnomes and directions for making your own can be found HERE.

Ever since the Leprechauns returned to The Thicket, Britta has been noticing a few oddities. Jackets and shawls disappear and reappear, the order of the shoes lined up by the backdoor get rearranged, and her bookmark gets moved nightly. Whenever Britta complains to Axel about the leprechauns, he shrugs and chuckles. "No harm done", he always says.
Find out what happens when the pranks affect Axel's breakfast and learn how to stock your gnome's own larder HERE.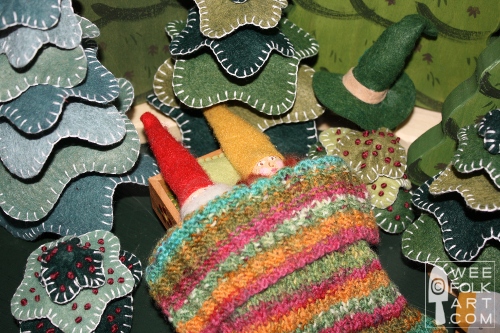 Found out why Britta and Axel are sleeping in the middle of The Thicket and learn how to knit this cozy blanket HERE.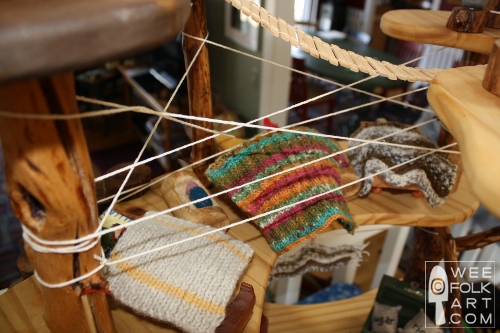 Throughout the day, you could hear Britta mumbling… "Eight more days, just eight more days." Read about the leprechon's latest prank HERE!

No one was more surprised than Britta when she awoke St. Patrick's Day morning rather sad to think that the leprechauns would be leaving today. Expecting a final prank, she was delighted to see find a beautiful rainbow banner, and below it, a pot of gold… golden honey that is. Read about Britta's morning adventure and find the directions for the rainbow banner and the pot of honey HERE.