Today, I would like to give everyone an update on our Simple Seasons Homeschool Companion units. This past fall we began updating the units to clean up some typos (okay, lots of typos), replace out of print books, create craft supply lists, and make them available in nicely printed or tablet friendly formats.
We love how the Harvest Time Second Edition turned out and have been slowly working on the other units. In case you missed it, the Winter Wonderland Second Edition was recently completed and is now available through MagCloud as well. These new editions can be purchased two ways, in a bound printed format or a tablet friendly, downloadable format. The original editions, that we have had on our site for years, are still available online for free as is. We hope to have Spring Bs Second Edition available in a few weeks. Spring Bs is undergoing the biggest changes of any of the units, so you will be seeing several new projects for the Spring Bs unit on the blog, over the next several weeks. And by popular request, we are already working on getting the Puddles & Ponds unit together in the same format. We can't wait to have the whole collection updated!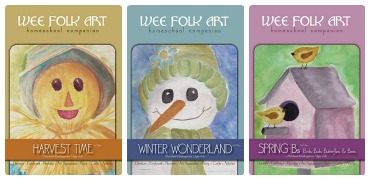 In the process I have also been working on setting up an Amazon store for all the books used in the units. Although it is still under construction, hopefully it will make sourcing your books even easier. Check it out here http://weefolkart.com/content/homeschool-companion-store.
Working on these units brings back so many fond memories for me. Simple Seasons was a wonderful way for our family, and many families since, to begin our homeschooling journey. If you are thinking about homeschooling or would like to add some meaningful family activities to your child's day, check out our Homeschool Companion series Simple Seasons.