(First photo on Wee Folk Art)
In some ways it is hard to believe Wee Folk Art is 3 years old. Three years… wow. We certainly had no idea of where or what Wee Folk Art would become when we first started. Here is our initial Welcome, posted on July 29, 2008.
No matter how you happened to stumble upon this blog you are most certainly welcome! This blog is written by a mother/daughter team. Although our personalities and personal style differ, we hold true to the same values. Family and home, crafting and creating, guide us through our days. The purpose of Wee Folk Art is twofold. First, we hope to share arts and crafts that enhance the lives of children and beautify the home. Second, we will share our family's creative adventures and exploration of the natural world. We are ever conscious of the environment and how our actions impact it. We generally use all natural materials and believe, especially with children, homemade is best and less CAN be more. (Okay…this does not apply to the stashes in our craft rooms!) We hope you make a point of stopping by often, and not only do we welcome, but encourage your comments and feedback. The plan is to offer free monthly patterns and sell a limited number of kits and finished products, as time permits. A monthly give away will give you a chance to win our latest kits! So, once again, welcome. We are a work in progress. Be patient and vocal! Watch us evolve!
So… we have held true to most of this with a couple exceptions. First, we certainly offer more than 1 FREE Pattern a Month, I think we average 2 a week, and second, we do not sell kits, nor do we seem to find the time to create projects that we can sell. But all in all, Michelle and I are very proud of our site and are thrilled with the friends we've made over the years. As a group, you continue to challenge us through requests and encouragement. We love what we do, and it makes it more joyous because we are able to share with thousands of readers each day.
Some of you have been with us from the beginning, following us from the other blogs Michelle and I hosted. Others are spankin' new, with the numbers growing everyday. We are grateful for each and every one of you and hope to continue doing that thing we do for a long time 🙂
So, here's a few trivia questions:
What was the first tutorial we shared? Click HERE for the answer.
Where do our gnomes live? Click HERE for the answer.
What was the first edible recipe we shared? Click HERE for the answer.
What was our first applique block? Click HERE for the answer.
What tutorial is most frequently visited? Click HERE for the answer.
Who are you guys? Click HERE for the answer 🙂
To celebrate our anniversary, as is the blogging community's custom 🙂 we are having a giveaway. What better way to celebrate than to give a little Wee Folk Art Gnomey Love away? We've had a Cafe Press account for the past year and have many readers that surround themselves with Wee Folk Art "stuff". One of the most common suggestions we've had, however, was to expand our wares beyond the organic line that was featured. The organics are more expensive, and the selection was limited, so, we've added many more products to the store to hopefully meet everyone's needs for gnomes!
To celebrate our Third Anniversary, two lucky winners will receive a Wee Folk Art mug… brimming with gnomey love 🙂 Anyone can enter.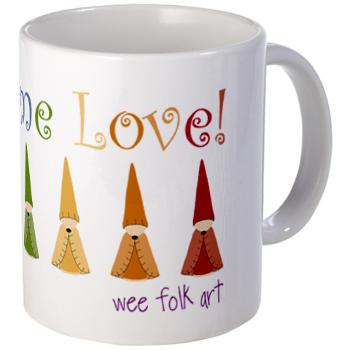 To enter, simply visit Wee Folk Art's Cafe Press Shop, look around, then come back here and tell us what your favorite item/s are in our comments. Wouldn't hurt to give us a big hug, too! (Doesn't better your chances of winning, but it will make us feel good :)The contest will run from today, until Monday, August 1, at 9:00 p.m. EST. The winners will be drawn at random then have 1 week to contact us with their snail mail address or a new winner will be drawn.
You know you want to wake up each more with your hands wrapped around a mug covered with sweet gnomes:) And, again, thanks to one and all for your love and inspiration. We wouldn't be doing this without you!