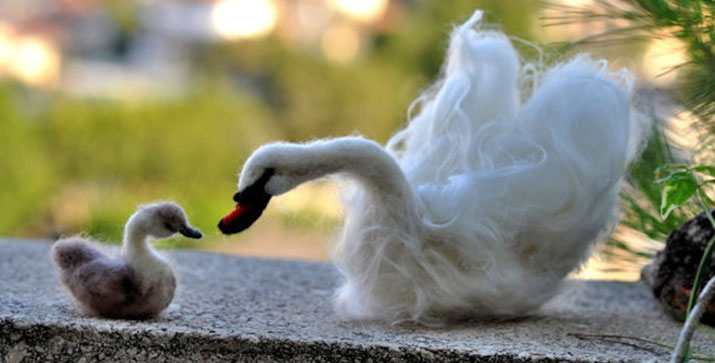 Comments are now closed. Congratulations GetYourGoat! please email me your contact information within 3 days to claim your prize.
COUPON : 10% Off all orders through 1/15/15 use code WEEKEND.
Sponsor: Art of Felting Needle Felted Wool by Daria Lvovsky
Give-Away Date: Saturday, January 10, 8am EST – Monday, January 12, 8am EST
Number of Winners: 1
Prize: A beautiful needle felted set of a mother swan and an ugly duckling. Click here for more details.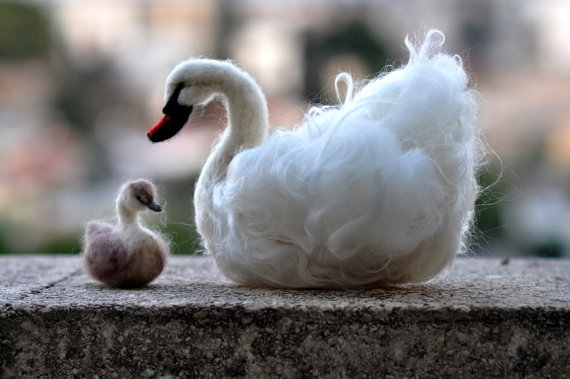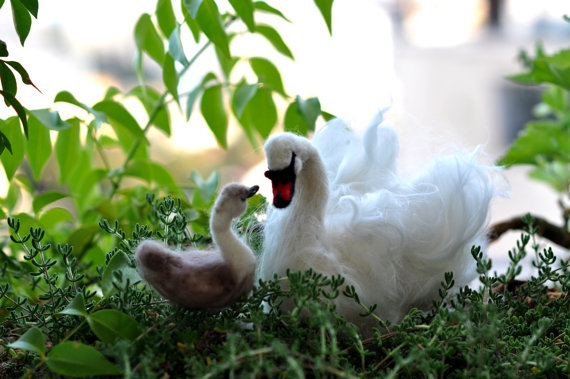 How to Enter: Check out Daria's amazing work by visiting Art of Felting and then come back and leave a comment HERE (in this post) letting us know what were some of your favorite pieces.
Optional Additional Entry: For a second chance to win, LIKE Art of Felting on Facebook then come back here and leave a second comment letting us know that you did. If you already LIKE Art of Felting on FB, that works too. (Please note: If your second post is too short or comes too quickly after your first post, it might be tagged as SPAM. Take an extra moment between posts and be sure to add enough text).
Limit: Two Entries per person please.
Announcing the Winner: Comments will be closed on Monday morning around 8am EST. One winner will be chosen by random number generator and will be announced IN THIS POST on Monday morning. If you are a lucky winner, please send us an email with your contact and shipping information. You have one week from the time of the announcement to claim your prize or a new winner will be selected.
International Information: Everyone may enter including our International readers.
Coupon: 10% Off all orders through 1/15/15 use code WEEKEND.

I aspire to share my enthusiasm for the beautiful way of the Waldorf education which enhances the flow of loving communication between children and their parents and caretakers. My creations are inspired by this wonderful way of life that my three daughters are experiencing which is very different from the way I experienced my life before I knew of the Waldorf ideals. I bless each creation that I make with the prayer that it will bring happiness and gentleness to people and their children throughout the world.
I believe we can make a difference and help humanity. and therefore our entire world, if we spread the Love and Gentleness everywhere we can.
I hope you will enjoy my creations as much as I enjoyed making them and join me to make our mutual prayers reach our globe and heal our world.
As of today, my creations have reached people in the USA, Germany, Ireland, England, Australia, Norway, Japan, Switzerland, France and Canada. Some of these creations were purchased by kindergardens and schools, so I believe many children enjoy them.
The inspiration for my work come from beautiful images that have captured my imagination and from personal requests of my customers throughout the world who have asked for custom made orders. You are very welcome to brouse through my shop and see the imagination and inspiration of myself and others who have enjoyed these items.
You are welcome to use the below link to see all my creations so far. You may contact me if you wish to receive a creation which does not appear in my shop.
http://www.flickr.com/photos/40350601@N07/
Wishing you all the joy and blessings that will fill your heart,
With love, Daria Lvovsky