After you're done cutting and sanding the All Natural "Building" Blocks, it's time to paint. Although you can paint your blocks with any non toxic paint, I adore milk paint for several reasons. First, I love the colors. They are soft and muted, and have an old world quality to them. Next, they come in a powdered form that you mix yourself. The dry powder can last indefinitely if kept in an airtight container. No worry about your paints drying out. (Once you mix the paint with water it should be used at once but can be kept in the fridge for a couple of days.) Another wonderful characteristic is the ease of controlling how opaque the paint is by how much water you add. On the blocks I like the look of a "white wash" so I keep my paint rather thin. Another great feature of milk paint is how quickly it dries…basically in minutes! Finally, milk paint is all natural and non toxic! What could be better?
I bought a sampler pack of milk paint from Gallagher's Milk Paint. I was able to pick out 10 different 1 oz. samples. To make enough paint to cover 4 or 5 blocks I mixed 1/2 teaspoon of the powder with 3/4 teaspoon water. Read directions for exact prep technique. When you apply milk paint, use a sponge brush and small amounts of paint. Work the paint into the wood with a back and forth motion following the grain of the wood. I wanted a "white washed" look so you can see the grain, but if you prefer a solid cover, use a little less water in your mix.
1] Mix paint as directed. Paint the base, and 4 sides of the building. Let the paint overlap slightly onto the roof. You'll be painting the roof black and it will cover any other paint color. By overlapping you'll guarantee that all the raw wood is covered.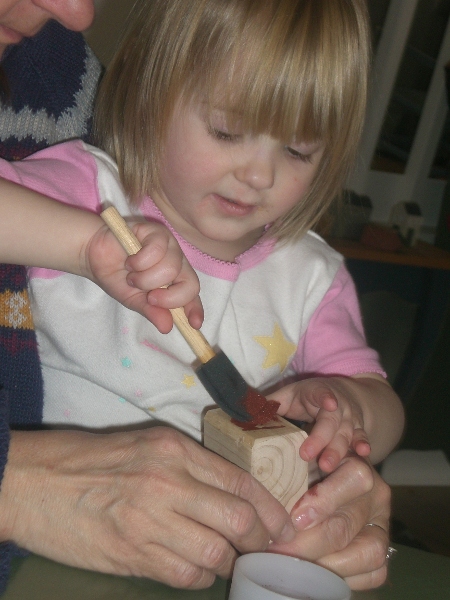 2] Using black paint, paint the two sides of the roof. Allow to dry completely before adding the finish.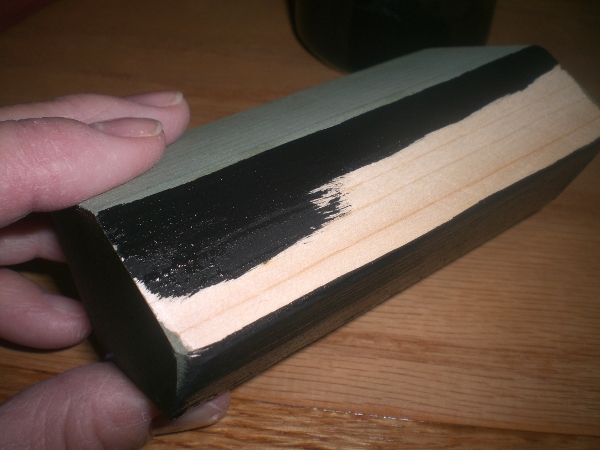 If you would like more detail, like windows and doors, add those now. Tomorrow we will complete the building blocks by sealing them with a non toxic finish you can make at home.