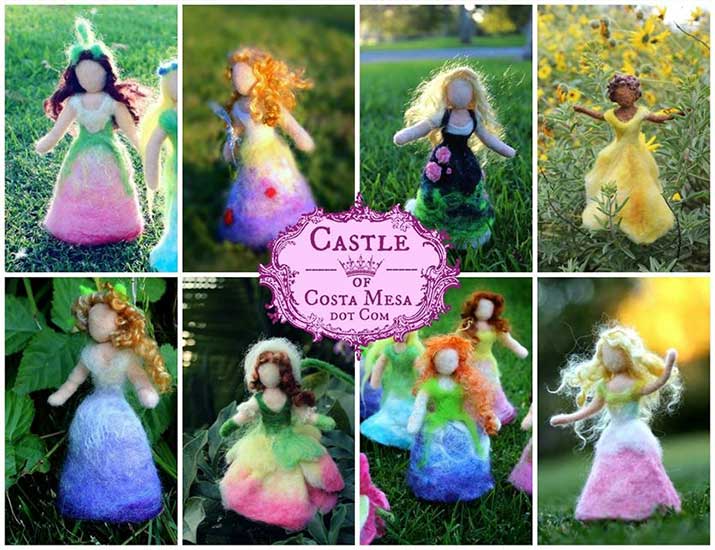 Comment are now closed. The winners are First Place Rachel Soumokil and Second Place Julie. Please email me within 3 days to claim your prize.
15% off sale from Saturday May 23 – May 27, 2015 with coupon code WEE15FOLK
​FIRST PLACE WINNER :: $50 Gift Card :: Rachel Soumokil
Giveaway

Submitted by

Rachel Soumokil (not verified)

on Sat, 05/23/2015 – 13:35

If I were to win the giveaway, I would get Mrs. Thaw for my daughter's 2nd grade teacher. She looks JUST like her teacher and the school she attends is a Waldorf-inspired charter school. I'm so glad that I found your etsy page through wee folk art. 😀 Everything is gorgeous!
SECOND PLACE WINNER :: $10 Gift Card :: Julie
Added to favorites;)

Submitted by

Julie (not verified)

on Mon, 05/25/2015 – 10:28

added to favorites on etsy!
​Earlier this week we share wet felted Toadstool House tutorial written by guest blogger Jzin Teng. This weekend we have a lovely give-away sponsored by Jzin Teng of Castle of Costa Mesa. This give-away will be running an extra day due to the holiday weekend. This gives you even more time to explore this lovely shop. Also note that Jzin is offering an additional entry for her give-way if you Favorite her ETSY shop, so be sure to read about the entry options.
Sponsor: Jzin Teng of Castle of Costa Mesa
Give-Away Date: Saturday, May 23, 8am EST – Tuesday, May 26, 2015, 8am EST
Number of Winners: 2
Prizes:
First Prize $50 Castle of Costa Mesa Etsy shop gift certificate to pick a flower fairy (or anything else)
Second Prize $10

Castle of Costa Mesa

Etsy

shop gift certificate
How to Enter: To enter, visit Castle of Costa Mesa and check out all the amazing wool felted artwork and playscapes made by Jzin. Then come back and leave a comment HERE (in this post) letting us know what you would buy if you won.
Optional Additional Entries: For a second chance to win, add Castle of Costa Mesa to your ETSY shop favorites. Then come back here and leave a second comment letting us know that you did.
You can enter a third time if you LIKE Castle of Costa Mesa on Facebook. Again come back and leave a comment here in this post letting us that you did.
If you already LIKE Castle of Costa Mesa on FB or ETSY, that works too, just leave a comment letting us know. (Please note: If your second or third post is too short or comes too quickly after your first post, it might be tagged as SPAM. Take an extra moment between posts and be sure to add enough text).
Limit: Three Entries per person please.
Announcing the Winner: Comments will be closed on Tuesday morning around 8am EST. The winners will be chosen by random number generator and will be announced IN THIS POST on Tuesday morning. If you are a lucky winner, please send us an email with your contact and shipping information. You have three days from the time of the announcement to claim your prize or a new winner will be selected.
International Information: Everyone may enter including our International readers.
Coupon: 15% off sale from Saturday May 23 – May 27, 2015 with coupon code WEE15FOLK
​
---
About Castle of Costa Mesa
Castle of Costa Mesa, Jzin works with wool felt to create stunning Wool relief paintings with fairy tale and guardian angels themes.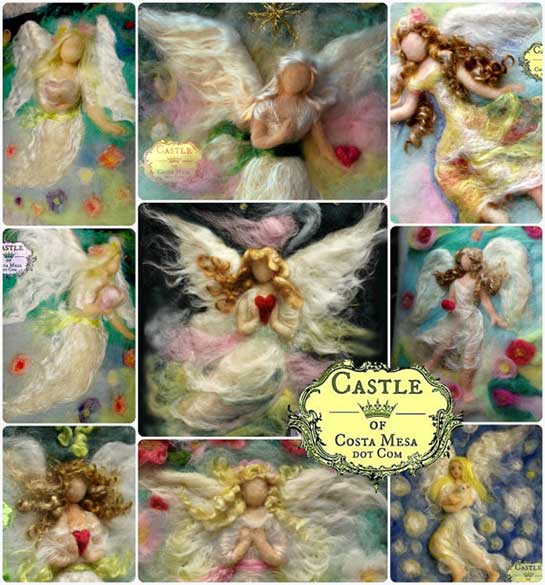 She also makes fairy tale dolls such as mermaid/mermen/merbabies/merfamilies, finger puppet gnomes, playscapes and more.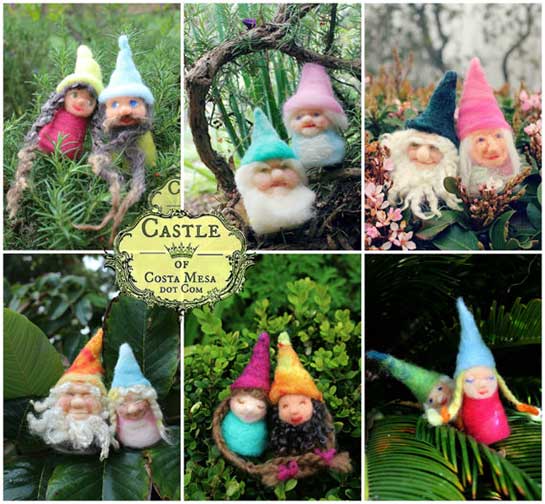 Jzin will also teaching summer workshops in Costa Mesa, Southern California this summer. You can learn more about these summer workshops at CastleofCostaMesa.com.
Overwhelmed by the beautiful choices? Give your friends a Castle of Costa Mesa gift card.