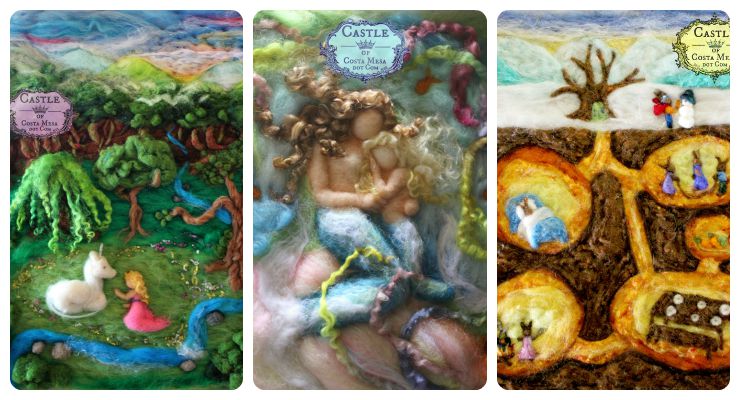 Comments are now closed. Congratulations Jessica Desjean! Contact me within 3 days to claim your prize.
Jessica Desjean says
September 13, 2015 at 10:43 pm
So hard to choose a favorite! But if I could afford it, I would choose the Wool Felt Painting of Cinderella Tending Her Pumpkin Patch, because it's so beautiful, and I have a soft spot for fairy tales. : ) Thank you for the oppotunity to win one of Jzin's gorgeous works of art.
Coupon: 15% off sale from Saturday September 12 – September 19, 2015 with coupon code WEE15FOLK
Give-Away Date: Saturday, September 12, 8am EST – Monday, September 14, 2015, 8am EST
Number of Winners: 1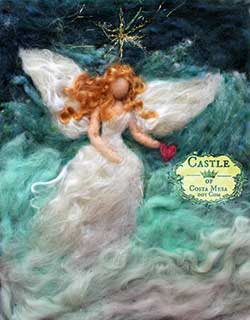 Prizes: Guardian Angel Wool Relief Picture pictured here valued at $125 – we can personalize it by adding your name on this 8×10" Unframed Picture
(https://www.etsy.com/listing/243517669/personalize-your-guardian-angel-wool?ref=shop_home_feat_4)
Guarded from harm
Cared for by angels
Here stand we
Loving and strong
Truthful and good.
How to Enter: To enter, visit Castle of Costa Mesa and check out all the amazing wool felted artwork and playscapes made by Jzin. Then come back and leave a comment HERE (in this post) letting us know which items you love the most. 
Optional Additional Entries: For a second chance to win, add Castle of Costa Mesa to your ETSY shop favorites OR  FOLLOW Castle of Costa Mesa on Instagram. Then come back here and leave a second comment letting us know that you did.
You can enter a third time if you LIKE Castle of Costa Mesa on Facebook. Again come back and leave a comment here in this post letting us that you did.
If you already LIKE/Follow Castle of Costa Mesa on Instagram, ETSY, or FB that works too, just leave a comment letting us know. (Please note: If  your second or third post is too short or comes too quickly after your first post, it might be tagged as SPAM. Take an extra moment between posts and be sure to add enough text).
Limit: Three Entries per person please.
Announcing the Winner: Comments will be closed on Monday morning around 8am EST. The winner will be chosen by random number generator and will be announced IN THIS POST on Monday morning. If you are the lucky winner, please send us an email with your contact and shipping information. You have three days from the time of the announcement to claim your prize or a new winner will be selected.
International Information: Everyone may enter including our International readers.
Coupon: 15% off sale from Saturday September 12 – September 19, 2015 with coupon code WEE15FOLK
​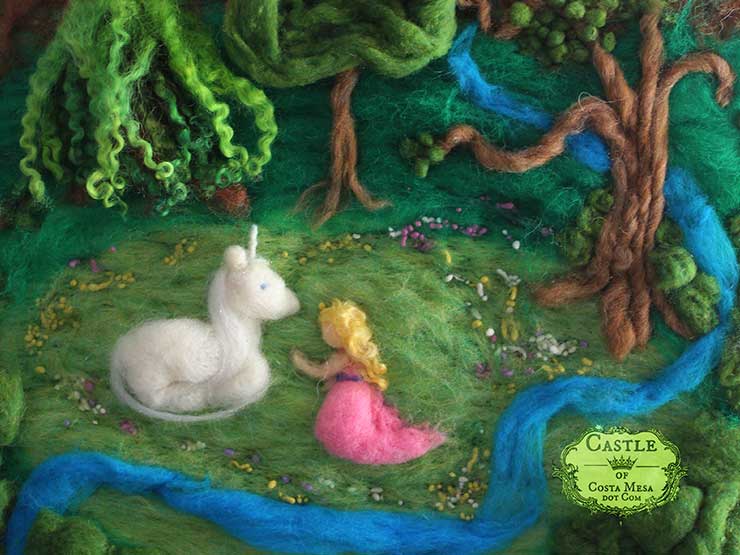 About Castle of Costa Mesa
Jzin started crafting a few years ago to take breaks from a period of deep grief. Handwork and creative expression has gratefully led her back to this world of joy, beauty and magic which she now eagerly shares with all. Unique wool relief guardian angels, fairy tale scenes, playscapes, mermaids, fairy tale dolls and other natural Waldorf toys… You can check out Jzin and her daughter's work on Castle of Costa Mesa Etsy shop. Besides crafting, the mother and daughter duo also enjoys making homemade puppet shows. Jzin also teaches felting and crafting workshops in the beautiful Southern California. You can check out their 2015-16 workshop schedule on CastleofCostaMesa.Com. Jzin also writes the gorgeous weekly craft group photo blog at the Waldorf School of Orange County in Costa Mesa, Southern California. You may be inspired by their craft group blog here: http://castleofcostamesa.com/waldorf-days/wednesday-morning-craft-group/.
You can follow Jzin's work on social media here:
CastleofCostaMesa.Com
Fairy Tale Dolls, Handmade with Love

Seasonal Handmade Giveaways
Please "Like" CastleofCostaMesa.Com on Facebook
www.facebook.com/CastleofCostaMesa

Gallery of Waldorf School of Orange County, California Craft Group projects:
castleofcostamesa.com/waldorf-days/wednesday-morning-craft-group

CastleofCostaMesa on Etsy
www.etsy.com/shop/Castleofcostamesa

Google Plus
https://plus.google.com/u/0/b/106891996183805238397/106891996183805238397/posts

Instagram
#castleofcostamesa

Twitter
@ahjzin

CastleofCostaMesa on Pinterest
www.pinterest.com/jzinius/boards/

My fine art works on Facebook
https://www.facebook.com/JzinArtist
www.jzinteng.com