Today, Debbie from A Child's Dream is offering two readers the chance to win everything that you need to get started needle felting, including your choice of one WoolPets Needle Felting Kit, a foam mat, and a wooden needle holder. Our international friends are welcome to join the fun!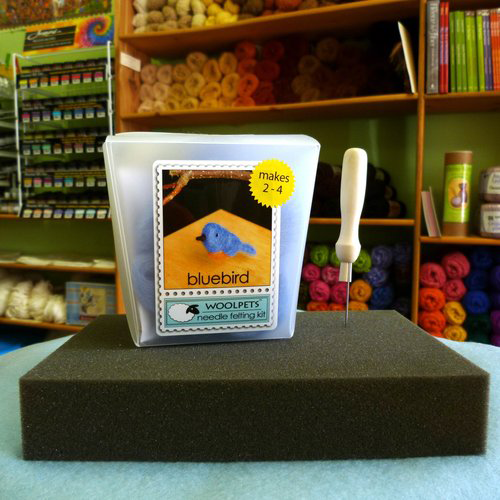 Comments are now closed. The winners have been selected. Congratulations Ginny and Theresa.
awesome giveaway

Submitted by Ginny Blankenship (not verified) on Sat, 05/17/2014 – 10:07

I've been wanting to try my hand at wool felting but didn't know where to begin. This would be a great start. If I won, I would choose the frog. 🙂
Liked 'A Child's Dream

Submitted by Theresa (not verified) on Sat, 05/17/2014 – 09:57

Not only for a second chance, but really like their products..
If you are one of the lucky winners, please email us with your shipping information. If you did not win, remember that Debbie has offer all of our readers $10 towards your next purchase of $45 or more, valid through Saturday. Thanks Debbie! Our next give-away will be in two weeks. Be sure to stop by and try again.
Use the code WEEFOLK and save $10 on an order for $45 or more.
One time use and valid from now, Saturday May 17th until Saturday May 24, 11:59 pm PDT
---
Sponsor: A Child's Dream
Give-Away Date: Saturday, May 17, 8am EST – Sunday, May 18, 8pm EST
Number of Winners: 2
Prize: Needle Felting Start Set
WoolPets Kit of Winner's Choice
Needle Felting Foam Pad
Wooden Needle Holder with Needles
How to Enter: Visit A Child's Dream and take a look around. Choose your favorite WoolPets Kit then come back here and leave a comment letting us know which kit you would like to win.
Optional Additional Entry: For a second chance to win, LIKE A Child's Dream on Facebook then come back here and leave a second comment letting us know that you did.
Limit: Two Entries per person please.
Announcing the Winners: Comments will be closed on Sunday around 8pm EST. Two winners will be chosen by random number generator and will be announced IN THIS POST on Monday morning. If you are one of the lucky winners, please send us an email with your contact and shipping information. You have one week from the time of the announcement to claim your prize or a new winner will be selected.
Shipping Information: Everyone may enter including our International readers. International shipping is included.
Coupon: All of our readers are invited to kick off their summer craft projects with a coupon from A Child's Dream. Debbie is offering a $10 discount to everyone for the next week.
Use the code WEEFOLK and save $10 on an order for $45 or more.
One time use and valid from now, Saturday May 17th until Saturday May 24, 11:59 pm PDT
---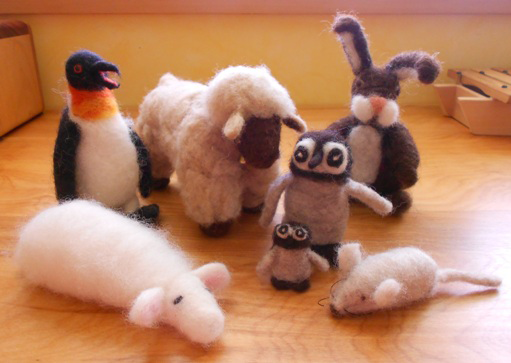 When Debbie, the owner of A Child's Dream, was planning her give away, I immediately suggested the WoolPet Needle Felt Kits. I have not needle felted in quite some time. My last encounter was quite traumatic! I had needle felted all the characters from the children's book, Noisy Nora. One evening I was busy designing clothes for the mice. As I was sitting at the computer, banging away at the keyboard, my soon to be 5 month old Borador pups were running in and out of the house to our enclosed deck and dog run. Pretty standard fair. Tim turned around and started chuckling. "Oh, look. Now they're playing keep-away with a dried leaf."

"Sweet", I said, absorbed in my writing. I didn't process Tim's, "Oh no" until it was followed by, "I'm so sorry, Kim."
I stopped what I was doing, and reluctantly looked.
There, in his hand, was the leaf they were playing keep-away with. Only it wasn't a leaf… it was Noisy Nora. As a matter of fact, Father, Mum, Kate and Jack were also missing in action. We found pieces; some in the dog run, some on the deck, a random tail or ear on the family room floor, and we had to assume, the rest of the body parts were ingested!
When I recounted the story to Debbie, she told about a sweet little mouse she had felted one evening and set on the fireplace mantle to be safe from her cats. But wouldn't you know it, when she woke up the next morning it was on the floor, well played with and much worse for the wear. To this day she has no idea how one of the cats managed to jump up onto the mantle to capture its prey. She assumes it had been quite motivated! She now tucks her work away in a basket or hides it behind something on the piano.
Moral of these stories… if you have pets… know that they love wool felted animals just as much as we do!
Good luck and don't forget to check back on Monday to see if you won!