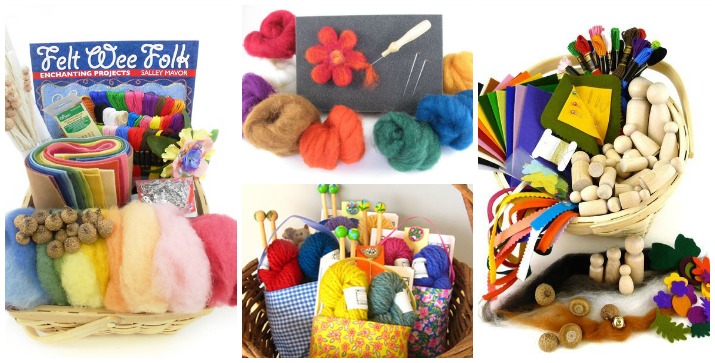 Comments are now closed. Congratulations Kristin C! Please email me within 3 days to claim your prize.
Coupon: Use the code WEEFOLK to save 10% (good through 12/14/14)
This holiday season you won't want to miss the lovely natural arts and craft supplies available from A Child's Dream. Their amazing collection of craft kits would make perfect gifts. You don't want to miss the Peg Doll Sewing Basket, Organic Wee Folk Sewing Basket, Peace Pocket Learn to Knit Kit, or the Needle Felting Starter Kit.
Also be sure to check out the Healing Heart handmade dolls. This beautiful bunting doll is handmade in the USA and weighted to feel like you are holding a real baby.
Sponsor: A Child's Dream
Give-Away Date: Saturday, December 6, 8am EST – Monday December 8, 8am EST
Number of Winners: 1
Prize: $50 Gift Card to be used at A Child's Dream
How to Enter: Visit A Child's Dream and take a look around. Explore all of her natural craft supplies, craft kits, and Waldorf toys, then come back and leave a comment HERE in this post, letting us know what you would like to get.
Optional Additional Entry: For a second chance to win, LIKE A Child's Dream on Facebook then come back here and leave a second comment letting us know that you did. (Please note: If your second post is too short or comes too quickly after your first post, it might be tagged as SPAM. Take an extra moment between posts and be sure to add enough text).
Limit: Two Entries per person please.
Announcing the Winners: Comments will be closed on Monday around 8am EST. One winner will be chosen by random number generator and will be announced IN THIS POST on Monday morning. If you the lucky winner, please send us an email with your contact and shipping information. You have three days from the time of the announcement to claim your prize or a new winner will be selected.
International Information: Correction! International readers are welcome to enter.
Coupon: Debbie is offering all of our readers 10% off using coupon code WEEFOLK through Dec 14, 2014.
Coupon: Use the code WEEFOLK to save 10% (good through 12/14/14)