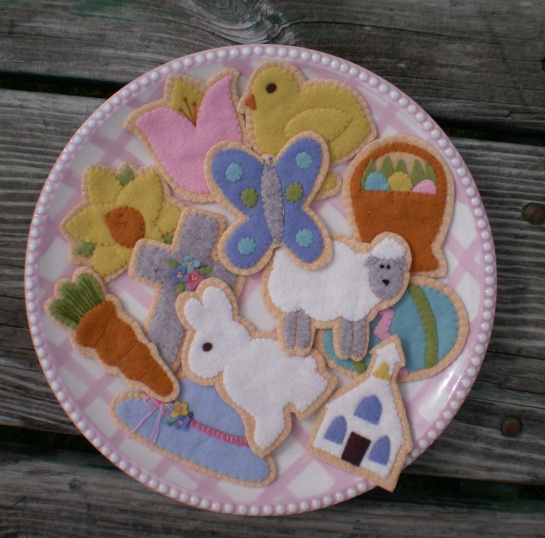 AND THE WINNER IS…
Teryn:
Submitted by teryn on Sat, 02/18/2012 – 18:41.
Oh, so cute. We love felt foods … and they have some really cute kits!
Congrats, Teryn. You are going to be very busy making a plateful of yummy looking Felt Easter Sugar Cookies 🙂 Please make sure to contact us at weefolkart.com with your snail mail address in the next week or a new winner will be selected.
A very big thank you to Julie over at Prairie Point Junction. And remember, even if you didn't win, Prairie Point Junction always offers Wee Folk Art readers 20% their entire order. Simply type WEEFOLKART as your coupon code at check out.
Over the next few weeks we have other giveaways planned, so make sure you enter all of them 🙂
With Spring just around the corner, we're thinking it's time to start some Easter crafting. Fortunately, the folks at Prairie Point Junction (you may know it as Wool Felt Central), not only agrees with us, but want to help get us started. YAY!
Julie, the lovely owner, is sharing 2 of the Felt Easter Sugar Cookie Kits with our readers.
The kits include the pattern by Prairie Point Junction and 1/2 yard of Buttercream felt, plus 9" x 12" pieces each of Baby Blue, Periwinkle, Robin's Egg, Cotton Candy, Mellow Yellow, Peas Soup, White, Pumpkin Spice, Light Brown, and Driftwood. The felt will make at least two of each of the 12 designs. There are also 12 skeins of DMC floss in coordinating colors so you have everything you need for this project.
These adorable felt sugar cookies can be used stacked on a plate for decoration, turned into ornaments to be hung in a spring tree, or as a delightful addition to a wee one's play kitchen.
To enter this contest, simply pop over to Prairie Point Junction, and wander through their extensive collection of unique felt patterns and kits. Be warned… there are billions of lovelies to look at so you might be there a while! Okay… billions is an exaggeration, but they have lots! Then come back here, and leave a comment telling us about your favorite discovery.
The contest runs from today, Wednesday, February 15 through Sunday, February 19th, at 9:00 p.m. EST when 2 winners will be chosen at random. Note: Winners then have 1 week to contact us with their snail mail address or a new winner will be drawn.
Good luck to everyone. This is such a lovely giveaway, and as always, we are very grateful to Julie for her generosity 🙂 Now… head on over to Prairie Point Junction and check out their patterns and kits. If you've never been there before, prepare to be wowed!
AND… don't forget… Wool Felt Central is one of our wonderful sponsors and has supported Wee Folk Art from almost day 1! As a special gift, Julie offers a discount to our readers EVERY SINGLE DAY! Simply type in the coupon code WEEFOLKART at checkout to receive a 20% discount off your entire order. How awesome and generous is that???
NOTE: Prairie Point Junction ships to the United States and Canada.