EDIT: This giveaway is now closed. Thanks to everyone that entered 🙂
With all our shop talk recently, it is nice to take a break and "formally" (as formally as anything CAN get around here 🙂 introduce everyone to Amanda and Dustin of Armadillo Dreams. To help you get to know them and their shop a little better, please sit back and enjoy this interview I had with Dustin. I'll see you on the "other side" to tell you all about the terrific giveaway that they are sponsoring 🙂

Kimara: How would you describe Armadillo Dreams to someone that has never been to your shop?
Dustin: A fun toy shop full of handmade wooden toys that encourage creative play and use of imagination. We offer a mix of natural finish toys and painted toys. You will find things like figures, animals, fantasy themed toys, play sets, baby teething toys and toddler pull toys.
Kimara: How did you get started?
Dustin: During the summer of 2010 I discovered a passion for woodworking while building a backyard chicken coop/run. Once the project was complete I felt disappointed that it was over and starting trying to think up new woodworking projects. Then it occurred to my wife and I that we should try making some wooden toys for our children. We loved the wooden toys that we had already purchased but didn't have as many as we would have liked for them since they tend to be a little more expensive than plastic toys. Once we had the creation of some toys under our belts we thought it would be fun to turn it into a business that we could work on together. Amanda already had three Etsy shops for about 4 years (and still does) so we combined her design skills, knowledge of product presentation and my knowledge of woodworking and customer service. The rest as they say is history.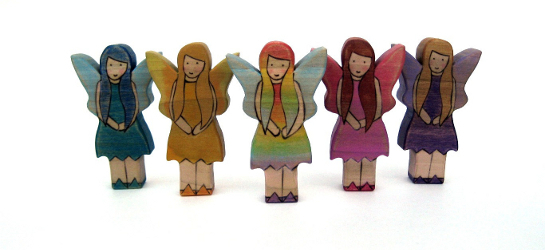 Kimara: Tell us about the creation of your toys and the materials you use.
Dustin: All of our toys start from a board of poplar lumber. Amanda draws patterns (she is the real artist) that I trace onto the boards. They are then cut and sanded in my wood shop using my power saw and three different power sanders. Then each toy is hand sanded to eliminate any sharp edges and get each toy buttery smooth. Amanda then uses a 1000 degree F wood burning pen to draw details on the toys. The toys that are painted get a wash of AP certified non-toxic water color so that the wood grain can still be seen. From there we seal the wood with a natural baby/kid safe beeswax polish. We both do the painting and polishing. That's about it! There are some specific trade secret details I have left out, but this gives you an overview. Most people don't realize all the work we put into our toys until they get them in their hands and feel the difference in our toys. It's hard to capture everything through pictures and descriptions when we do so much.
Kimara: You are a husband and wife team. Do you each make your own toys from start to finish or is there a division of labor in each toy?
Dustin: Overall Amanda handles most of the artistic side (drawing patterns, wood burning) while I handle most of the manufacturing side (cutting, power/hand sanding, packaging). There is some steps of our process that we both do as well (painting, polishing). It works out really well.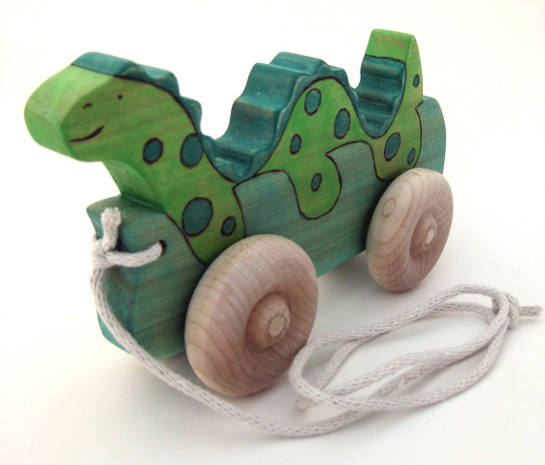 Kimara: Where do you think Armadillo Dreams will be in 2-5 years?
Dustin: Our goal is to really grow our business and bring our wooden toys to as many families as possible. Over the next month or two we will be launching our own website/blog on
http://www.armadillodreams.com/
. We are going to be putting a lot of work into the website to make it even larger than our current Etsy shop. In the next few years we would like to get a new home on acreage that has room for a large garden, pasture for some animals and room for a much larger wood shop for Armadillo Dreams. In five years I can see having a small staff of helpers that help in the wood shop and home office, but we always want the business to keep the feel of being personal and selling toys made with love by caring people, not robots/machines.
Kimara: Finally, I have to ask… Armadillo Dreams… wonderful name. Who came up with the name and is there any significance to it?
Dustin: Great question! Amanda came up with the name. The name does have very big meaning for both of us. It's a bit of an inside joke that would cheer us up when times got tough. In essence it represents our dream of freedom, both in the sense of financial freedom and freedom to be independent in our lives.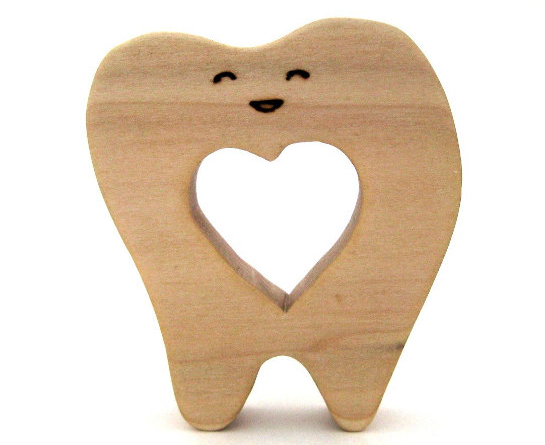 Awesome! I have dreams that some day Tim and I will be able to work together. Perhaps one of those 2nd career, retirement things 🙂 Anyway, I have long been a fan of Armadillo Dreams. When they contacted us about sponsorship, I did a little happy dance 🙂 YAY! I love it when we share things we are so excited about.
Now… on to the giveaway. Armadillo Dreams is giving away this ultra cute, ultra awesome SPACE SET COLLECTION. This fun space play set is sure to provide out of this world adventures for your children! The set includes a robot, alien, rocket, UFO spaceship, a planet and three little stars. The robot measures 5 inches tall, rocket measures 5 inches tall, alien measures 1 1/2 by 2 1/2 inches, spaceship measures 2 1/2 by 5 1/2 inches and the planet measures 3 1/4 inches wide. including a Space Robot, Alien, Rocket and UFO Spaceship Toys.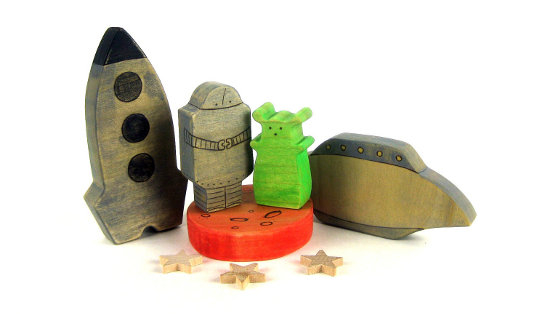 Here is Armadillo Dreams' statement on their toys and safety: Our wood toys are handmade with lots of love! They are perfect for imaginary play, learning, display, or for adding to your seasonal nature table toy collection. Our wood toys are also great for Montessori education or Waldorf education. We believe it's important for children to have high quality, natural, simple toys that they can dream, imagine and play with. Please do not give our smaller toys or painted toys to children who are still putting things in their mouths. Our paint is AP certified non-toxic and the wood is sealed, but there is a small chance that the watercolor paint may run when wet. Painted toys are not for use in water.
So, how do you enter to win? Simply visit Armadillo Dreams, wander up and down their virtual aisles, then come back here and tell us what toy catches your fancy the most. While you are doing that, keep in mind, that besides the giveaway, Armadillo Dreams is offering Wee Folk Art readers a 10% discount that will be good through the end of the month. The discount code to use during checkout is "wee0412". This is a perfect way to purchase your first Armadillo Dreams toy. I guarantee you it won't be your last! I already know what I plan to use my discount on 🙂
The giveaway runs from today, Wednesday April 18 through Sunday April 22, at 9:00 p.m. EST. A winner will be drawn at random and have 1 week to contact us at weefolkart@yahoo.com or a new winner will be selected. So hurry over, but don't rush through their site. And, thank you, Amanda and Dustin for your generous giveaway. Good luck all 🙂
Armadillo Dreams will happily ship internationally so everyone is welcome to enter!
BTW… if you'd like to stay connected with Armadillo Dreams, they give you lots of opportunities. Here's a bunch of their contact info: