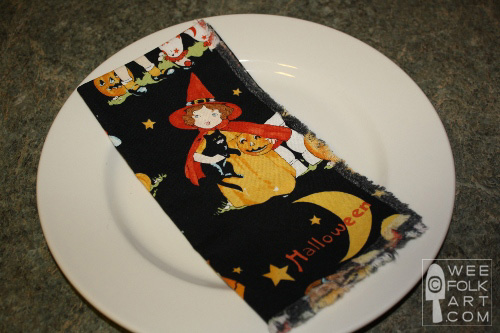 I love cloth napkins. I could never bring myself to use paper. First, they don't work very well, and second, waste paper? I think not! Over the years I've bought and made many different kinds of napkins. Recently, however, I've started making what I refer to as "rip and tear" napkins. Simply find a high quality 100% woven cotton fabric you love, measure, and tear!
Yesterday I was at our local craft store. I had a list and I wasn't going to deviate from it. (You can imagine how well THAT worked!) Anyway, I stumbled upon this absolutely adorable piece of fabric, aptly named "trick or treat" by Alexander Henry. (One of my "favoritest" of favorite fabric designers!)


Well, let it be known, I am not a pillar! I immediately snatched up the bolt and got a 3 1/8 yard piece lopped off. I knew that this piece of fabric was going to be our new Halloween napkins! The embarrassingly easy Rip and Tear Napkin directions can be found HERE or in the FREE Open Patterns. Enjoy!