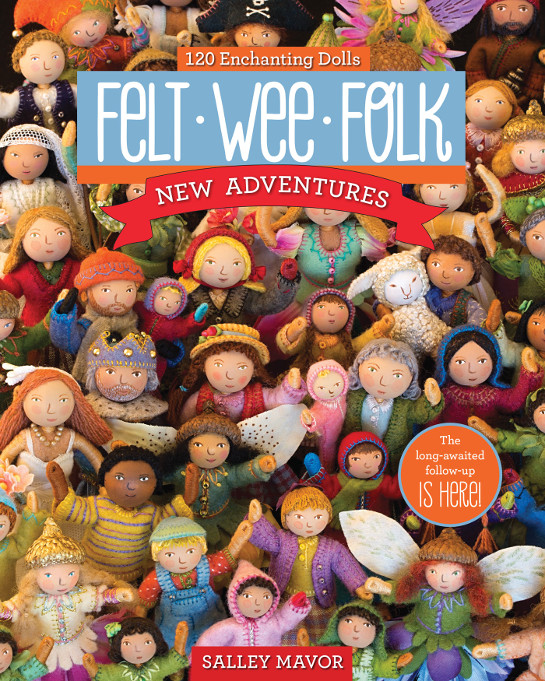 Comments are now closed. Congratulations Heidi! Please email me within 3 days to claim your prize.
new adventures giveaway

Submitted by

Heidi (not verified)

on Fri, 03/13/2015 – 15:00

This is zo nice!! I want to make à lot of small friends for our first grandchild.so i can combine them with the flower fairy's i have already made for the nature table. The cover of the book Will make you want to go for that.

Tanks for this opportunity. Heidi
When I first heard that Salley Mavor had a new book coming out, I did my happy dance, and if you've ever had the opportunity to watch me do said dance, I'm sure you would have found it to be quite… hmmme opportunity to watch me do said dance, I'm sure you would have found it to be quite… hmmm… let's go with entertaining! But dance I did! Then, when Salley contacted us and asked Wee Folk Art to help launch her new book, Felt Wee Folk: New Adventures, by participating in her blog tour, well, be still my heart, I was thrilled! Of course more dancing ensued when I actually received the book in the mail and had a chance to leaf through it. Thanks for the cardio workout, Salley!
But let's back up a bit and let me give you a wee history. I first discovered the talents of Salley Mavor back in 2007 when I was introduced to her first book, Felt Wee Folk: Enchanting Projects, which was published in 2003. Within minutes of opening the book I knew I had discovered a treasure. I was already crafting peg gnomes and flower fairies for our gnome home, and I knew Salley's fairies would be right at home in our Thicket. Here are the first 2 fairies I made from Salley's book.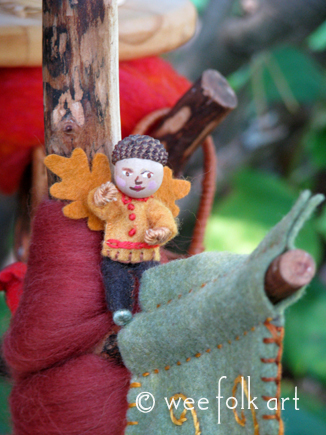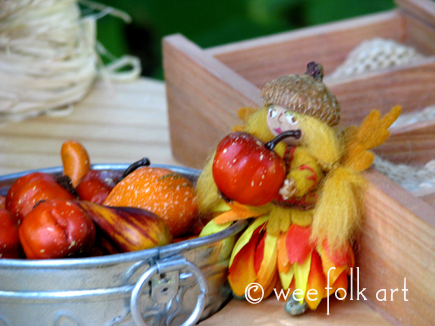 Over the years I've made many of the adorable dolls found in Felt Wee Folk for my grandbabies and friends, so you can understand my previously mentioned excitement when I learned Salley Mavor had a new book coming out. I couldn't wait to go through it and see what new gems would tickle my fancy and get my creative juices flowing. I was excited to craft a few new dolls to share with the grandbabies.
However, before I had a chance to properly digest it, Pixie and Fairy discovered the book that was left on my desk. I found the two of them lying on the floor in my bedroom with Salley's book between them.
They had grabbed a pack of post-its and were marking the pages of the dolls that THEY wanted to make. By the number of the post-its, you can see that they fell in love with many of Salley's creations!
With a bittersweet joy, I reflected on how life has changed since I first discovered Salley Mavor's work. I realized that the Pixie and Fairy no longer needed me to make them dolls, but rather to help them make the dolls themselves. Will theirs be as nice as the ones I could have made for them? No! They will be better because not only will they love the dolls, but they will feel the sense of pride we feel when we create something ourselves. How exciting it must be for Salley to realize her talents are inspiring a new generation of crafters. Quite a legacy to be sure!
If you are familiar with Salley's first book then you know you can expect great things from her second book. If you are unfamiliar with Salley Mavor's work you are in for a treat! Salley will walk you through creating the dolls' bodies, painting their faces, making hair, and, of course, give you patterns for tons of different outfits. Plus, Salley has put together beautiful landscapes for featuring the dolls which is truly inspirational.
Pixie and Fairy found many dolls they wanted to make, but their favorites were the Woodland Folk.
Personally, I continue to have a soft spot for the beautiful flower fairies, however, I saw this little guy and just knew I was going to have to make him!
It is with absolute conviction that I whole-heartedly endorse Salley Mavore's new book Felt Wee Folk: New Adventures. If you've been a fan of Salley's, you will love her new book. If you've never made one of her dolls, I know you will absolutely enjoy the adventure.
You can get Salley's new book on Amazon. Simply click HERE or the button below.
You can also purchase Felt Wee Folk: New adventures at Salley Mavor's Etsy shop with includes the book, plus extra goodies (autograph, poster, faux flowers for fairies and a note card). Check it out HERE.
Now, onto the giveaway!!!
Felt Wee Folk: New Adventures Giveaway
Sponsor: Wee Folk Studio… aka… Salley Mavor
Give-Away Date: Friday, March 13, 8am EST – Monday March 16, 2015, 8am EST
Number of Winners: 1
Prize: Addresses within the US receive a hard copy of the book FELT WEE FOLK: NEW ADVENTURES and international winners receive the e-book version.
How to Enter: LEAVE A COMMENT BELOW. Tell us anything you would like about this giveaway, the children you would craft for or with, or how Salley Mavor's work has inspired you over the years. Easy Peasy, right?
Announcing the Winner: Comments will be closed on Monday around 8am EST. One winner will be chosen by random number generator and will be announced IN THIS POST on Monday morning. If you are the lucky winner, please send us an email with your contact and shipping information. You have three days from the time of the announcement to claim your prize or a new winner will be selected.
International Information: International readers are welcome to enter and will receive the e-book version.
FELT WEE FOLK BLOG TOUR PARTICIPANTS
The following blogs are participating in blog tour. Make sure you visit all of them for additional chances to win.
March 3 – Mary Corbet's Needle n' Thread www.needlenthread.com
March 6 – Mimi Kirchner – Doll http://mimikirchner.com/blog/
March 10- Margaret Bloom – Wee Bloom Here http://webloomhere.blogspot.com/
March 12 – C&T Publishing's Blog http://www.ctpub.com/blog/
March 13 – Kimara – Wee Folk Art https://www.weefolkart.com/
March 15 – Phoebe Wahl http://www.phoebewahl.com/blog/
Good luck to one and all!