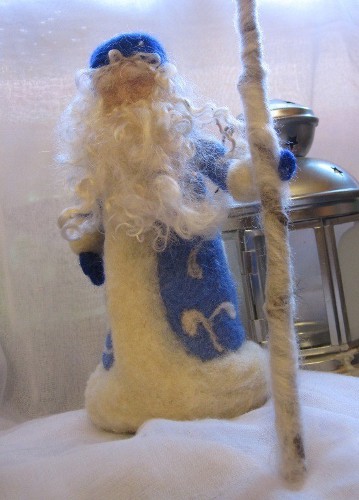 We have a winner for our Holiday Giveaway from Art of Felt!
Submitted by
Leigh Ann
Wed, 10/12/2011 – 13:42.
What incredible talent. I'm in awe of her work and her creativity.
If I were to win, I think I'd select the King Winter. I have several nativity sets which I adore, but I just can't get past his beard and beautiful shade of blue on his cloak.
Beautiful! All of it!
LAa

Congratulations, Leigh Ann. I'm envious 🙂 Please email us at weefolkart@yahoo.com with your snail mail address so Daria can ship you your Winter King. As always, you have 1 week to contact us with your address or a new winner will be selected.
Thank you to everyone that entered. And, especially, thank you to the lovely and talented Daria, from Art of Felt, for her generous giveaway.
Just a note for everyone that would like to purchased something from Daria's Etsy shop. I asked her how long it takes to receive an order. She said,
Registered mail from Israel to the USA can take up to 21 business days, usually it takes about 1.5-2 weeks. If we will send it by express mail, it will
arrive through 3-5 business days(cost $25-30). But sometimes delays can happen for security check ups or customs.
So… if you are interested in ordering from her for the holidays, get your orders in soon 🙂
Thanks again, all! You can be sure Daria will be hosting more giveaways at Wee Folk Art in the future.