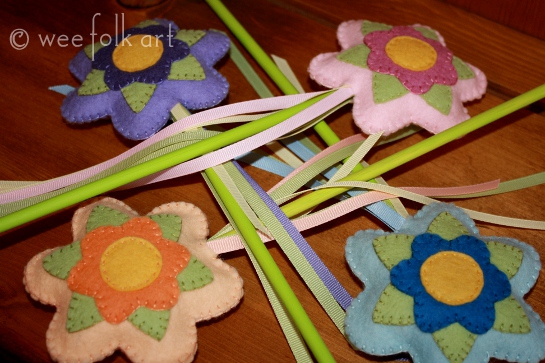 First off we want to thank everyone for their suggestions for additional kits for Wee Folk Art Market Place. We have lots of ideas, and as time permits, we will try to put together many of the suggestions. We truly understand so many people's interest in rough cut wood trees. If you don't have the right kind of saw or if electric saws scare the bejeezers out of you, this would be a fun way to have the wood experience without the fear of losing a digit 🙂 I am in negotiations (hehe) right now with Tim… or as Pixie calls him… the Teddy Bear. I'll keep you all posted.
And now… for the winner of our first Wee Folk Art Market Place giveaway…
Submitted by Eddie on Thu, 04/26/2012 – 06:25.
Congratulations on the opening of your store!
If I won, I'd go for the Flower Fairy Wand kit, because I think my 11 year old would love to make it for her only girl cousin.
And to answer your question about the kits, I'd love to see the banners made into kits, especially the fall and rainbow ones. Actually, the wooden orchard would make a great kit too, just in time for apple picking season!
Congratulations, Eddie! Simply email us at weefolkart@yahoo.com with your snail mail address and let us know which color Fairy Wand you would like, and we will get it shipped to you lickety split. If we don't hear from you in the next week a new winner will be drawn.
Again, we would like to thank everyone that entered. We have a lot of exciting things planned and there will be plenty of opportunities to win some awesome things. Remember, Wee Folk Art Market Place will be open again on Monday, and every Monday. If you ever have suggestions, questions or concerns, just drop us a note at weefolkart@yahoo. com.