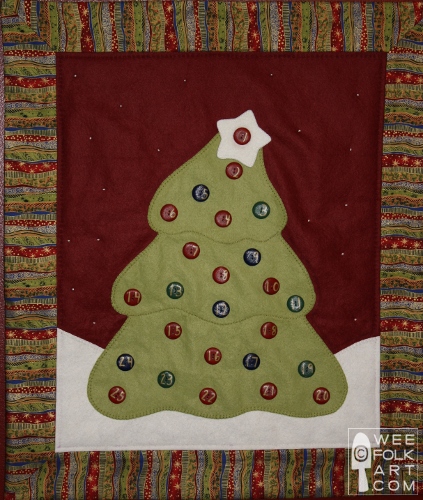 EDIT: The Giveaway is Closed. Thanks to everyone that entered!
My Busha use to say, "If you haven't gotten half your day's work done by 10:30 a.m., you'll never get it all done." Well, it's 10:30 folks, in a metaphorical Christmasy kind of way. So, we are doing an early Christmas Giveaway BECAUSE, you simply can't wait to the day before Christmas to make an Advent Calendar!
Our Advent Tree is yet another variation of our basic Christmas Tree Applique Block. The pattern has been enlarged 325%… sounds crazy, right? Why 325%? I guess that is some industry standard, but there will be more discussion about that in our directions. For the time being suffice to say, the finished Advent Tree is 24″ x 28″. There are painted wood buttons that meander up the tree. A wool felt star moves its way up the buttons on the tree to count-down the days to Christmas.
NOW… about the Giveaway. We are beyond excited that we are partnering with the awesome folks over at PRAIRIE POINT JUNCTION on the Giveaway. They have graciously provided 2 kits for us to Giveaway. Totally, generous, right? We certainly think so! AND, Julie, at Prairie Point Junction, has put together kits to make additional Advent Trees and a has a lovely little surprise. But more on that in a minute.
There are several ways to enter this Giveaway:
1] Post a comment here (be sure to fill in your name… nicknames are fine).
2] Link to us through your blog, FaceBook, Twitter, Flickr, etc. Post additional comments (one for each link). Make sure to include linking info.
3] Then, head over to Prairie Point Junction, visit their blog, and leave a big, juicy THANK YOU to Julie and her crew, then run back here and tell us you did, and yep, another chance to win!
The contest will run from today, Wednesday, November 4 through Tuesday, November 10, at 9:00 p.m. EST when 2 lucky winners will be chosen at random. After the winners are announced, the directions for the Advent Tree will be available online.
Additionally… if it is possible you haven't been to Prairie Point Junction yet, it's high time you did! Since I discovered them over a year ago, they have been my primary supplier of felt and other supplies. Here's a little bit more about them PLUS yet another kind offer.
Julie at Prairie Point Junction, home of www.woolfeltcentral.com , has put together a kit with the supplies you'll need to make your own Advent Tree. Wool Felt Central stocks 78 colors of National Nonwoven's Wool Felt for all your crafting needs. They also have a wide selection of patterns for penny rugs, pillows, ornaments, faux foods, and anything you can imagine. Wee Folk Art readers can take advantage of a special offer – use coupon code FOLKARTTREE to take 20% off any regular priced order placed through December 26th.
Good luck to one and all. We consider ourselves blessed to have made so many wonderful friends here at Wee Folk Art, and this is our way of sending some Peace, Joy and Love your way this Christmas Season!