It is bone chilling cold out there today! Our schedule has been cleared, all activities for the day have been canceled due to extreme wind chill. What to do on a snow day that is too cold to play outside… crafts of course. Here is a fun and useful project that we made a couple weeks ago on another similarly cold day… a mitten line.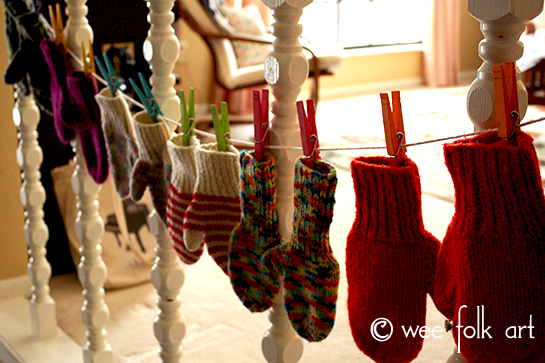 Usually when the kids come in from playing outside they all try to pile their wet mittens up on the heating vent in the foyer. When their mittens were much smaller this worked fine… but now they don't all fit and we have a puppy who loves nothing more than to run off with a pair of socks or mittens. So we hung up a clothes line in the foyer that keeps the mittens off the floor, lets the mittens dry, and makes it easy for the kids to find a matching pair while bundling up to head out into the snow.
For this project you will need a clothes line hung where the kids can reach it.
Pairs of clothes pins
Acrylic craft paint
Brushes
First you will need to disassemble two clothes pins.
Paint the clothes pins with acrylic paint. We painted our clothes pins in matching pairs. So 2 red, 2 yellow, 2 green, and so on. Be sure that the paint you use will not wash off when wet. You don't want the color to bleed on your damp mittens.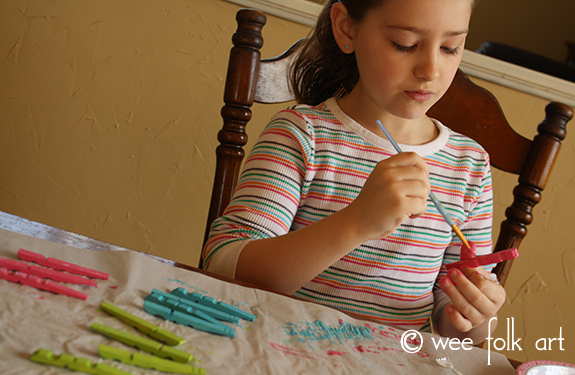 When all of your clothes pins have dried, carefully put them back together. You now have a fun rainbow set of clothes pins.
Hang your mittens using matching pairs of clothes pins.