Nothing says "made with love" more than a warm pie fresh from the oven. Here is a pattern for a Deep Dish Apple Pie Applique just waiting to warm hearts and tummies!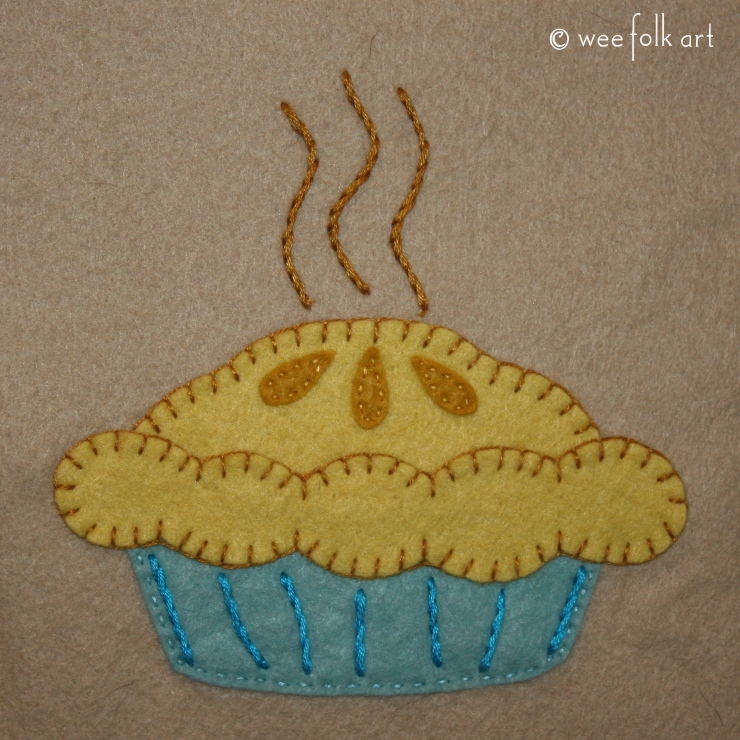 This morning I received this request from one of our readers: "I want to make an apron with the picture of a pie on the front. I haven't been able to find a picture of that. I am very good at sewing but lousy at drawing !!! I would love to have a pattern so I can add that to the front of the apron for a Christmas gift. If you can help with that it would be so appreciated. Thanks Chris" So, here it is, Chris, a Deep Dish Apple Pie Applique!
Actually, this was perfect timing! It's been a while since I designed an applique and so this was a perfect excuse to make one. Also, with next week being Thanksgiving Day here in the the states, pie is pretty much a ubiquitous item on the dinner table. In our house pumpkin pie and deep dish apple pie are a must. So, thanks for asking, Chris. BTW… I want pictures of your apron when you are done!
The Deep Dish Pie Applique was made to fit on a 6″ x 6″ block but can be enlarged or reduced to meet your needs. Enjoy!
The Pattern for the Deep Dish Apple Pie Applique can be found HERE.
The tutorial on How to Enlarge and Reduce Patterns can be found HERE.
The Stitching Glossary can be found HERE.
Our Gallery of all our Appliques can be found HERE.
The tutorial on How to Cut Out Felt can be found HERE.
DIRECTIONS for Deep Dish Apple Pie Applique
Refer to pattern and photo for applique placements and cutting instructions.
Make a copy of the pattern.
Cut out felt using the photo and pattern. Transfer any embroidery markings.
Baste applique pieces to block. Refer to pattern for overlapping.
Use 2 strands of floss for running stitches.
Use 3 strands of floss for blanket stitches.
Use 6 strands of floss for stem stitches.