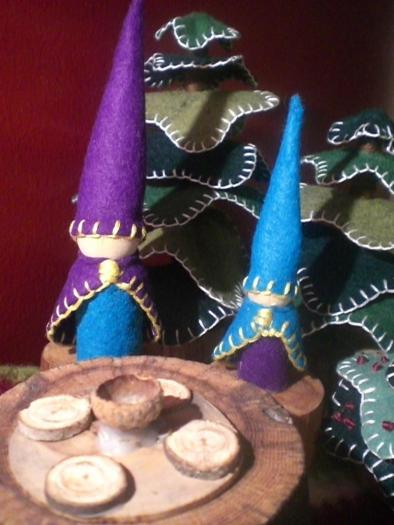 Once you let a gnome in your life, you'll never be without one again! Our house is crawling with gnomes. We have unassuming gnomes and rather ostentatious gnomes. We have gnomes that love to tell stories and shy ones that prefer to listen. We even harbor a couple rather naughty gnomes, but down deep, they have a heart of gold! Their personalities are as different as you'd expect in any group of friends. For that reason, we'd like to give you the opportunity to invite a few gnomes into your house.
I decided I just wasn't going to have the time to get a tutorial together for making the holiday gnomes. But an email from a new Crafting Club Member, requesting a gnome pattern so she could make some for her children's advent calendars, made me walk away from my Christmas projects yet again, (LOL like I need an excuse!) and I threw together a couple of the traditional Waldorf style gnomes and wrote up the directions.
If your house isn't already crawling with gnomes, I hope you find the time to make a few before the holidays! Certainly you can take this basic pattern and alter it to individualize your gnomes. The possibilities are endless! Check out the patterns for the Adult and Child Gnomes in the FREE Pattern Section. Enjoy!