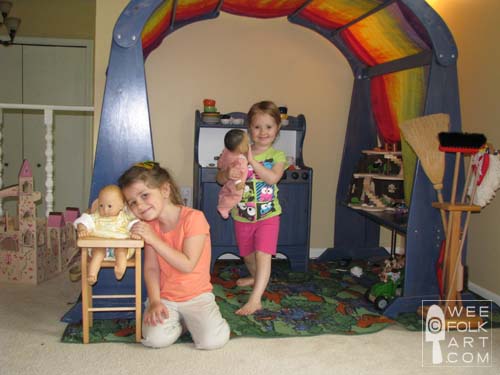 Lately, the girls can't seem to log enough Mommy hours. Although they have always enjoyed their dolls… they are currently playing Mommy in a very realistic way. They feed and clean their babies, put them to bed and take them for outings in the stroller or shopping cart. Their dollies of choice… their Bitty Babies. Although they sleep with their Waldorf dolls at night… when it comes to playing house, they reach for their Bitty Babies. After I watched Pixie take off and put on the same diaper countless times I decided she needed a new stack of dolly 'fluff.' For those of you who cloth diaper… I know you can relate to the zen like feeling when you have a clean, fresh stack of diapers ready to go for the next change. The girls shared this joy. So here is a super simple Dolly Diaper that was made to fit the Bitty Baby but can easily be adjusted to fit your child's doll of choice.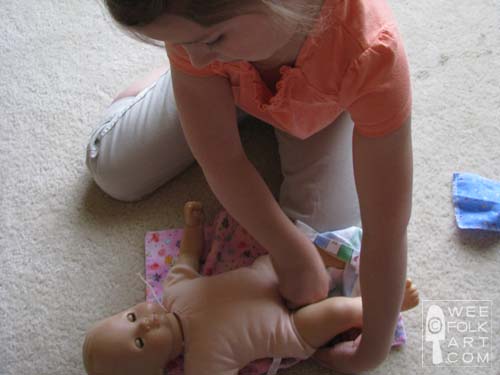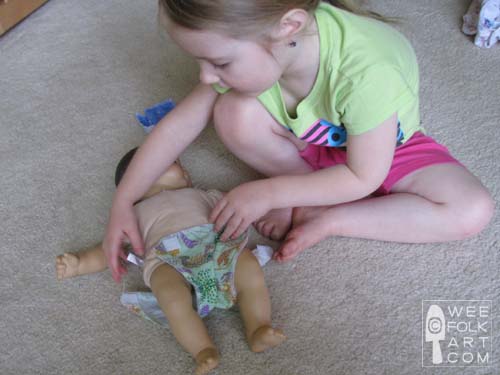 Print out the pattern.
Cut out your fabric… one piece per diaper. (Make sure to place the pattern on a fold!)
I used cotton flannel and serged the edges. If you do not have a serger you can use a fabric that won't unravel at the edges like fleece or felt. Or you could cut out 2 pieces of flannel BUT be sure to add an extra 1/2″ seam allowance. Then, place the two pieces with right sides together, sew around the edges leaving a 3″ gap, turn the diaper right side out, press and sew up the hole.
Attach 3/4″ squares of Velcro as shown on the pattern. And, tah-dah… a stash of cloth diapers.
BTW… For some super quick wipies… serge 4″ squares of flannel.