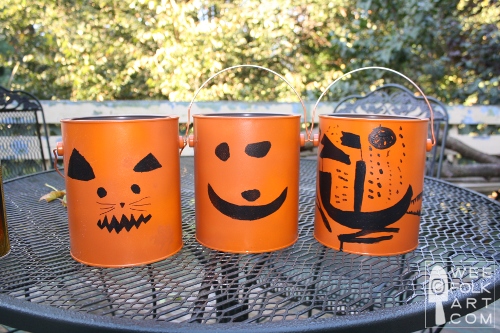 My mom came up with the idea for these Jack-o-Lantern Buckets. She was planning to make a couple for herself (see hers at Wee Folk Art) and thought that the kids would like to make some to use for trick-or-treating. She assembled all the supplies for us and we enjoyed a craft afternoon at her house last week.
Materials: Plain Paint Bucket (can be bought at the hardware store), Orange Spray Paint, Black Craft Paint, Brushes, Clear Coat Sealer, (optional spray adhesive and paper to make stencil)
Gammy spray painted the buckets orange and let them dry for us.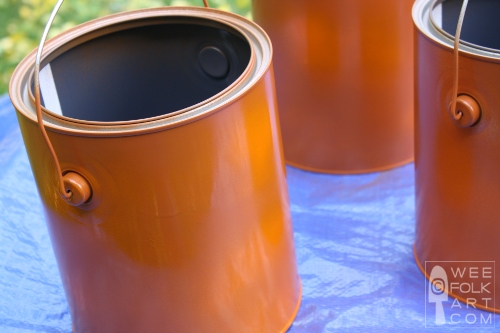 Then the kiddos drew pictures on a sheet of paper. Pixie went with a smiley face, Fairy a kitty-cat and Bug… well you know Bug… he can't really follow directions as given. Rather than making a jack-o-lantern face (there was much discussion on this point) he drew "The Flying Dutchman" pirate ship. (Ahh… yeah… I can't wait to see him actually carve his pumpkin this year… this may be an all night event. Super funny thing is that his bucket kinda looks like a Face if you squint).
For the girls, we cut out the faces they made, used a light coat of spray adhesive on the back side of the paper (please follow the directions on your spray adhesive… I recommend taking it outside) and stuck the paper on the pail as a stencil template. The girls then stenciled their faces with black paint and a stencil brush. We removed the paper carefully… one bucket did need a little bit of touch up.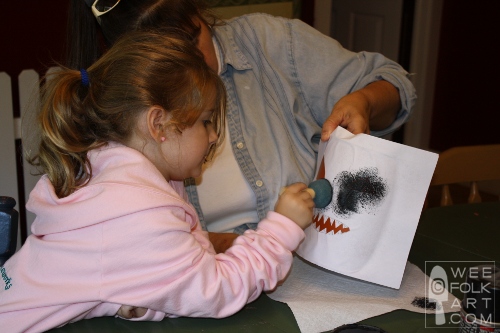 For Bug's more detailed design, I traced the outline onto his bucket just by pushing hard with a pencil. It left a light line embedded in the orange paint. (You could also cover the back of the image with pencil lead to leave a darker line when you trace the image). I then traced the outline for him with a fine point black sharpie pen. He painted in the image with the black paint and a fine pointed brush.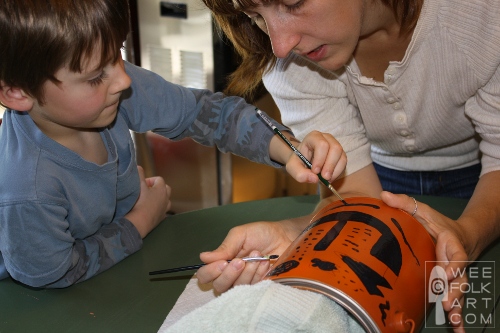 After the buckets dried, Gammy covered them with a couple coats of clear sealer.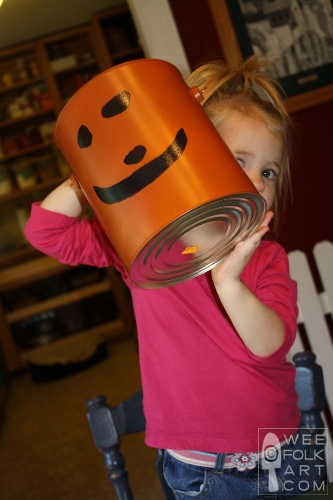 The kids now have some super, special buckets to use this halloween. This project also tied in nicely for the Unplugged Challege Theme "J" last week.