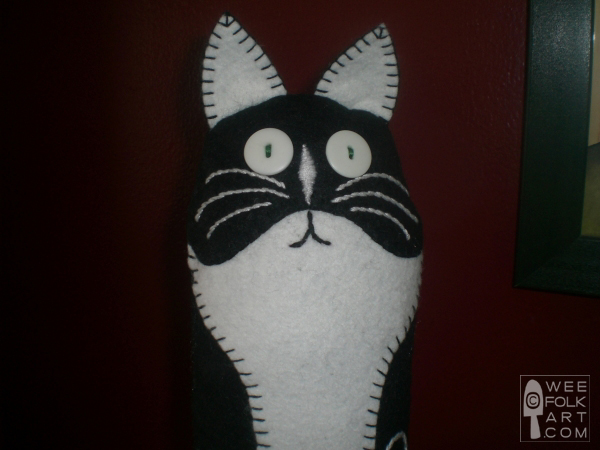 The good news is I got the directions for the Kitty Cat Doorstop posted in the Crafting Club Patterns. If you are new to the site you'll see that many of our patterns are FREE for public viewing, whereas some can only be viewed by Crafting Club members. Membership and patterns are free and registration takes only a couple of minutes. Our hope is that you like the patterns and will become a contributing member of the site posting comments and pics of completed projects. The more the merrier, right?
The bad news…although this will probably bother me more than anyone else…I haven't finished all the glossary terms yet. Still working on it! Hopefully, I'll get to one a day.
Below I'm including a couple of pics of a Kitty Cat Doorstop made by one of our members. This is the good and bad thing about knowing the designers…you are the first to get patterns, but you're also first to unearth mistakes! Anyway, this Kitty was completed yesterday by Tim's daughter. As you can see she made several alterations to the design. I love to see that! Aren't the colors are wonderful? She posted 4 pics on the Wee Folk Art Flickr Pool if you'd like the see the rest. The Kitty Cat's Puppy Dog friend will be posted next week. Enjoy!