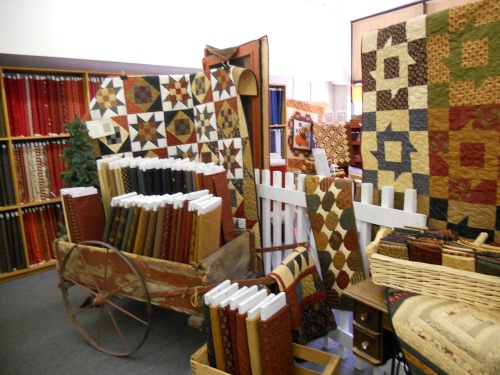 Everyone is use to seeing the Wool Felt Central button up at Wee Folk Art. We discovered Prairie Point Junction, home of Wool Felt Central, soon after Wee Folk Art was born. We have worked closely with Julie Geiger, owner of Prairie Point Junction, to sponsor "give-aways" and to provide Wee Folk Art readers a 20% discount on all their orders. (Just click their button at Wee Folk Art and type WEEFOLKART in the coupon code when placing your order.) Thank you, Julie! But it occurred to us, that we never "officially" introduced Julie and the shop, an oversight we are going to rectify now! As you can well imagine, with the holidays approaching, this is a busy time for crafting shops, and we appreciate Julie taking the time to answer a few questions. So readers… here's Julie!
Oh, BTW… check back on Wednesday for a super Holiday Give-Away that we are having, sponsored by Julie and Prairie Point Junction!
KIMARA: I only know Prairie Point Junction as an on-line store, but you actually have a shop in Cozad, Nebraska. Tell us a little bit about your shop and how it came to be.
JULIE: I have loved fabric for as long as I can remember. One of my first fabric memories is when I convinced my Mom to buy a huge grocery sack of scraps for $5.00 at a garage sale of a lady that did alterations and bridal sewing. That bag was filled with such delightful treasures (at least in the eyes of my 6 year old self). I spent hours crafting things for my dolls with scraps, tape and a stapler since I didn't yet have the skills to use a needle and thread or a machine.
Eventually I progressed to using a sewing machine and discovered 4-H, then later worked at a small craft store in high school and a few fabric chain stores during college. The owners of the local Ben Franklin store where I worked in high school played a tremendous role in shaping my future and my love for retailing. Looking back, I've been so blessed to have encountered the right people at the right time to lead me on this path towards a career that I love each and every day.
I have a degree in Family and Consumer Education and taught in the public school system for a couple years before pursing my life's dream of opening a quilt shop. I opened Prairie Point Junction, in Cozad, Nebraska in 1998. We started with barely 800 bolts of fabric and a very empty looking building – but in the past 12 years we've grown dramatically and sure have filled up the space.
We now stock close to 2500 bolts of 100% cotton fabric, plus 90 colors of wool felt, a wide assortment of 100% wools and every kind of pattern, book, or notion you could want for quilting, crafts, and all kinds of creative endeavors.
KIMARA: So, you've been in business for over 12 years now. Thinking back to the beginning, what have been some of the major crafting changes that have impacted your shop?
JULIE: One of the biggest trends I remember was the Rag Quilt. This was a super easy quilt where you made little block "sandwiches" with a piece of batting placed in between two pieces of flannel. You would stitch a X across the block, then sew all the blocks together, clip the seams, and let it fray when you washed it. I think this easy quilt introduced a lot of new people to quilting – especially those that may have been intimidated by the whole process. We carried a huge array of flannel at the time, but it seems like that trend has come and gone.
Easy to piece quilt patterns have become much more readily available recently. That's fantastic news for the next generation of quilters and crafters out there who would like to give in a try. Moda has really jumped on the bandwagon with their development of pre-cut fabrics including charm packs, jelly rolls, layer cakes and more. There is a wide variety of patterns available using the precuts, so all you have to do is grab a stack of fabric and you are ready to begin a project. Moda also hosts www.modabakeshop.com , where you can download a variety of free patterns using all these fantastic pre-cuts.
I'm honored to have designed three free pattern tutorials for the Bake Shop:
The Chenille Couch Cozy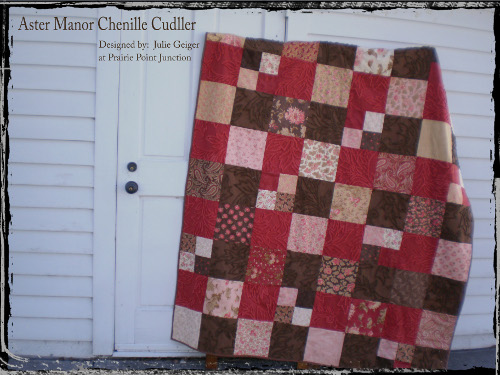 Verna's Cutting Garden
http://www.modabakeshop.com/2010/02/vernas-cutting-garden-tablerunner.html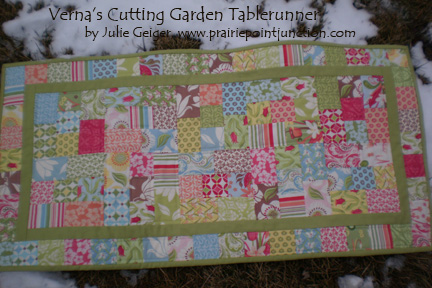 And Frolic'n Butterflies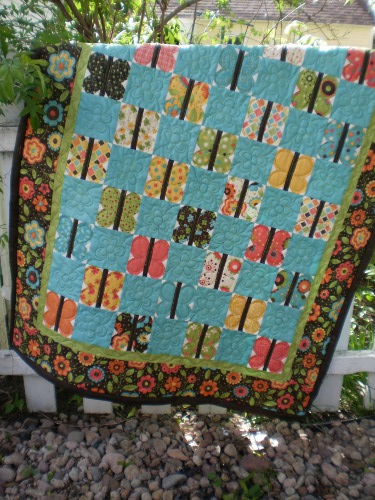 The other major change specifically for our shop has been the addition of the Wool Felt Central area. At International Quilt Market several years ago, I noticed several pillows and small projects made from this "new to me" product – Wool Felt. I ordered about 8 or 10 bolts of felt at the time in colors that went with the projects I had seen on display. As more and more patterns caught my eye over the next couple years, we added more and more colors to support the patterns. That has certainly snowballed as we now stock 90 colors of wool blend felt from National Nonwovens.
I think part of the demand for felt is related to a growing concern for safe toys for kids, a growth in the home school, Waldorf, and Montessori movements; as well as a desire to return to our homes and make useful products while expressing our creativity. Wool felt is such a versatile project, that the uses are absolutely endless. National Nonwovens, the manufacturer of the felt we stock, certifies that their products meet CPSC standards related to lead and phtalates – so customers can rest assured that they are purchasing a safe product.
KIMARA: At what point did you go "global" and start your internet shop? How has that affected your business?
JULIE: We've had a website from nearly the time we opened in 1998. At first, the website mostly was an information source for our local customers with class schedules, store hours, etc. We later added shopping cart software and began selling patterns here and there – not really ever expecting it be a significant part of our business.
As blogging, Etsy, and the web in general began to play a larger role in all our lives, whole new communities have developed online. This had made it easier to network and find the supplies that you need for a particular project.
I hate to admit it, since it goes against the grain of my over-planning self (see former career as a teacher), but we really fell into the Wool FeIt Central concept quite by accident. Wool Felt happened to be one of the few things after patterns that we started posting on our site. Not long after, we saw the demand continue to grow and found ourselves shipping several packages a day. Since that time, Wool Felt Central has played a staring role in what we do here at Prairie Point Junction.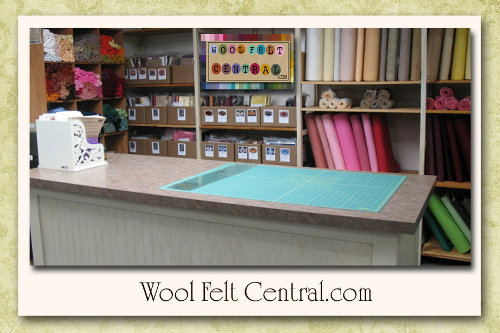 Our classroom space was remodeled to become the Wool Felt Central shipping department. A full time staff person now is devoted to handling shipments in addition to six part-time staff that work throughout the shop. We ship all over the US, including Canada. Considering Cozad, Nebraska, is a town of only 4, 500 located smack dab in the middle of the United States – I consider that to be a pretty amazing feat!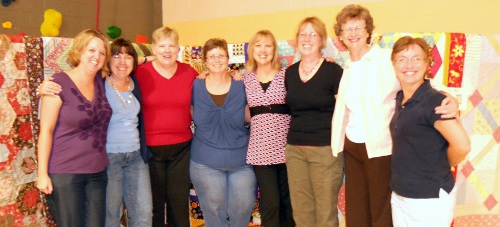 Prairie Point Junction Staff: Julie, Terri, Barb, Deb, Misty, Jolene, Pam, and Connie.
(That's a rock climbing wall in the background, just in case you were trying to figure that out!)
KIMARA: I can't imagine having all of those resources available to me on a daily bases. Talk about a great stash! Obviously, you spend a great deal of time developing crafts for your business, but when leisurely crafting, how do you while away the hours?
JULIE: I just can't seem to keep fabric out of my mind. When I have free time, I still love to sew just about anything. My favorite way to spend the day is sewing with several of my friends for a "girls' day." I prefer to sew easy projects that don't require a great deal of concentration when I want to relax.
I'm also a huge fan of scrapbook, though that doesn't happen nearly as often as I'd like. I started as a traditional paper scrapbook, but in the last few years have gone mostly digital. I use Adobe Photoshop Elements to create pages. It still allows me to be creative and preserve memories, but keeps the supplies and mess to a minimum. Which is super great as I already have a room filled to the gills with fabric.
KIMARA: Okay, let's talk felt for a minute. You have a wonderful article online for working with wool felt. You give directions for prewashing felt. I'm curious. Do you usually prewash your felt before working with it? In what circumstances is it desirable and when is it best not to?
JULIE: Lately, I've not been nearly as gung-ho about prewashing the wool felt as I used to be. You can certainly use the wool blend felt straight as-is from the bolt. It is very flat in texture as it is. I've gotten on this kick making faux sugar cookie ornaments with felt and have designed four patterns for a variety of holidays. I prefer the felt to be flat so it looks more like frosting. Plus I think the detail stitching is easier to see on the flat surface. I also like the body that the felt has before it has been washed.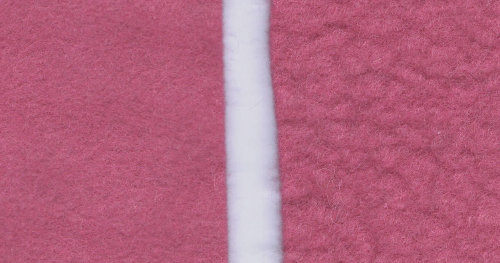 The swatch on the left is straight from the bolt, the swatch on the right has been felted.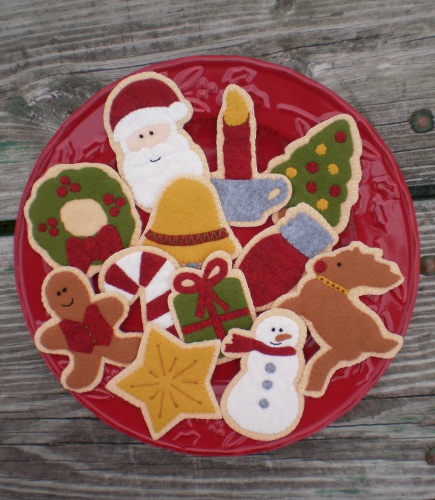 I've also been addicted to the little candle mats from Bari Sue Gaudett of Bareroots (below). They have such tiny pieces, that I feel like I can get a much more accurate cut from flat felt – not felted felt. (Try saying that three times fast.)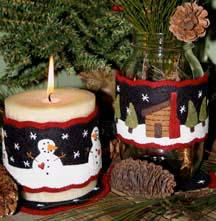 That said, I'm more likely to prewash when I working on a larger penny rug or perhaps a pillow where I really want the texture to stand out. The mats from Penny Lane Primitives (below) look really nice when the felt is prewashed. The felt will look a little bit more like boiled wool, or a wool sweater, for example of you pre-wash it.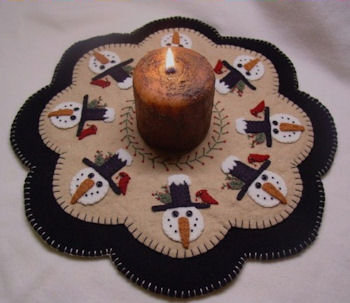 If you haven't worked with wool blend felt before, be sure you print a copy of our Tip Sheet. It will answer many of your questions regarding project preparation. http://www.prairiepointjunction.com/wooltips.html
KIMARA: Last year you started carrying 100% woven woolens that are not felted, but can be. What type of projects would you suggest using the 100% woven woolens for and what is the best way to felt it?
JULIE: The 100% woven wools are great when you need a pattern rather than a flat color. We've got a wide variety of plaids, tweeds, herringbones, etc. Sometimes its fun to add that touch of pizzazz to your project for perhaps Santa's coat, a nice fall leaf, or fur on an animal. The varied patterns can make your applique look just a tad more realistic.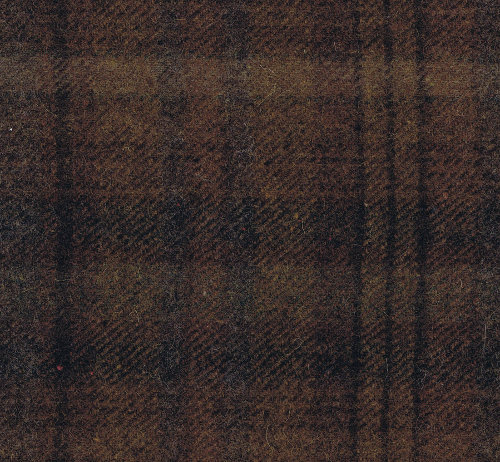 The 100% wools can easily be felted using hot water in your washing machine, then tossing in the dryer. This will help compact the fibers and prevent them from raveling as much.
KIMARA: Finally, you are a mom. I'm always interesting in knowing how people like to spend family time. What are some of your family's favorite "together" activities?
JULIE: I have a seven year old son that loves to express his creativity too. He loves to have free reign of my wool felt tub to make whatever strikes his fancy. One of our most recent projects was making Mario action figures – they're not dolls, MOM! I really encourage you to let your kids go wild with a stack of felt, you never know what they'll come up with.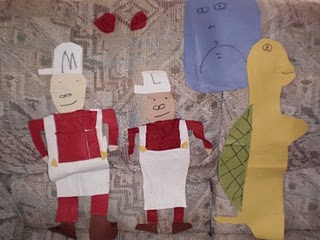 My husband farms, but we actually live within the city limits. Depending on the time of year, we sometime have much more family time than others. I'd say that our main activity is anything that makes us laugh together.
Thanks for taking time to learn a little bit more about me and Prairie Point Junction, home of Wool Felt Central. I love hearing what everyone is making with felt. If you'd like to share your projects, be sure to e-mail me at prairiepointjunction@yahoo.com. We'd love to feature your creations on our blog at www.woolfeltcentral.blogspot.com.
https://www.weefolkart.com
Copyright © Wee Folk Art 2008 – 2010. All rights reserved.
All photos, text and patterns are copyright protected. You may not copy, reproduce or redistribute any material found on WeeFolkArt.com without written permission. Wee Folk Art retains all rights.