For the past several weeks I have been talking about a BIG project we are working on. And when I said BIG, I really meant HUGE! Here's the back story. We live in a 2 story home with the bedrooms on the 2nd floor. As most of you have heard at one time or another, I have arthritis in my spine that is getting worse with each passing year. Stairs are already a real bugger, and Tim and I have talked about moving into a ranch. We love our house and our property and really did not want to move. We decided that when I couldn't do the stairs anymore, instead of moving, we would add a bedroom on the main floor. Tim suggested that instead of waiting, we get started now, and so we have!
It started with us drawing up a rough plan that included the master suite, we also wanted a screened in porch. We then meet with our builder who took our ideas and did the actual design. We loved the plan! Not only did we get the bedroom and bathroom on the main level and the screened in porch, we decided to add an extension to our basement which will become Tim's woodworking shop and a bathroom in the basement. As I said… a HUGE project!
Here are the actual floor plans: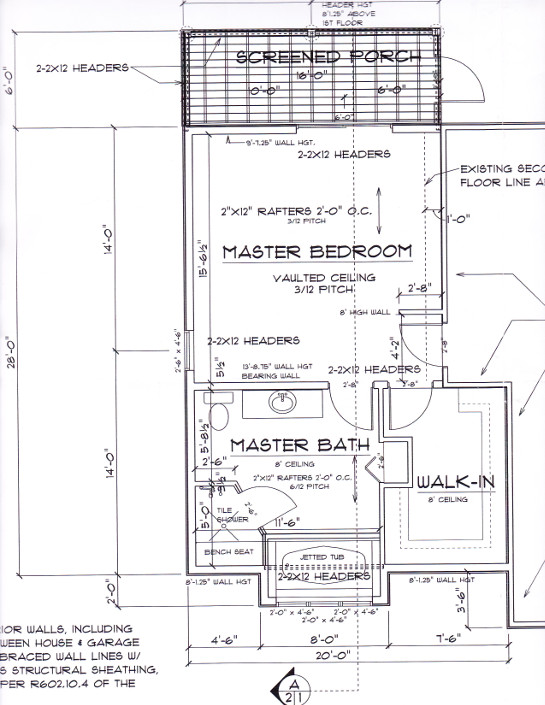 First thing Monday morning… getting ready to break ground. Notice the man in the foreground with a snow blower. Before the backhoe started, they had to shovel the area! Who knew they could build in this kind of weather!
The first scoop. Now I feel like this is really going to happen!
This is Tuesday morning. They dug the basement in just 1 day. Amazing! Here they are pouring and leveling the footings. They covered the whole area with plastic blankets before they left. I guess even cement gets cold!
It was 25 degrees today, but snow and falling temperatures are suppose to come again tomorrow.
Bug busy watching the process. What fun!
I will be doing a weekly update… more for our family's benefit than anything else… but if you'd like to follow along, you can join us here 🙂