Whether you're using these stockings for ornaments, gift wrapping, or silverware holders, they are simple to make and allow for tons of self expression. Use the main pattern for the stocking base and decorate with the shapes included. Or, express yourself and decorate to suit your fancy.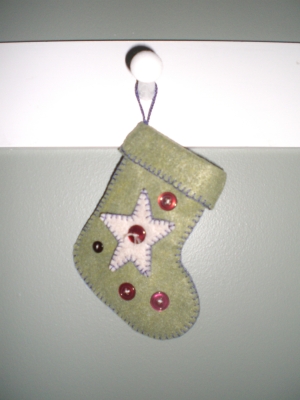 Supplies:
Assorted colors of felt
Embroidery floss and needle
Buttons and other doodads
Pattern
Directions:
Copy pattern. Use the copy to cut out pattern pieces.

Cut out 2 stocking patterns. For best results cut out the 2 pieces at the same time.

Decide on a design for your stocking. Use one of the cut outs with your pattern or design your own. Cut out 2 designs from contrasting felt.

Using the

blanket stitch

sew the 2 cutouts together. Use 3 strands of contrasting

embroidery floss

.

Slip stitch

completed cutout to front piece of stocking. Do not go all the way to the edges. You want it to maintain a 3-D look. The top part of the stocking will fold down and hide part of the stocking. When positioning your cutout, place it in a location that will look balanced after the stocking has been folded down. A blanket stitch will join the front of the stocking to the back so don't place your cutout too close to the edges.

Randomly place coordinating buttons on the stocking. Sew on using 6 strands of contrasting embroidery thread. You may wish to

tie the buttons

on leaving enough floss to tie a bow or know. When placing buttons, remember the top of the stocking will be folded down and a blanket stitch will join the front of the stocking to the back.

Place the front of the stocking on the back stocking. Using 3 strands of embroidery floss

blanket stitch

the 2 pieces together, starting and ending at the fold line.

Using a

back stitch

sew up the 2 side seams along stitching lines.

Fold the cuff over along fold line.

Using the

blanket stitch

finish the edge of the cuff.

If using as an ornament make a

finger chain

from 6 strands of embroidery floss 6 inches long.

Tack

finger chain to stocking inside the cuff on the heel side of the stocking.
VARIATIONS
Retro Flower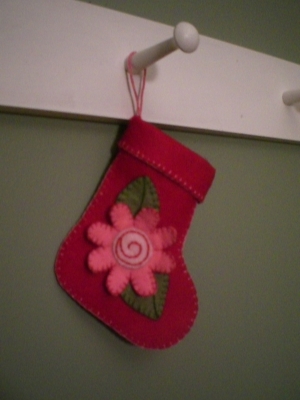 www.WeeFolkArt.com Copyright © KM Projects 2008. All rights reserved.