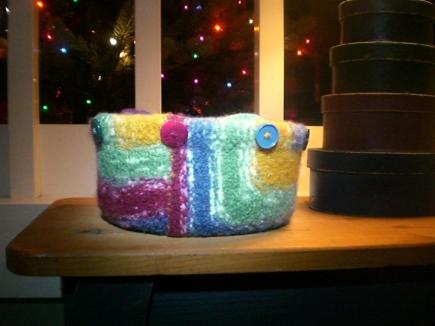 When Michelle posted her blog on the Mitered Bowls, she called me up and asked if I was up for getting the directions together. Okay, I put the afghan aside, and dug through my files to find the directions I'd written up this past summer. A quick read through convinced me that a diagram was in order, so I knitted the teeny tiniest little bowl so I could properly label the diagram. Next time I machine felt, the gnomes are going to get their own mitered bowl!
Anyway…the directions are good to go and are being offered as a Crafting Club Pattern. BUT, as Michelle said, this pattern is what we would consider a Beta pattern. It is complicated enough that we would like a couple more people to knit it before we would consider the pattern "public ready". We've both knitted bowls off this pattern, but just like it's never wise to edit your own writing…it isn't a good idea to knit your own patterns. We subconsciously make corrections!
So, if you do tackle this project, (and they are certainly worth it, because they are relatively quick to make, a couple of evenings for the seasoned knitter, a wee bit longer for the adventurous beginning knitter, and it would make a wonderful gift) let us know if you encounter any problems. Fingers crossed…it will be smooth sailing! Enjoy!