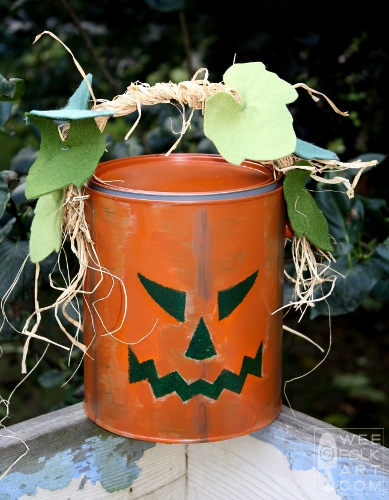 Do you ever feel like you're a character in Rocky Horror Picture Show? I feel like I'm doing the Time Warp. I've been making fall crafts… but I have to start on Christmas… and there is a special project I'm working on for Spring! Uh, what day is it?
Okay, focus, Kimara… fall… Halloween… Christmas stockings… no, no, no. HALLOWEEN, HALLOWEEN. Okay, I'm back. Halloween. So… here is my completed Paint Bucket Jack-O-Lantern. If you were over at Wee Folk Activities last week, hmmm… was it just last week? Anyway… if you were over there, you would have seen the Jack-O-Lanterns Bug, Fairy and Pixie made for Trick-or-Treating. I started mine last week… at least I got it primed and painted, but I finished it up today. I got the idea for these last spring when I turned some paint buckets into planters for my front steps.
Although the Jack-O-Lanterns themselves do not take a lot of time… the leaves aren't even embroidered, can you believe I ACTUALLY let felt go unembroidered?… but you do need to allow for plenty of drying time. So, if you would like to make your own Paint Bucket Jack-O-Lanterns for trick-or-treating or household decorations, get started soon. I plan to use mine as a decoration Pre-Halloween, then use it as my candy bucket for handing out treats.
Paint Bucket Jack-O-Lantern Materials:
paint cans with lids
spray metal primer
spray paint
acrylic paints for stenciling and detail painting
spray adhesive
spray acrylic finish
raffia
felt for leaves
Paint Bucket Jack-O-Lantern Directions:
1] Make copy of pattern.
2] Prime clean paint can according to directions on can of primer. Allow to dry.
3] Spray paint can according to directions. I used a darker orange as a base, then a brighter orange for highlights. Allow to dry completely. (You will be using artist adhesive to hold the stencil in place. If your paint is not thoroughly dried, it can remove some of the paint.) Remember to spray paint the lid.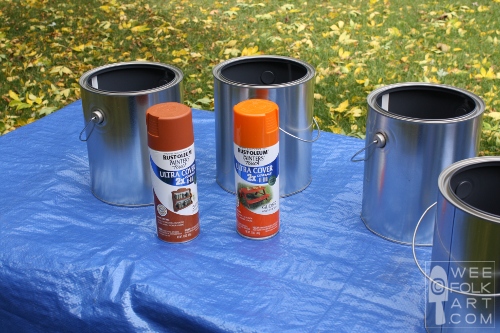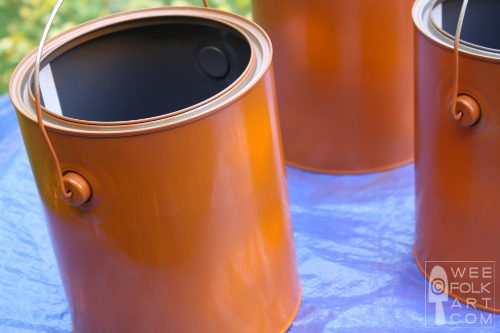 4] Using acrylic paints, add details line lines and shading. I used browns, golds and some green. (NOTE: when I was done stenciling the face, I wasn't happy with my paint job. I squirted some of the spray paint on a paper plate, and lightly went over the entire pumpkin. I should have done this before I stenciled!!! It made it harder not to get paint on the facial features, but not impossible!) I was pleased after I toned it down a bit.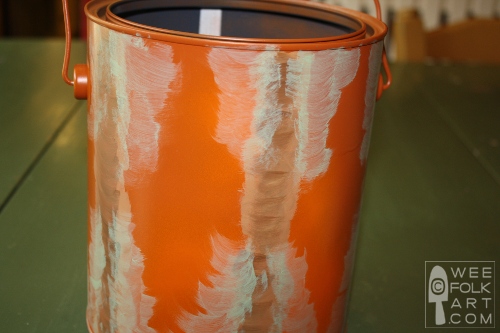 5] Transfer the Jack-O-Lantern face onto a piece of paper the height of your paint can. Carefully cut out the eyes, nose and mouth. (Use the face included or design your own.)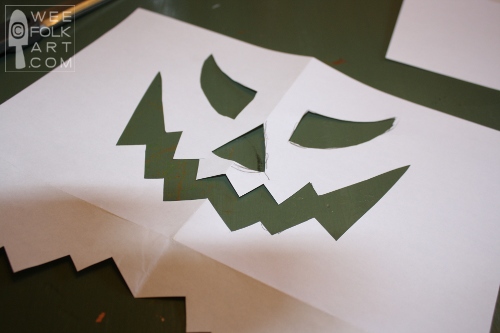 6] Spray one side of the stencil with the spray adhesive. Allow to dry COMPLETELY!
7] Position the stencil and lightly press in place, making sure it adheres completely around the cutouts.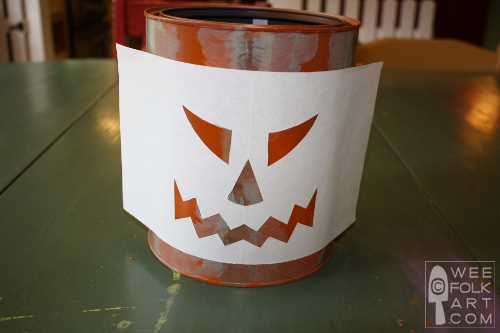 8] Using acrylic paint and a sponge or a stenciling brush, stencil the face on your pumpkin. Allow to dry then remove the stencil. If the paint was not dried completely, and some paint is removed with the stencil, simply touch it up. (See note in #4 about paint.)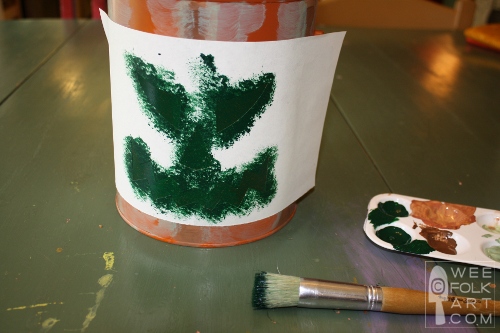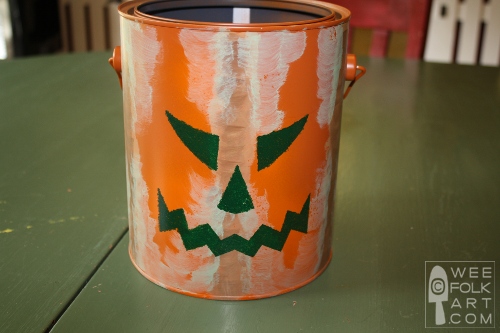 9] Allow paint to dry completely then spray 3 coats of acrylic finish on Jack-O-Lantern following the directions on the can. Remember to finish the lid. Allow to dry completely.
10] Wrap raffia around the handle. Use pieces of raffia to secure the ends.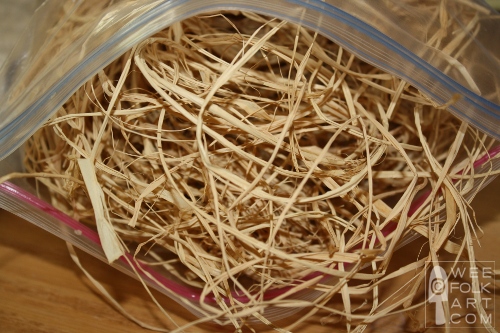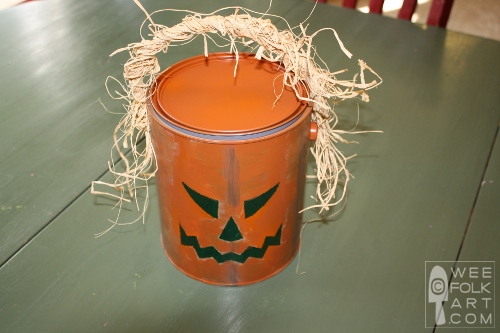 11] Cut out 6 leaves. (I used 3 different colors of green felt.) Using match thread, tack the leaves to the handle.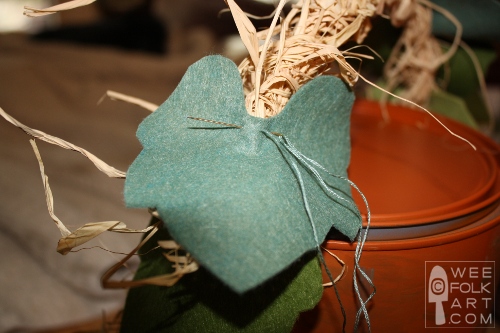 Your Paint Bucket Jack-O-Lantern is now ready to function as a holder for candy, potpourri, guest towels, etc. or simply put the lid on it. Happy Halloween!