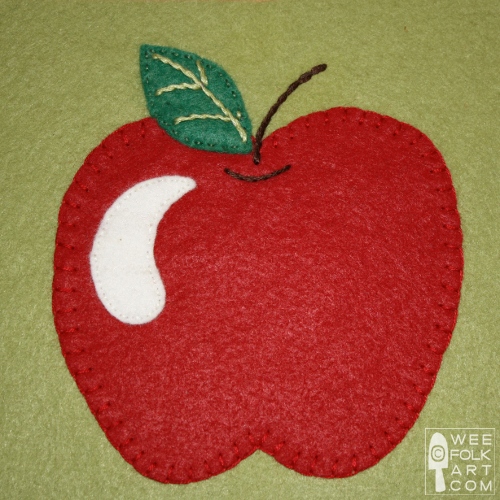 Squirrel Acorns and Wee Folk Art started about the same time over a year ago. In that past year, Tina has shared several recipes. I have made most of them, and I can personally attest to the fact that each was yummy. Today, I am very pleased to share Tina's recipe for Caramel Apple Pie. I haven't made this yet, (I can guarantee I will), but going on past successes, I'm sure this is going to be delicious… and more than slightly decadent! Thank you so much, Tina, for sharing this recipe. Make sure to visit Tina at Squirrel Acorns and have a look around! There is still plenty of time to share one of your favorite fall recipes. Just send it to weefolkart@yahoo.com, include a little bit about the recipe, and if you have a blog and would like a link back to it, make sure to include your site info!
My favorite cooking has always been baking, so of course my favorite fall recipe is a baking recipe! For me, fall is all about apples. Yummy apples. A nice apple crisp is a wonderful, tasty, quickie fall dessert. But sometimes, it's really nice to just go all out and make an awesome pie. I like to prepare several pies using disposable pie pans, and then wrap them up and freeze them (before cooking). Then, you can pull a pie out of the freezer and have a delicious apple pie at any time of year. Although, they are usually gone by Christmas. I use the same instructions to bake them from the freezer, they may just take a little bit longer. This pie has a lot of filling, so definitely use a deep dish pan. I think I got this recipe originally from a magazine a long time ago, but to be honest, I'm not sure where.
Also, my new-favorite way to make crust from scratch is from Cook's Illustrated. It's a butter+shortening version, and you use part vodka instead of all water. It's awesome. The additional vodka allows the crust to be pliable enough to easily roll out, but it then evaporates during cooking so you're left with a really flaky crust. Mmm…..I think I need to make pie this weekend.
Caramel Apple Pie
Prep time: 1 hour
Cooking time: 1 hour 15 minutes to 1-1/2 hours
1 prepared 9" pie crust
Caramel Streusel Topping
9 Tbs. butter or margarine, room temperature
1-1/2 cups all-purpose flour
1/3 cup firmly packed dark brown sugar
1/2 cup almond brickle chips or toffee bits (e.g. Heath bar bits but not the kind with chocolate)
Filling
6 or 7 apples (I like two or three varieties, Granny Smith+Cortland+another) – 2 ½ pounds
3/4 cup almond brickle chips or toffee bits
1/3 cup sugar
1 Tbs. cornstarch
1/8 tsp. salt
2 Tbs. butter or margarine
Preheat oven to 400 degrees. Combine butter, flour, sugar and brickle bits for topping. Form mixture into two balls and refrigerate.
Peel and core all apples. Cut each apple into quarters, then halve each quarter (so you end up with eight slices per apple). Toss apples with brickle chips, sugar, cornstarch, and salt. Spoon into crust. Cut butter into 1/4 inch pieces and place over apples. Break topping into pieces over apples.
Bake 20 minutes. Loosely cover pie with tent of foil with a quarter sized hole in middle. Continue baking 1 hour or until bubbly and crust is golden.