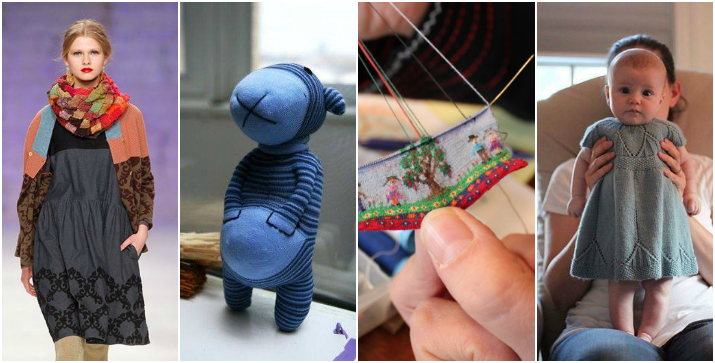 Banner Images (left to right) Source :: TM Collection, Source :: Strana Masterov, Photo Source :: Bugknits and Source :: Kate Gondwana
POST-ITS is a weekly feature on Wee Folk Art where we share some of our favorite posts from the week taken directly from our Wee Folk Art's Facebook page. We encourage you to share some of your favorite finds from the week. It might be something you've seen on the web or something you've blogged about or something you just added to your shop. Just tell us a little bit about your find and share a link in your comment.
---
Miniature Knitting
Photo Source :: Bugknits
I can't even begin to wrap my head around this!
From the needles of Althea Crome (actually polished surgical steel wire) she knits minuscule pieces usually at one twelfth the scale of normal knits.
To learn more visit these sites:
http://indianapublicmedia.org/arts/tiny-knits/
http://www.bugknits.com/
Let me just say, WOW!
~Kimara~
---
My Look
Photo Source :: TM Collection
I've mentioned this before but over the years I've developed my own sense of style which most closely aligns itself with your basic bag lady, although I prefer to refer to it as eclectic! First off… comfort rules the day, and second, I love each piece of clothing I put on. Much like a 4 year given the freedom to dress herself, I seldom worry about how "the look" will come off to anyone else.
It is very liberating!
I saw this model and was immediately attracted to the style. Nice to know that the things I gravitate towards occasionally trip the light fantastic down a fashion runway. Maybe I'm not as out of sink with the rest as of the world as I imagine!
Anyway… what do you think… wonderful or a mess?
~Kimara~
Photo from TM Collection
---
1 Month Old Peanut

I love the fact that the capacity to love is endless. 6th grandbaby and just as awe inspiring and loved as the first.
Happy 1 month old, little Peanut!
~Kimara~
Photo from Wee Folk Art Via Raewyn
?
---
Elsie's Petal Dress Pattern
Source :: Kate Gondwana
Oh.My.Stars!
Check out the detail on this dress. I thing at least one of the grandbabies needs this!!!
~Kimara~
Photo from Kate Gondwana's Ravelry Page
---
Sock Doll
Source :: Strana Masterov
What can I say???
This little guy tickled my fancy!
~Kimara~
One of our readers, Judith Hart, said she makes these and she got the instructions from the book:
Stray Sock Sewing available HERE on Amazon. .(FYI – Wee Folk Art is an Amazon affiliate)
Photo from Strana Masterov
---