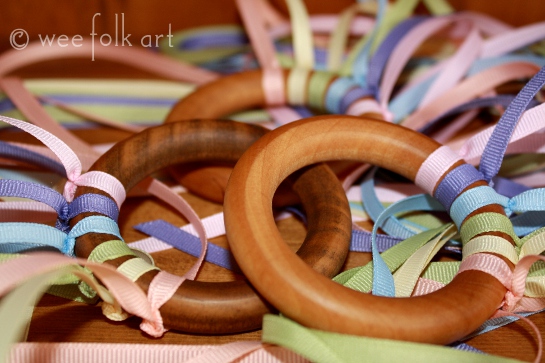 There is a pure joy in running free and dancing, especially with a rainbow of ribbons streaming behind you! Make one or two for all the wee hands in your life. Whether children are dancing to their favorite songs or simply to the music of nature, Fairy Ribbon Rings will make the experience magical!
To make your own you will need: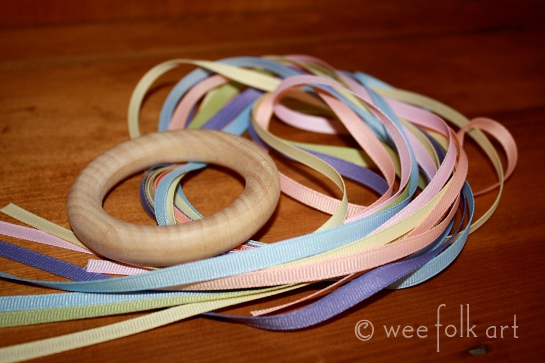 Materials:
(1) 3″ wooden ring
(6) ribbons 1/4″ wide x 48″ long
fine grade sandpaper
beeswax finish
non toxic wood stain (optional)
non toxic paint (optional)
Note: All materials used should be non toxic and child safe.
IMPORTANT SAFETY WARNING: The ribbon streamers on the finished rings are 24″ long and are considered a strangulation hazard. Make sure a child is properly supervised when using this toy and never leave them alone with it. Although generally it is recommended that long strings should not be given to children under 3 years of age, we highly recommend you do not give toys with long strings to children that still wrap things around their neck, no matter how old they are!

Using fine grade sandpaper, sand the ring smooth. Wipe off to remove any saw dust.
Apply a non toxic wood stain to the ring. I use a non toxic soy based stain that is available in our shop. If you would like a light, natural looking stain, use Fruitwood stain. If you'd like a deeper, more dramatic color, use the Walnut stain.
When the stain has dried completely, apply a beeswax finish to the ring.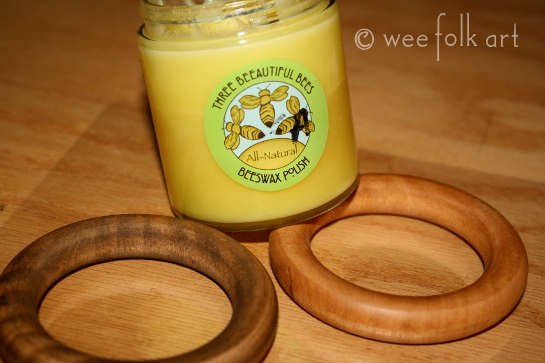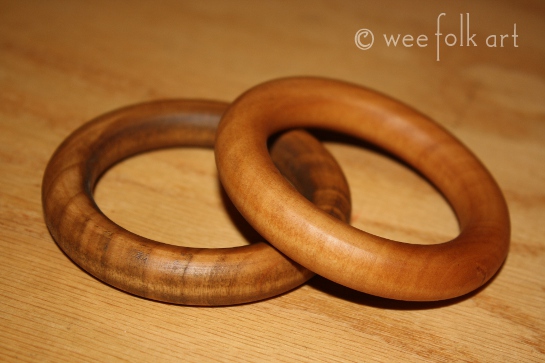 Cut 6 pieces of 1/4″ grosgrain ribbon 48″ long. (If you bought our kit, the pieces are already cut.) Note: Often Fairy Ribbon Rings use silk ribbons. We prefer to use grosgrain. Grosgrain ribbons still flow beautifully, but they are sturdier than silk ribbons and the toy remains beautiful longer.
Decide how you want the ribbons on your ring. Then, simply tie the ribbon on using a square knot (right over left, left over right). Make sure you tie it tight so the ribbon is not slipping on the ring. Note: although you should tie the ribbon on in the middle, don't worry if one side is a little longer than the other. It will still look beautiful 🙂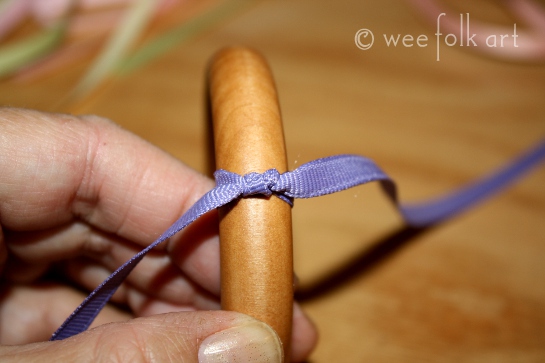 Continue tying on ribbons in the same manner until you have added all your ribbons. When tying the ribbons on, place them close together but they should not be touching.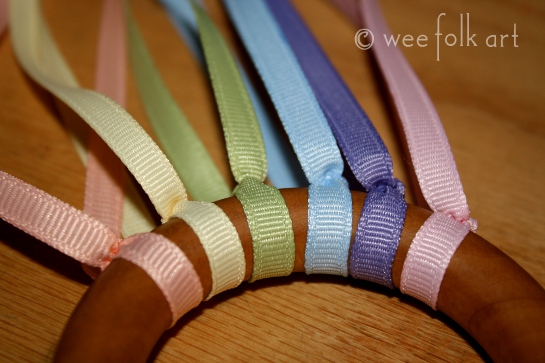 To help prevent fraying and to give a finished look to your Fairy Ribbon Ring, cut the ribbons on a 45 degree diagonal.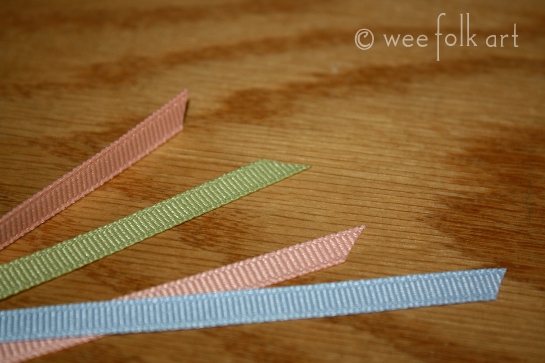 Easy, right? Why not make a second ring to double the fun and beauty?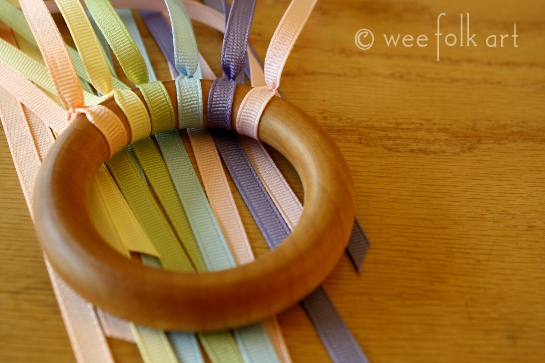 ALTERNATIVE FINISHING SUGGESTIONS
If you would like a more colorful ring, simply paint the ring with a non toxic paint and seal with a beeswax finish.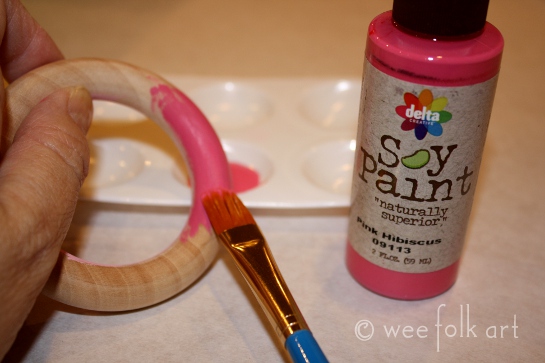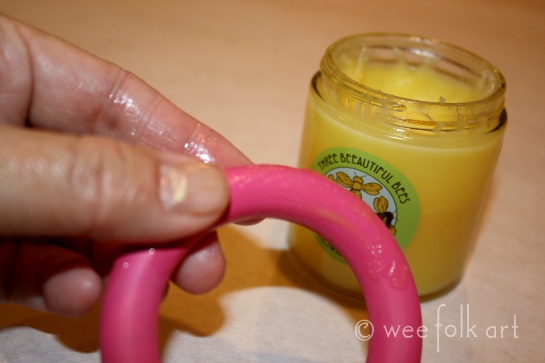 You can also choose not to stain or paint your ring and leave it natural. Apply a coat of beeswax finish and buff.
Notice the difference between the 2 rings. The one on the right has been finished with our wood sealer. Doesn't is do an awesome job?