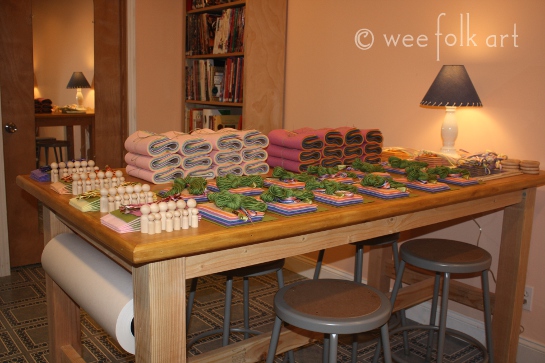 With the opening of the shop just 1 week away it's hard to think of anything else! We still have some project packets to share, but we also wanted to highlight some of our non kit items. Today, I'll share some of our "fiberish" offerings.
WOOL FELT ROLLS
Over the next week, as we share more kits with you, you'll notice that all of them use the same color way. You will find that as we introduce new projects, they will usually share a seasonal color pallet. As we craft using different felt colors, we will make those Wool Felt Rolls available to you. We will not be selling our 100% wool in single sheets, but rather, for each color way, we have collected 8 sheets of felt that are beautifully coordinated, and will help you create a project ready stash 🙂
This is a high quality 100% wool felt that is great for toy making, appliqueing, Waldorf toys and other crafts. It is colorfast, water repellent and fire retardant. It is safe for children, and with it being biodegradable, it is a ecologically sustainable and responsible material choice. Crafting with this super soft felt is a true joy. It is easy to cut and and has no edges to finish.
We have arranged the felt into rolls that feature varying shades of rainbows. Each pack contains 8 sheets of 100% wool felt. Each sheet measures approximately 20 x 30cm and is 1.2 mm thick. We love working with this felt and hope you do, too. As we move through the year, seasonally crafting, we will add more Wool Felt Rolls to our shop. This first 2 Wool Felt Rolls are:
BABY BUNDLE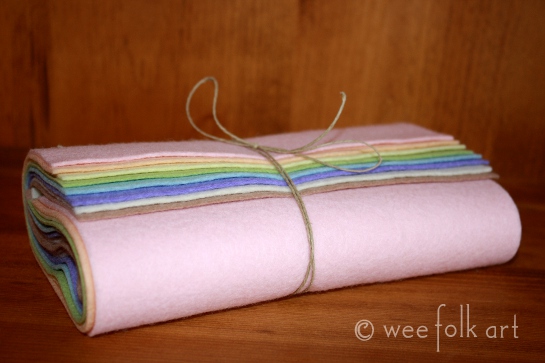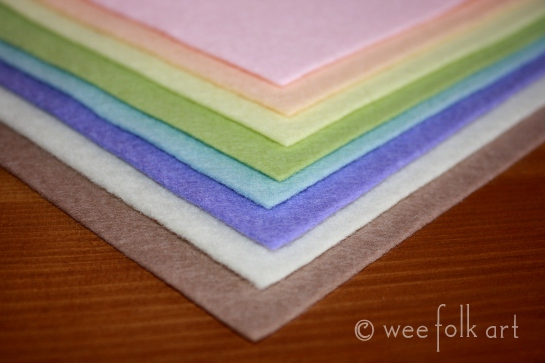 MEADOW FLOWERS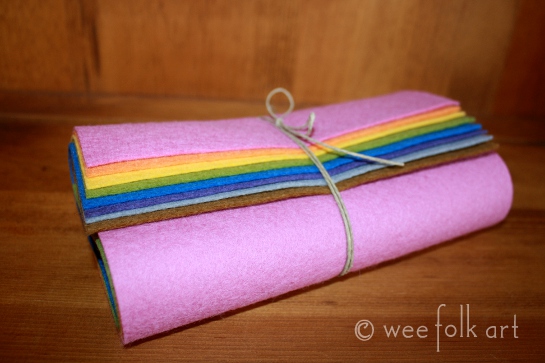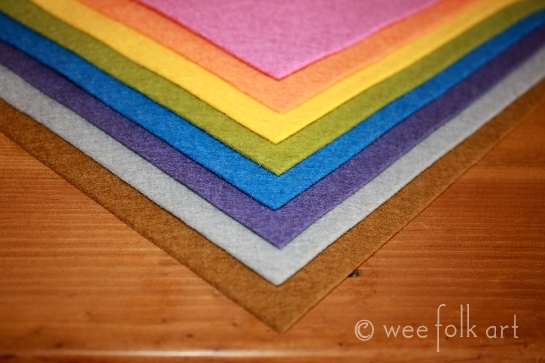 EMBROIDERY FLOSS PACKS
To make life a little easier, we have put together 100% Cotton 6 stranded DMC embroidery floss to match our Wool Felt Rolls. Each pack contains 8 skeins of floss to coordinate beautifully with our felt. Just like our Wool Felt Rolls, we will add more Embroidery Floss Packs as we skip through the year 🙂 The first 2 Embroidery Floss Packs are:
BABY BUNDLE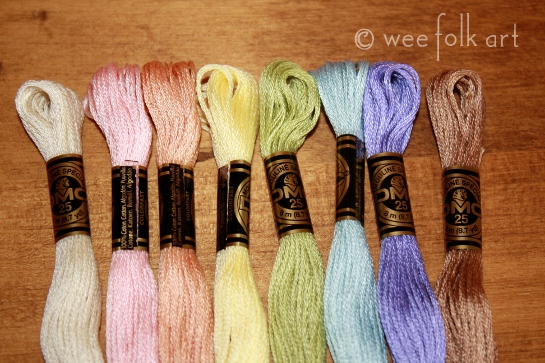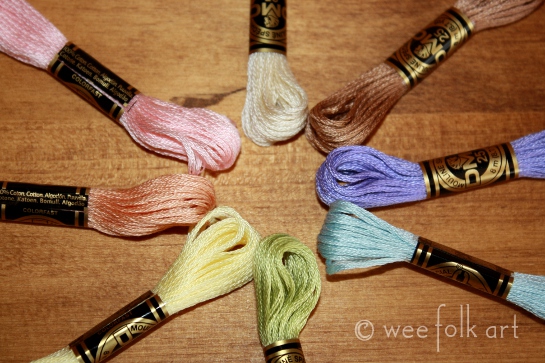 MEADOW FLOWERS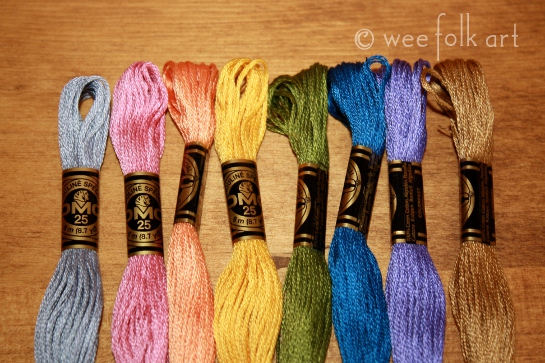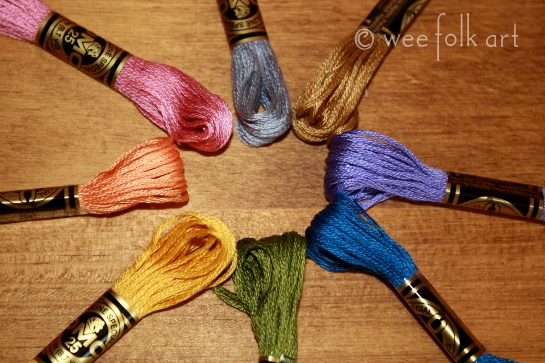 HAND DYED WOVEN WOOL SQUARE BUNDLES
We are very excited to share these Hand Dyed Woven Wool Squares. Each bundle includes 6 hand dyed pieces of woven felt. The pieces measure approximately 8″ x 8″. Hand dying gives each piece a unique look. Unlike felt, these are woven pieces of fabric that drape well and give a unique look to your crafting. We have many different projects in mind to share using our Hand Dyed Woven Wool Squares. Each piece of this 100% woven wool has been hand dyed, washed and felted. Your 2 color choices are:
LIGHT PASTELS which include Light Blue, Dusty Pink, Lemon Yellow, Spring Green, Coral and Lavender.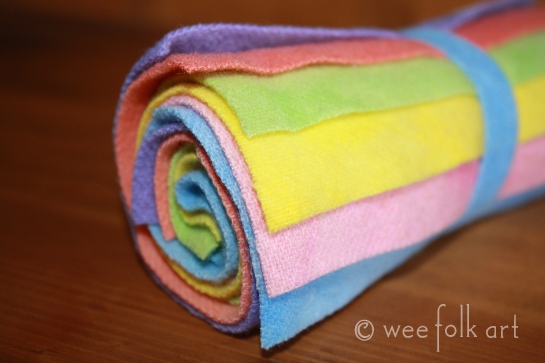 ASSORTED BRIGHTS which include True Blue, Lime Green, Hot Pink, Bright Orange, Sunshine Yellow and Deep Purple.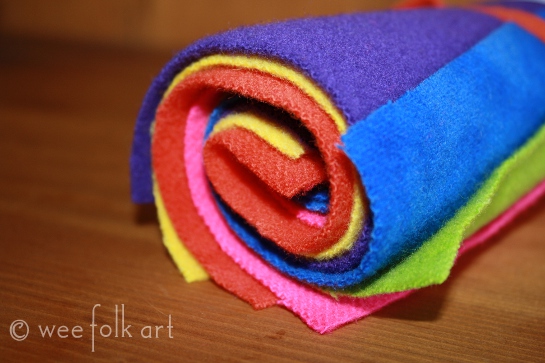 100% WOOL FELTING YARN
We thought long and hard before choosing a 100% Wool Felting Yarn for our shop. Michelle and I love to buy and work with beautiful, hand dyed yarns when knitting apparel. Those yarns, however, can be very expensive and cost prohibitive, especially when used in crafting. For that reason, we decided to offer a very affordable 100% Wool Felting Yarn that had a spectacular color way, and could be worked into most budgets.
We have bundled together 8 Skeins of 100% wool yarn perfect for all your felting projects. We love the bright colors and affordability of this worsted weight, single ply yarn. Given this rainbow of colors, you'll have a stash on hand for all those little crafty endeavors that call for bright, playful colors. Each skein of yarn is 3.5 oz (100 g) – 155 yds (142 m).
Each bundle includes the following colors: Peony, Clementine, Honeycomb, Aquamarine, Mediterranean, French Lavender, Thyme and Cupcake.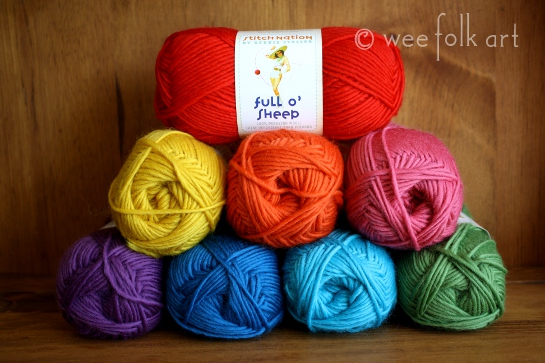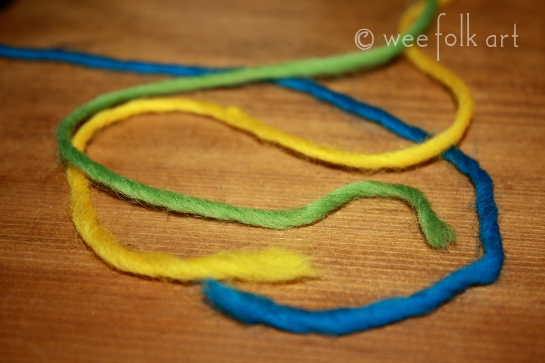 WOOL ROVING
Whether you're looking for a pinch of roving for a gnome's beard or some colorful roving to needle felt small projects, our wool roving is just the thing to get you started. We are carrying 100% Wool Roving which is wonderful for both needle felting and wet felting. This roving is 100% New Zealand wool and comes packaged with 12″ pieces in 8 colors. You can choose from 2 colorways. The first is a collection of vibrant colors suitable for whimsical felting. The second is perfect for beards and fun. The color bundles are:
COTTON CANDY which includes Sky Blue, Candy, Tangerine, Lemon, Natural, Lavender, Marigold, and Lime.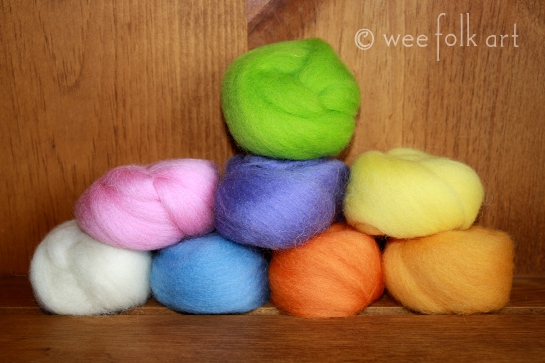 FURRY FRIENDS which includes Camel, Smoke, Dark Brown/Grey, Natural, Light Grey, Medium Grey, Toffee and Black.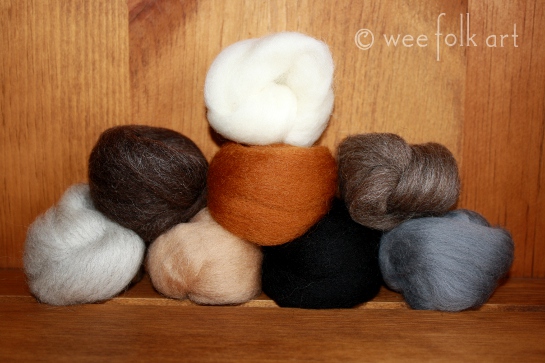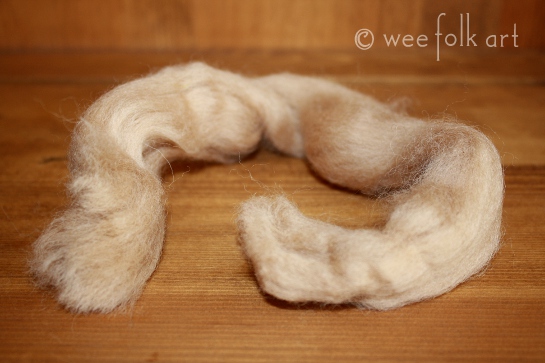 NEEDLE FELTING KIT
If you are new to needle felting, of course you need the right supplies to get your started. We have put together a kit perfect for beginner and experienced needle felters. This Kit includes everything you need to get started needle felting. Included is 1 wood needle handle that holds up to 4 needles, 1 set of 4 felting needles (size 36) and one wood based needle felting brush mat (3.5″ x 4.5″).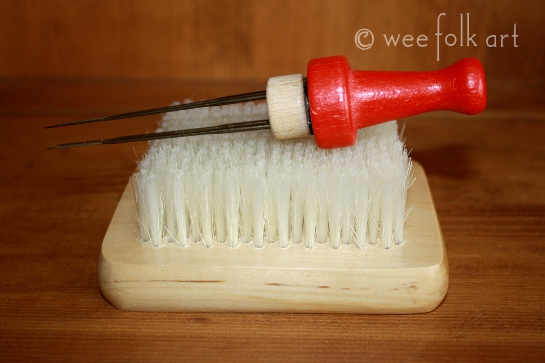 Over the next few months we will be adding many more fiber supplies. We will be looking for feedback and suggestions. Reminder… our shop opens Monday, April 23 🙂