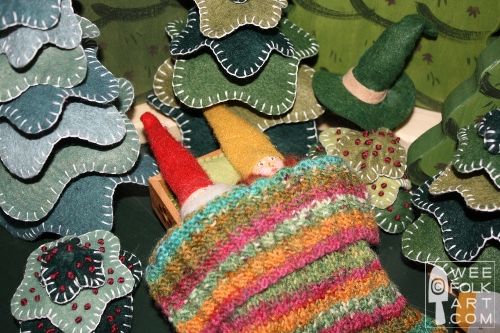 Britta was awaken by the lovely sound of birds singing in the forest trees. When she opened her eyes, however, she realized she was much closer to the forest than she had been when she went to sleep the night before. It seemed that at some time during the night, the bed that she shared with Axel, was removed from their home and carried far into The Thicket. Leprechauns! Britta thought of waking Axel, then took a deep breath, smelling the intoxicating fragrance of the mossy ground and the pine trees, and she snuggled back under the warm covers, snickered quietly and whispered, "No harm done" before falling back into a gentle sleep.
Directions for making the bed, mattress and pillow can be found HERE.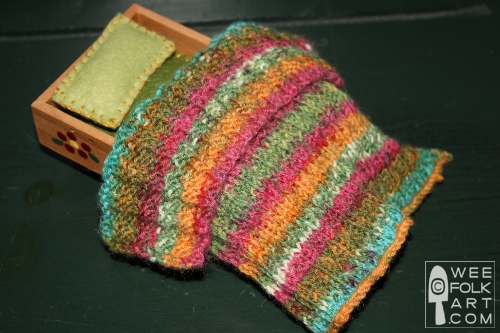 Knitting Instructions for Spring Bedspread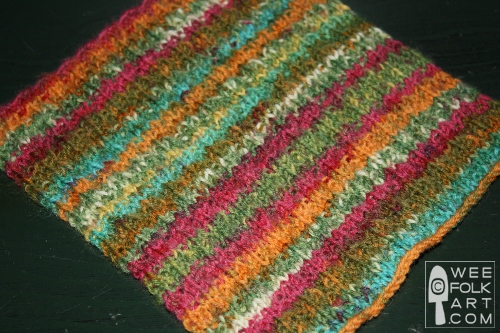 Materials:
size 3 knitting needles
sock yarn (You might like… Regia Kaffe Fassett Sock Yarn – Exotic Clay)
Note: for this pattern you you need multiples of 4 stitches plus 2
1] Loosely cast on 42 stitches.
2] Repeat the 4 rows of the pattern until piece measures 7″.
Pattern:
Row 1: K2, *P2, K2 (repeat from * to end of row)
Row 2: P2, *K2, P2 (repeat from * to end of row)
Row 3: Knit row
Row 4: Purl row
3] Loosely cast off. Weave in ends.
https://www.weefolkart.com
Copyright © Wee Folk Art 2008 – 2010. All rights reserved.

All photos, text and patterns are copyright protected. You may not copy, reproduce or redistribute any material found on WeeFolkArt.com without written permission. Wee Folk Art retains all rights.