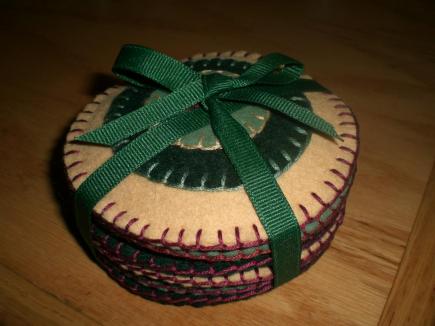 The other day I was going through some old books and came upon a wool penny rug that I've wanted to make for years…I shared the pic last week. I know I don't have enough time right now to tackle a rug, but I wanted to use the wool pennies for SOMETHING! I started a table runner, but it's going to take a while, so I came up with a much quicker project, just to satisfy my desire to work with these addictive circles!
So…I made coasters. I know, I know. I just made felted circle coasters. How many coasters does one person need? Well, honestly, probably 1 BUT they do make great gifts and they are very fast projects. I made a set of six in about 6 hours. And they did turn out lovely. I'm going to keep this set, but I plan to make a set for Tim's family Christmas gift exchange. I pulled the name of one of his sisters, (he has 6 of them!) who has many Mary Engelbreit things in her house, so I'm thinking of making them in red, white, black and yellow…
Check out the super easy directions in our FREE Patterns. I added a layer of cotton batting between the layers of wool to give extra protection to furniture. Hope you enjoy!