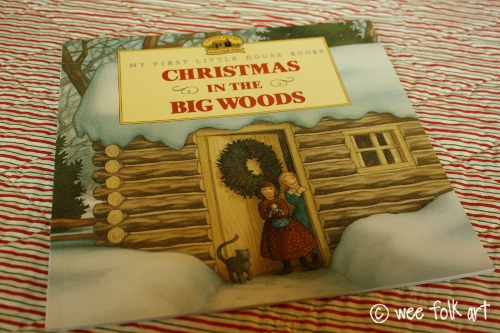 WEEK 3 – Celebrating With Family
The book: Christmas in the Big Woods
The craft: A Gingerbread House
The recipe: Pancake men
The applique: a log cabin
Over the years I've made this observation… the way people celebrate the Holidays is almost as unique as their own fingerprints. Oh, sure, there are many family traditions that get incorporated into our celebration, but in the end, Christmas observances are fine tuned to reflect the uniqueness of each family. The food that is eaten, who we visit, the amount and type of gifts that are given, and establishing a balance between religious and secular that works for us is solely distinctive to our family. But I have made another observation… and that is that no matter how we may choose to celebrate the season, at the very core, the common thread that seems to unite us all, is the importance that seems to be placed on family. Christmas is a time for family, a time to connect with our ancestors, and in Christian households, a time to ponder the beginnings of The Holy Family.
When you think about it, the birth of Jesus was not just the birth of a baby, but it was also the birth of a family. If God had wanted to he could have sent his son to Earth as a grown man. But he didn't; he chose instead to give Jesus the whole human experience, and at the center of that experience, there is the family. Jesus grew up in a family. He understood the love of parents. He understood the joys and trials of growing up. And, he understood the peace that comes from being in a nurturing environment, being loved and cared for in a family. By sending his son to Earth as a baby, I believe God wanted us to understand the importance that He placed on the family.
Advent is a wonderful time to talk "family" with our children. Where does our family come from? How did we celebrate Christmas as a child? What are the special things we do as a family to celebrate the Season? There are many wonderful books that share how different families celebrate Christmas. The story, Christmas in the Big Woods, adapted from Laura Ingalls Wilder, talks about a Christmas celebration in the mid 1880s. Children will undoubtedly notice similarities to their own celebrations, and discover some differences. This is a wonderful time to reflect on the importance of family, and how as a family, we celebrate Christmas!