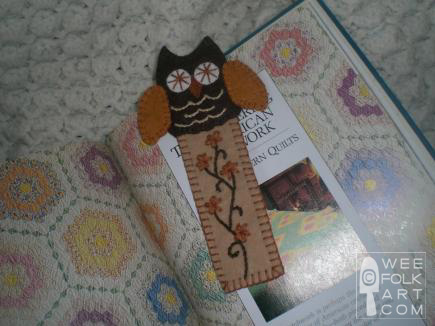 Make this book mark for a stocking stuffer or a token gift for a friend who loves to read. It's quick, it's easy and it's cute… definitely my kind of project. Enjoy!
Materials:
8" x 4" piece of wool felt for book mark
4" x 6" piece of wool felt for owl
3" x 6" piece of wool felt for wings
Felt scraps for eyes and beak
Embroidery floss
Pattern

[1] Copy pattern and cut out pieces of felt; 2 book mark pieces, 2 owl body pieces, 4 wings, 2 eyes, and 1 beak.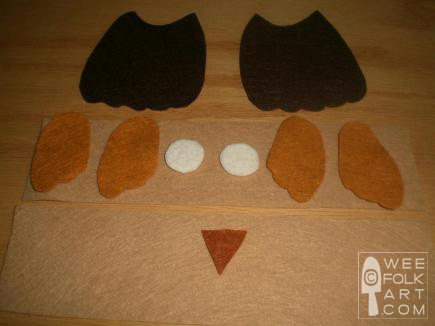 [2] Transfer flowering vine design to front book mark. Stem stitch vine using 6 strands of embroidery floss and lazy daisy stitch flowers using 6 strands of floss.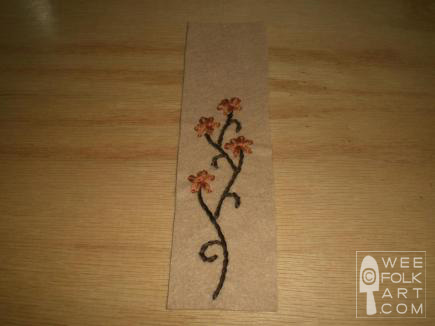 [3] Pin front to back of book mark so vine design is on the outside. Referring to pattern, blanket stitch the sides of the main part of the book mark using 6 strands of floss. Use running stitch and 2 strands of embroidery floss to sew together the top portion of the book mark.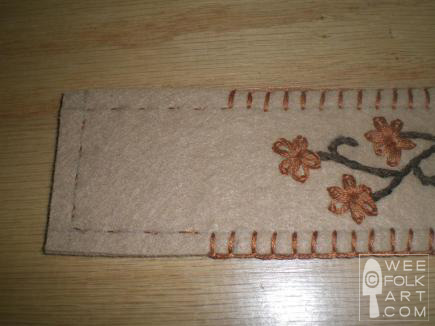 [4] Refer to pattern for positioning of all pieces and embroidery. Attach beak to owl front using blanket stitch and 2 strands of embroidery floss. Add eyes using 2 strands of floss, overlapping beak. Using 6 strands of floss embroider eyes using long straight stitches. Transfer wavy feather detail to owl. Stem stitch using 6 strands of floss.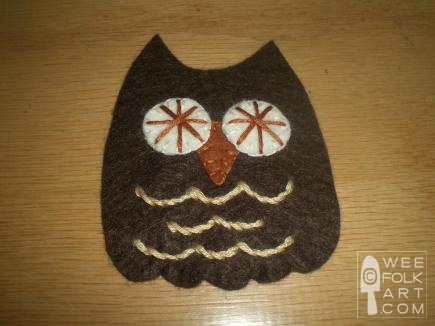 [5] For wings sew two pieces together using 3 strands of floss. Sew the other wing in the same way.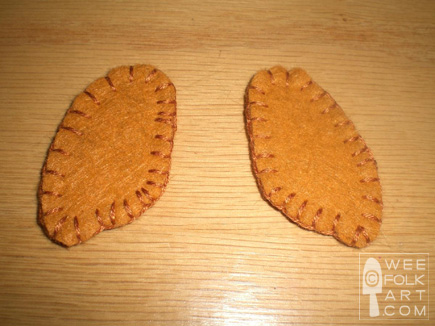 [6] Using the pattern as a guide, and with wrong sides together, stitch front to back using 3 strands floss and a blanket stitch. (Note: Stitch the top part of the owl's body together between the stars on the pattern. Leave the bottom open.)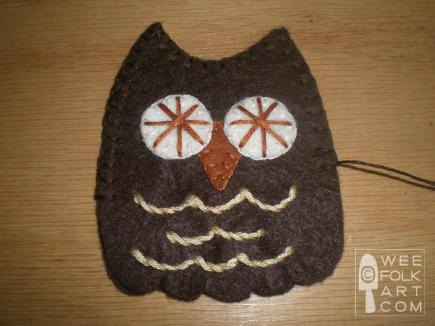 [7] Slip the book mark into the owl's head as shown on the pattern. The running stitch on the book mark should be covered completely, with only the blanket stitch showing. Pin in place.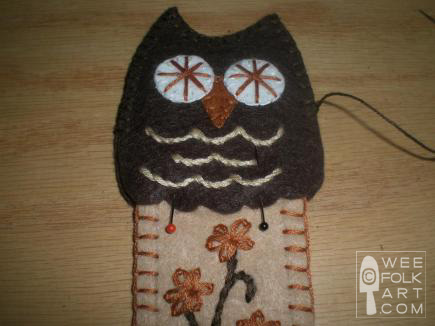 [8] Continue blanket stitching the front and back together. When you reach the book mark, blanket stitch across the front only, do not go all the way through to the back. Finish attaching the front to the back.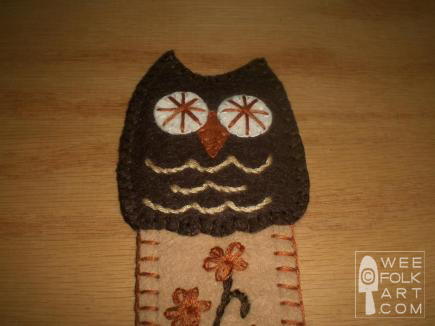 [9] Turn the book mark over and blanket stitch the back of the owl to the book mark making sure you do not go all the way through to the front.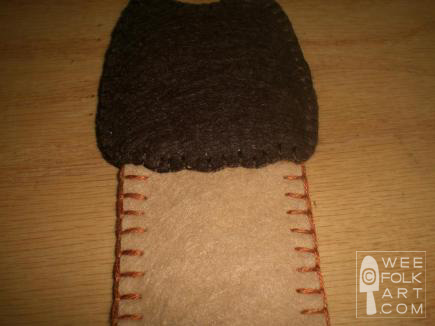 [10] Referring to pattern and photos, pin wings to owl's body. Using a blind stitch, attach wings to body. On the front sew along the wing where it touches the body, then turn the bookmark over and stitch along the wing where it touches the body being careful to hide your stitches. You will want to take care so your stitches do not go all the way through the bookmark. These stitches should be hidden.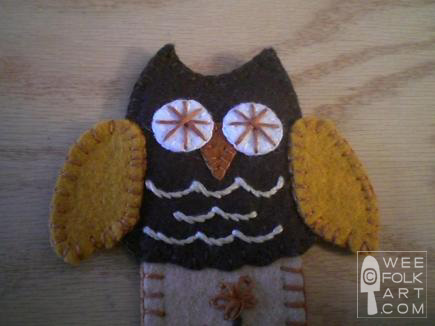 Note about patterns: We are sharing patterns we have designed and made for our own children, families and friends. Every effort is made to share information in a clear and accurate manner. We offer preemptive apologies for any mistakes that may be made. Please let us know via comments or emails if you stumble upon a mistake or if you encounter directions that leave your scratching your head! We will rectify the situation as soon as humanly possible!
www.WeeFolkArt.com
Copyright@Wee Folk Art 2008. All rights reserved.