Imagine the delight on your children's faces when they open this carton of eggs…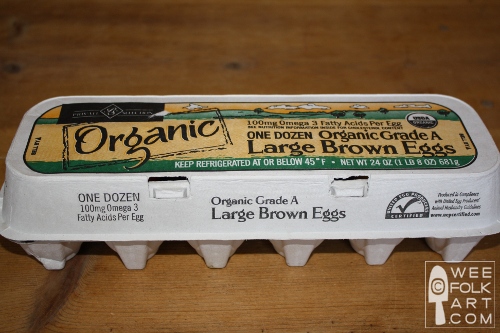 and find these lovely gems inside!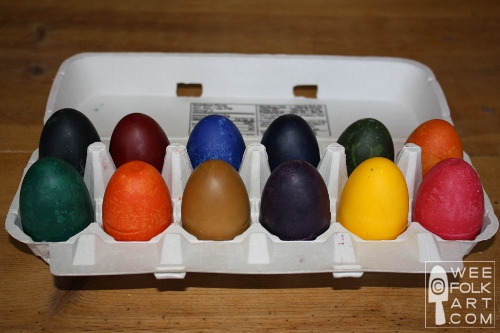 No, it is not a dozen hard boiled eggs, but rather a dozen Soy Crayons! It is easy to sing the praises of soy crayons; brilliant colors, smooth drawing without flaking, biodegradable, renewable resource and non toxic. You can buy ready made soy crayons (Bella Luna carries Soy Rocks) or you can make them yourself. Understand, soy crayons aren't for every project. The wax is soft and begins melting at a low temp. As a matter of fact, even holding a soy crayon for too long will start the surface to become "slimy" (but in a good way 🙂 You can't use them for detailed work BUT for projects begging for large sweeps of a crayon, this is the perfect choice. They are always a wonderful choice for your youngest budding artists; easy to hold and you don't need to press down hard to get results.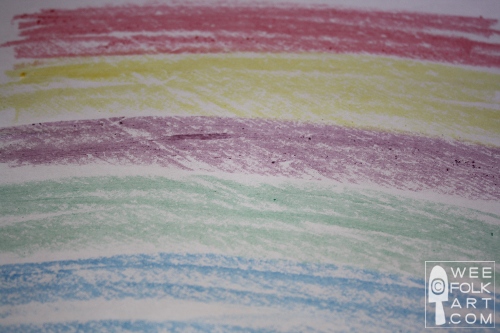 Directions:
To make soy crayons simply melt soy wax flakes,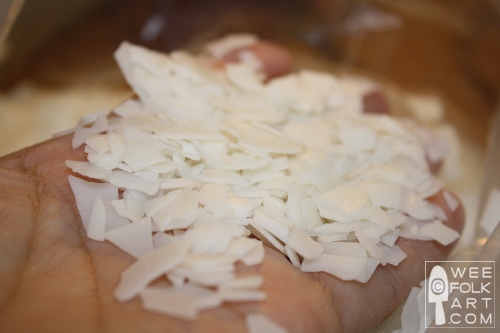 add coloring agent,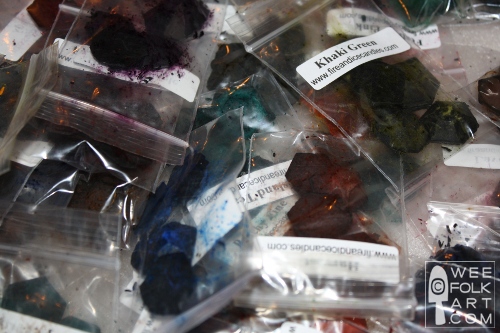 pour into desired mold,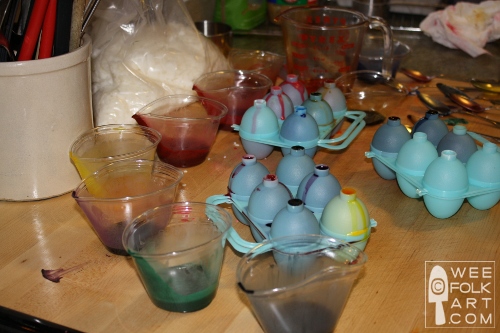 allow to cool completely, and there you have it… a soy crayon.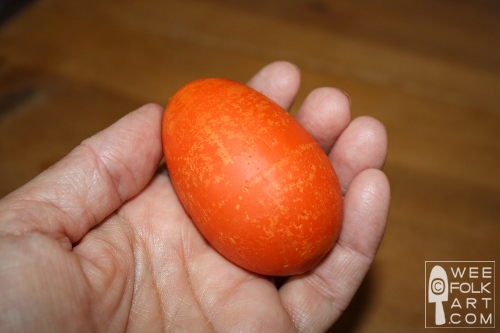 Wax can be melted on the stove top set at medium to medium low, or it melts wonderfully, in a microwave safe container, in just minutes. Hint: To easily remove crayons from mold, I submerged the mold in very hot tap water for a few seconds, thus melting the surface a bit, and they popped right out! Note: as the wax cools, it will contract. When filling my eggs, I needed to reheat some of the left over wax and pour into the mold to "top it off".
Resources I used:
I purchased my soy wax flakes from www.zionsvillecandleco.com and my veggie based colorant from www.fireandicecandles.com. I used egg molds that I had gotten years ago from Jello. Unfortunately, Jello no longer sells the molds, but I did check out EBay and there were quite a few Sellers with them for sale or try your local thrift store. To melt the wax I used some plastic cups left over from days gone by… not a good idea. As the wax began to melt… so did the cups. I am going to keep my eyes open at the thrift store and garage sales for 1 cup Pyrex measuring cups.
Because the quantity of soy wax flakes you will need varies with the molds you use it is hard to estimate how "much" you will need for a project. In general, I found 1 cup of flakes yields 1/2 cup melted wax, so a 2:1 ration. To get vibrant colors I needed to add 4 colorant wax chips to 1 cup of the unmelted soy wax chips. And, in my case, it took about 1/2 cup of the melted wax to fill each egg.
So, whether you want to make a dozen colored soy wax eggs for Easter or just a few to add to your child's crafting supplies, you are all set to go. Obviously, hot wax is… well… it's hot, so use caution especially if children are "helping". Also, because the wax melts at such a low temperature, I was able to wash all the spoons and containers in my dishwasher. Everything came out clean and there was no residual mess in the dishwasher, making clean up a breeze!
BTW… if you have a favorite suppliers of the soy wax flakes or the color agents, please share 🙂

https://www.weefolkart.com
Copyright © Wee Folk Art 2008 – 2010. All rights reserved.

All photos, text and patterns are copyright protected. You may not copy, reproduce or redistribute any material found on WeeFolkArt.com without written permission. Wee Folk Art retains all rights.