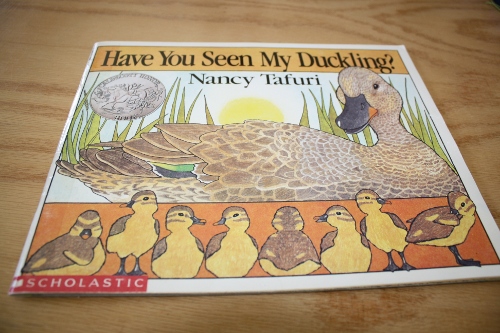 It all began when one very curious little duckling decided to leave the nest and follow a moth on an adventure. When Mommy Duck returns to her nest, only to find herself one duckling short, her quest begins to track him down in Have You Seen My Duckling?
Throughout the story, Mommy searches high and low in the pond, asking all the animals, "Have you seen my duckling?"
Nancy Tafuri, author and illustrator of Have You Seen My Duckling?, manages with very few words, to weave a tale that is full of suspense, tenderness, and at the same time, amusing. Young children will be drawn into the story through the lovely paintings and experience concern over the duckling's separation from his mother. (Although the wanderlust duckling is having the time of his life and doesn't seem the least bit concerned!) In each picture the missing duckling can be seen in the distance, and children will delight in finding him.
"Have You Seen My Ducking" was first published in 1984 and received a Caldecott Honor. Although the first time through, children will need to search for the missing duckling, it stands up well to repeated readings, with children delighting each and every time they spot the missing duckling. In my opinion this is a must for the preschooler's bookshelf, and the very first book I've bought for "Future Grandbaby"!
BTW… Here is a sneak peek of the project that I am going to share with you to use with Have You Seen My Duckling? Too cute, right?
EDIT: The pattern for the Wooden Ducklings can be found HERE.