I love shortbread with my afternoon coffee. It isn't too sweet and melts in your mouth. This is the first Christmas cookie we have made this season. Although it is early, the Scottish Shortbread recipe freezes well and will keep until we have guests around.
I have never actually made this cookie before, so this is my first go at it. This Scottish Shortbread Recipe is a recipe my sister-in-law, Meghan, always makes and I have to say… hers is better 😉 . But since they moved out of state, I will have to make do with mine own batch until they arrive for their Christmas visit.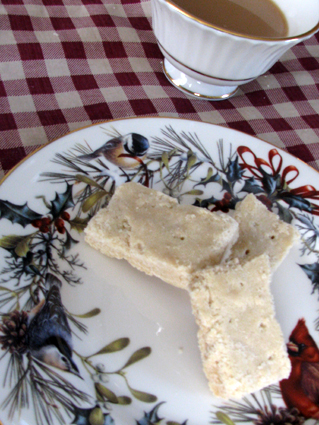 Scottish Shortbread Recipe 
(Note: Do not pre-heat the oven.)
SCOTTISH SHORTBREAD INGREDIENTS:
1/2 lb Softened Butter
1/2 cup Sugar
2 cup Flour
1 tsp Cornstarch
SCOTTISH SHORTBREAD DIRECTIONS:
Mix all the ingredients together with your hands. When the dough is thoroughly mixed and sticks together in a clump or ball, pat the dough into an ungreased pie pan. Once you have it flatted in the pan, use a fork to add venting holes. Then place the shortbread in a cold oven. Turn the oven to 275 degrees and bake the Scottish shortbread for approximately 1 hour. The shortbread is done when the outter edge is lightly brown. It tastes better if under-cooked slightly.