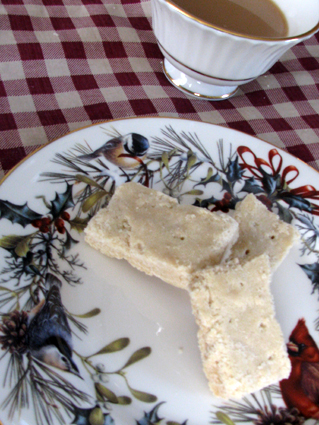 I love shortbread with my afternoon coffee. This is our first Christmas cookie for the season (it freezes well). I have never actually made it before. This is a recipe my SIL always makes and I have to say… her's is better 😉 . But since they moved out of state, I will have to make due with mine until they arrive for their Christmas visit.
Scottish Shortbread
INGREDIENTS:
1/2 lb Softened Butter
1/2 C Sugar
2 C Flour
1 tsp Cornstarch
DIRECTIONS:
Mix ingredients together with hands. When the dough is thoroughly mixed and sticks together in a clump or ball, pat the dough into an ungreased pie pan. Once flat, fork and place in a cold oven. Turn the oven to 275 degrees and bake for approximately 1 hour. The shortbread is done when the outter edge is lightly brown. Tastes better if undercooked slightly.