Don't these look good enough to eat? PLUS, what wonderful, Holiday colors! Molly, from Molly's Cottage, is sharing her favorite Christmas cookie, the Cranberry Nut Swirls Cookie Recipe, with us. If they taste half as good as they look, I'm sure they'll become of favorite of ours, too. Thank you, Molly, and make sure everyone pays her a visit over at Molly's Cottage!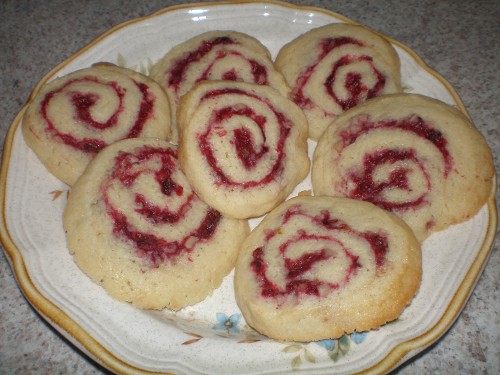 NOTE: There is still plenty of time to share your favorite Christmas cookie with us. Just mail us the recipe, photo if you have one, and a little "background" about the cookie. Also, if you'd like your blog shared, make sure to include your URL. Then email all the info to weefolkart@yahoo.com!
Hi there, my name is Molly from Molly's Cottage. I live in southern Oregon with my family, and this is my absolute favorite Christmas cookie recipe! They look so festive, plus I love to highlight our local cranberries!
Cranberry Nut Swirls Cookie Recipe Ingredients:
1/2 cup softened butter
3/4 c sugar
1 egg
1 tsp vanilla extract
1 1/2 c all-purpose flour
1/ tsp baking powder
1/4 tsp salt
3/4 c finely ground cranberries
1/2 c finely chopped walnuts
1 Tbsp. grated orange peel
3 Tbsp brown sugar
2 tsp milk
Cranberry Nut Swirls Cookie Recipe Directions:
1. In a large mixing bowl, combine first four ingredients. Beat until light and fluffy. Combine dry ingredients; add to creamed mixture. Wrap and chill 1 hour.
2. In small bowl combine cranberries, nuts and orange peel. In separate bowl combine brown sugar and milk. On a lightly floured pastry cloth roll dough into a 10″ square. Spread sugar/milk mixture on top. Sprinkle with cranberry mixture leaving 1/2″ bare on two sides. Roll up jelly-roll style, wrap in wax paper and freeze several hours or overnight.
3. Preheat oven to 375. Grease two cookie sheets, or use parchment. Cut roll into 1/2″ slices. Bake on top rack 12-13 minutes until edges are barely brown. Remove to wire rack to cool.
Enjoy, and have a wonderful holiday season!