EDIT: This giveaway is now closed. Winners will be announced tomorrow, June 6. Good luck to everyone, and thanks again April, form Felt-o-rama!
EDIT: Just a note… April will cover oversea's shipping! What a sweetheart. So everyone has a chance to enter!
Several weeks ago we had a new sponsor quietly join our Wee Folk Art family. We are so pleased, to introduce them now. It is Felt-o-rama. If you have never been to the site, you are in for a real treat. I'll let the owner, April, tell you a little more about Felt-o-rama in her own words.
A few years ago, I was in search of felt for my own craft projects. I just couldn't find a source for a wide variety of felt in fresh and vibrant colors. I knew that other crafters out there must be yearning for the same beautiful felt and Felt-o-rama was born! Felt is the ultimate 'blank canvas' with a texture like no other and is such a pleasure to work with.
Currently, we carry 5 varieties of felt (Bamboo Felt, Recycled Eco-Felt, Wool Blend Felt, Woven Felted Wool, and 3mm Wool Felt) in a total of over 100 colors. In addition, we have a fantastic collection of felt-centric craft patterns and books, needle felting and embroidery supplies, and felt embellishments.

There is such an inspirational world of felt crafters out there and our blog has an extensive collection of links to felt tutorials. It's definitely worth bookmarking for an endless list of projects for gifts, toys, home décor, accessories, and much more!

I am delighted April decided to start Felt-o-rama. I've been using her recycled-Eco Felt, which is lovely to work with, and I've just recently purchased some of her woven felted wool that I'm anxious to use. It is so soft and the colors are lovely.

April is offering our readers a wonderful giveaway. 2 lucky winners can have their choice of:

Recycled Eco-Felt Bundle: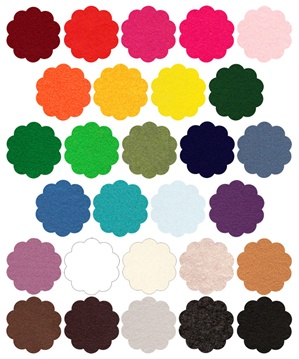 Product description:
An environmentally friendly and lead-free craft felt! Ecospun (also known as Eco-fi) felt is made from 100% post-consumer recycled plastic bottles. On average, 10 plastic bottles will produce 1 pound of fiber.

This 28 piece bundle contains a 9″ x 12″ sheet of each color shown.

Top Row: Ruby, Red, Fuchsia, Shocking Pink, Baby Pink
2nd Row: Orange, Gold, Yellow, Kelly Green
3rd Row: Pirate Green, Apple Green, Olive, Royal Blue, Cadet Blue
4th Row: Crystal Blue, Peacock, Baby Blue, Orchid
5th Row: Violet Sky, White, Antique White, Sandstone, Cashmere Tan
Bottom Row: Walnut Brown, Cocoa Brown, Silver Grey, Charcoal, Black

Content: 100% polyester from recycled plastic
Thickness: 1.2 mm
Care: Machine washable
Manufacturer: Kunin
Origin: USA
Or Woolpets Needle Felting Kit – There are 7 kits to chose from. Three are pictured below and the product description is for the owl.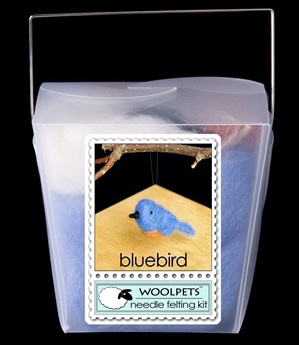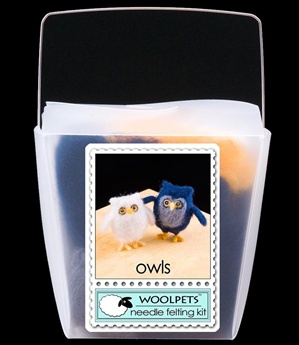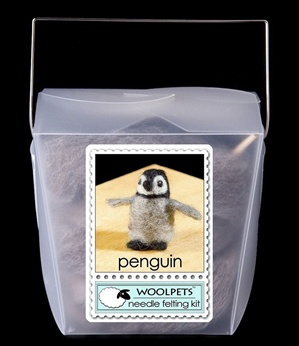 Product description:
This charming owl kit is designed for those with some experience needle felting but adventuresome craft folks won't have difficulty. Step by step instructions include photographs for each step.

There is enough wool roving in the kit for two owls. Each owl is approximately 2.5″ long.

Each kit contains:
•White, gray, yellow and blue New Zealand Corriedale wool
•Black Merino wool
•2 felting needles
•Pipecleaner
You will also need wire cutters or scissors and a small pair of pliers along with a sponge or foam pad to work on. We recommend the Woolpets Needle Felting Foam Pad. Since the kit contains a sharp needle, children under the age of ten should have adult supervision.

Skill Level: Intermediate
Designer: Woolpets by Laurie Sharp
For your chance to win, simply visit Felt-o-rama, take a look around, then pop back here and leave a comment telling us which product you like the best. (I know… it will be hard to decide!)

And while you're at it, make sure to visit Felt-o-rama's Facebook page and become a fan so you hear all about her sales and great felt crafting ideas. Then, head over to Felt-o-rama's blog which is full of great "felty" ideas and tutorials.
The contest runs from today, June 1 through Sunday, June 5 at 9:00 p.m. EST. 2 winners will be selected by random draw. Winners will be announced on Monday, June 6. Winners have 1 week to contact us with their snail mail address or a new winner will be selected. If you are lucky enough to be one of the 2 winners, make sure to tell us if you would like the Recycled Eco-Felt Bundle or pick one of the adorable Needle Felting Kits.
Michelle and I would like to wish everyone good luck, and to thank the very generous April, from Felt-o-rama for hosting this wonderful giveaway. I know if I won, I'd have a hard time choosing between the 2 super gifts!