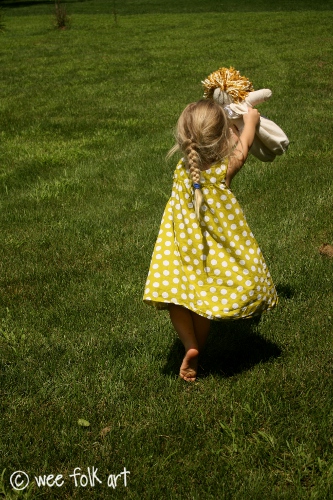 Welcome to "In The Good Old Summertime" at Wee Folk Art! This summer we are taking you ALL the way back to the summers of my youth… yes, back to the good old days 🙂 When I was a little girl, I use to love listening to my grandparents talk about their youth… the clothes they wore, the games they played, the books they read. To me, it sounded like ancient history, and their world seemed so foreign to me. Their houses had coal chutes, they put a sign in their window when they needed ice delivered for their ice boxes, they road through town on horse driven buggies, and they had their tonsils removed at home… not in a hospital. Yikes!
Now that I am a Gammy, I can't imagine that my grandbabies would see me in the same light. Was my youth so different than theirs? The truth is, it certainly wasn't as remarkably different as my grandparents' were from mine, but there are still some substantial differences… no computers, no electronic games, only 4 television stations, and no central air conditioning!
Without electronic technologies, our time was spent differently, especially in the summer. When summer rolled around, my mother could not keep us indoors unless it rained, and even then we were outside unless it was lightning. Without computers, daytime television. or central air, the great outdoors offered so many more opportunities than being cooped up inside. Neighborhood children played outside together, with the older children teaching younger children new and exciting games. (Some our parents approved of, and some not so much so 🙂 We were never bored, except when we were stuck inside, especially for multiple days, and each day was a new adventure.
The reason I first started blogging was to pass down to my children, and my children's children, memories from my childhood, events that became family traditions, and crafts that impacted our lives. As summertime rolls around, I feel "compelled" to share with my grandbabies the summer activities that filled our days and our hearts. With that in mind, this summer we are featuring a series called, "In The Good Old Summertime". This is really a collection of all the things I did as a child during the magical days of summer. Some are games, some crafts, some are rhymes and some just daydreams. Some of the activities my grandbabies already do, some will be new. Some of the activities can be enjoyed alone, others will need a whole group of friends!
Also, this summer we will be partnering with Bella Luna Toys and A Child's Dream to bring a plethora of giveaways to help make your summer more magical. Watch for this symbol



to let you know that the post is "In The Good Old Summertime" series. Of course, we will still be doing many other crafts, but because we will be sharing these activities with our children and their friends, you can expect lots of summertime fun! We hope that you join us for many activities, that it might ignite some of your own memories, and that you join in and feel "compelled" to share your experiences, too!