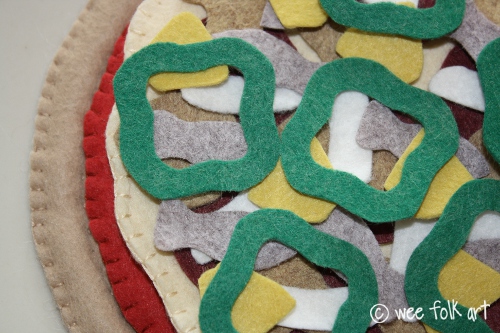 It's Friday… in household across America, it means PIZZA! So what better day of the week to introduce our play Felt Pizza? And not just ANY pizza. We have enough toppings here to satisfy the most discerning palate, or the pickiest eater! And with 6 different toppings… pepperoni, mushrooms, green peppers, onions, pineapples, and yes, even anchovies, children can mix and match to their hearts content. As a matter of fact, there are 720 unique pizzas they can create. And that number goes up like crazy if you make them without cheese or tomato sauce! (And, no… I did not count them all… let's just say geek math and leave it at that 🙂
So, roll up your sleeves, floor the board, metaphorically speaking, and let's start cooking!
Materials:
assorted wool or wool blend felt (bothWool Felt Central and A Child's Dream carry felt)
embroidery floss in matching colors
large plastic lid from protein mixes or coffee
wool roving or fiberfill
pattern
HINT: If you haven't done so already, ready our tutorial on How to Cut Out Felt.
Make a copy of the pattern. Hint: You should only need 1 pattern if you begin cutting the pieces from outside in.
Cut out 2 pieces of dough. (traditional flour or gluten free 🙂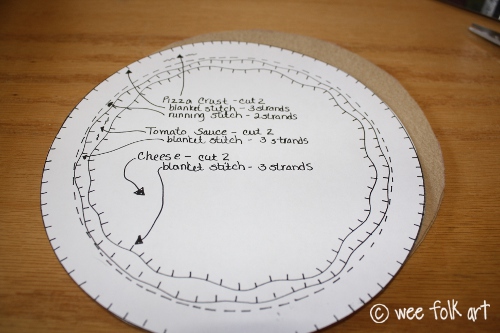 Cut out pattern along the running stitch line near the outer crust. Hint: If you place tape over the cutting line before cutting it out, it will make the edge rigid and make the next step easier. Place the pattern on top of the pizza dough piece, and trace the ring using a disappearing marker.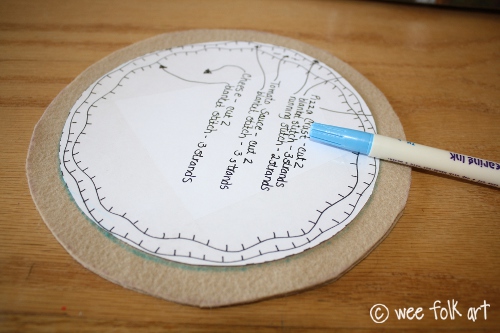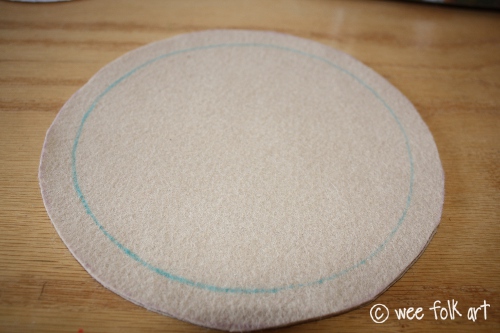 Remove the outer rim of the plastic lid and cut a circle with a 5 1/2" diameter.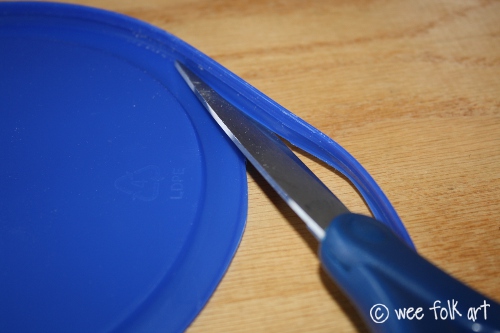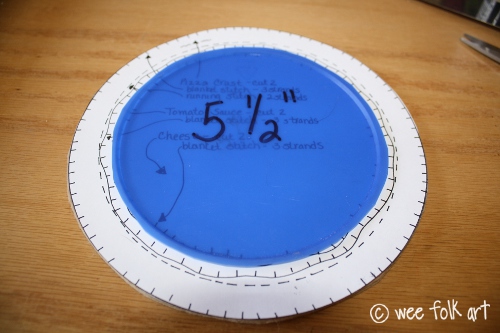 Using 2 strands of matching floss, stitch the 2 pieces of dough together halfway, then slide the plastic circle between the 2 pieces of dough, and finish stitching around the circle. The plastic ring is now sewn into the dough. This makes the pizza rigid.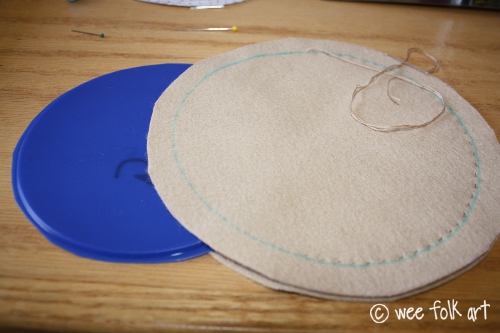 Rip a piece of roving the width of your ring finger. Make it long enough to go around the pizza plus several inches.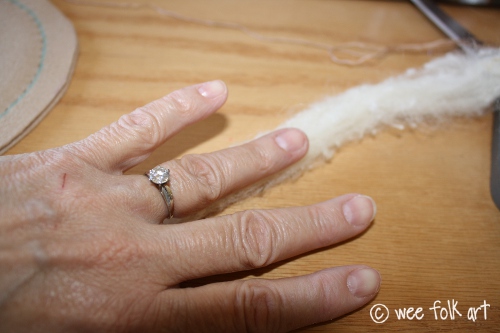 Lay the roving between the running stitch and the edge of the pizza. Begin sewing the edges of the pizza closed using a blanket stitch and 3 strands of floss leaving an inch long roving tail. You will begin encasing the roving in the dough, creating the outer crust. Continue around the pizza until you get back to the start. Overlap the roving and sew closed.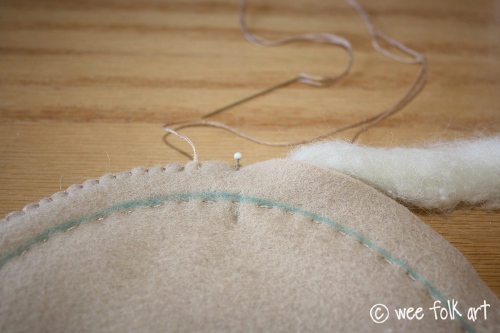 Cut out 2 pieces of tomato sauce, and sew them together using a blanket stitch and 3 strands of matching floss.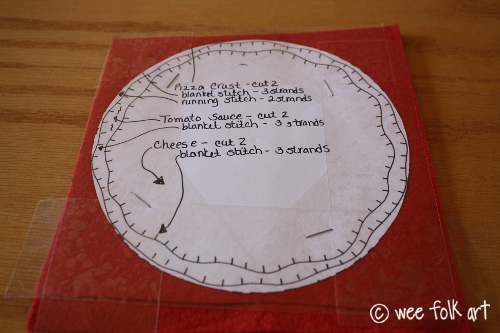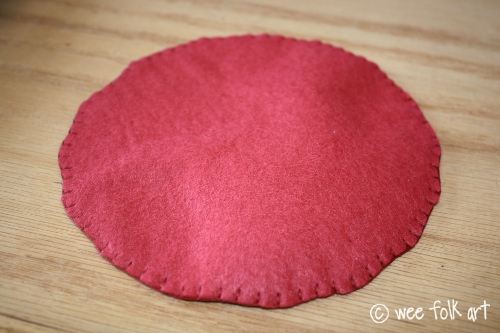 Cut out 2 pieces of cheese, and sew them together using a blanket stitch and 3 strands of matching floss.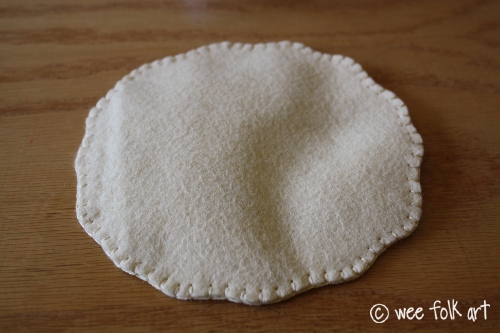 Cut out 8 pieces of each of the toppings. The toppings remain single thickness and do not need to be sewn together.
Your pizza is now read to assemble!
Start with the crust…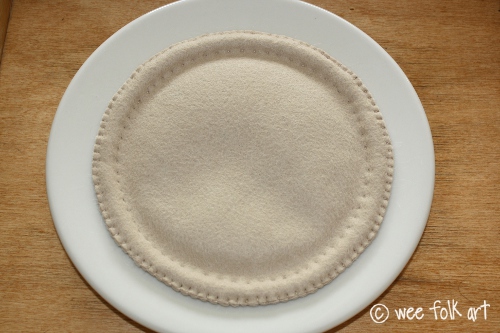 Add the tomato sauce…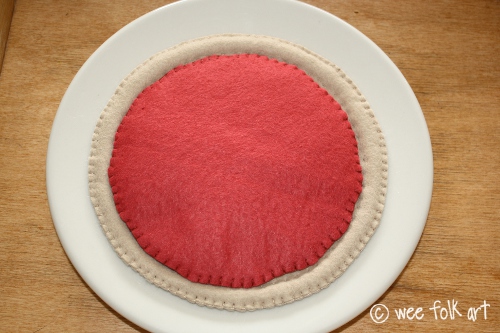 Then the cheese.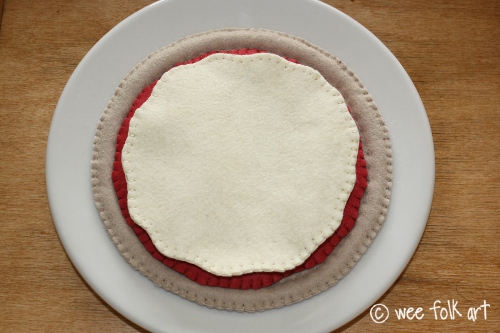 Arrange your toppings in bowls, then create the perfect pizza.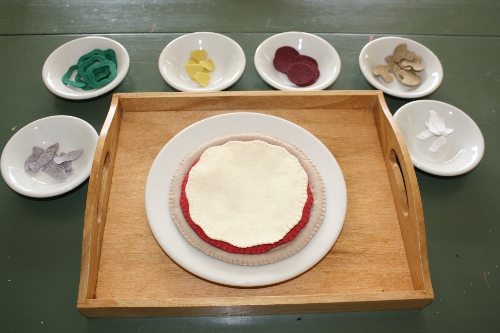 There are pizzas with pepperoni…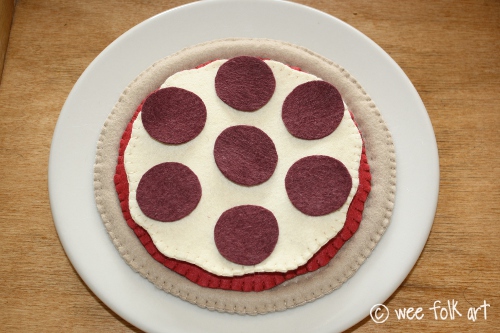 Pizzas with pepperoni and mushrooms…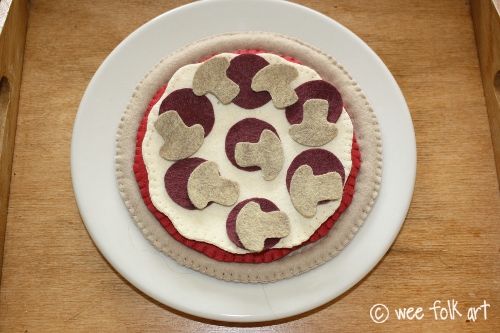 Pizzas with pepperoni and mushrooms and green peppers!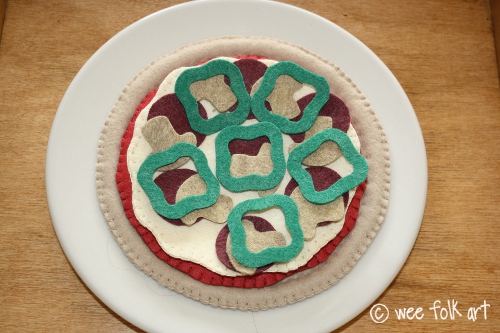 What about a lactose free pizza? Just hold the cheese and add some yummy toppings like anchovies, onions and green peppers.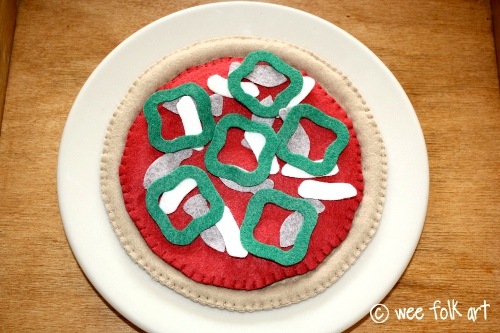 And how about a veggie pizza with mushrooms, onions, green peppers and pineapples?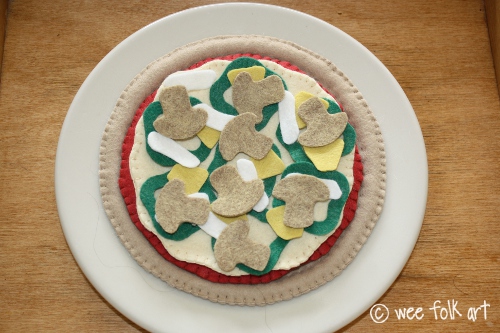 And, finally, really indulge… pizza with the works!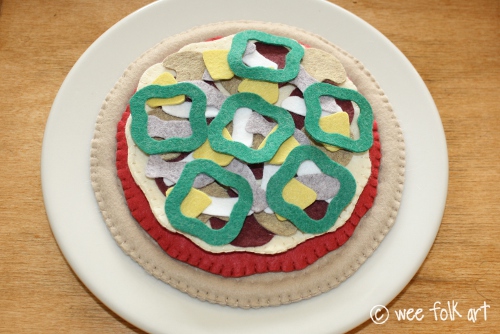 As you can see, the possibilities are endless (well, if not endless, at least mind boggling!)
So, now, Friday night can be pizza night even in the play kitchen, and I suppose, ANY TIME the wee ones are in the mood!
BON APPETETE!
https://www.weefolkart.com
Copyright © Wee Folk Art 2008 – 2010. All rights reserved.

All photos, text and patterns are copyright protected. You may not copy, reproduce or redistribute any material found on WeeFolkArt.com without written permission. Wee Folk Art retains all rights.