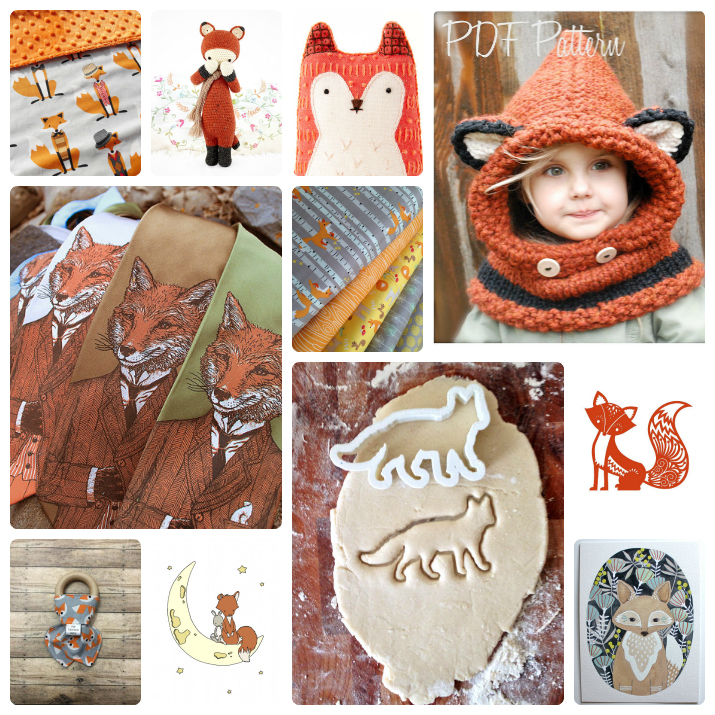 Links for all images can be found HERE.
Let's face it… foxes are cute. If they are raiding your chicken coop for a nightly nosh on your poultry you might not be a fan, but you still have to admire their good looks and cunning ways. If I were a wild animal, I would want to be a fox if for no other reason their tails have got to be the envy of the animal kingdom. It is a remarkably noteworthy tail.
So, turns out Little Man is a total fan of the fox. Because of that, I keep my eyes peeled for foxy sorts of things. I'm assuming you saw the YouTube video, "What Does the Fox Say?" It is one of those videos that went viral and everyone was asking "What Does the Fox Say?" If you haven't seen it and I've piqued your curiosity, you can watch it HERE. At 18 months old Little Man would climb into Othy's lap and ask for "fox". Before our last visit to Wisconsin, I happened upon the book What Does the Fox Say? at Barnes and Noble. It is based on the video and is just as delightfully weird and appealing. Little Man loves it!
​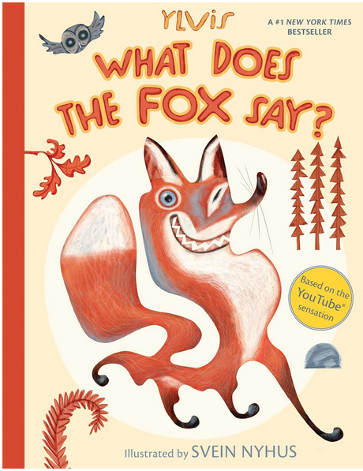 So, the other day when I was wandering Etsy looking at the wide array of foxy things, loving this, bookmarking that, I thought it would be a good them to base one of our collages on. So here are some of my favorite foxes from Etsy.
Are you a fox fan, too? 
---

By: Marisa Redondo
This is an Archival Print of my original watercolor painting, "Little Fox Leo"
Signed on the front
Available in 8″x10″, 11″x14″ and 16″x20″
My prints are high quality, archival and professionally printed with Epson pigment inks, which do not fade or yellow for 200 years. Printed on a heavy weight and beautifully textured paper, archival and acid free.
Available from River Luna: $20.00
---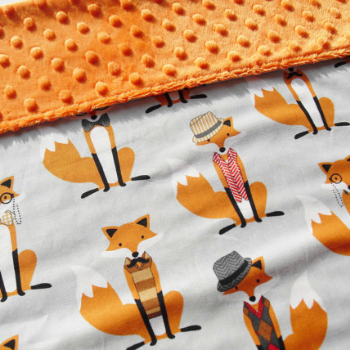 By: Lee Martin
This loveable large Fox Baby Pram/Cot blanket has been made using 100% cotton fabric, backed in warm orange super soft minky, double stitched for added strength.
Measures 29″ square (73cms)
Washing instructions, hand wash or cool machine wash and lay flat to dry, iron on cool on fabric side.
Available from Homemade by Little Me: $31.19
---

By: Heidi May
This listing is a "PDF PATTERN ONLY" for the Failynn Fox Cowl, NOT finished product.
This cowl is handcrafted and designed with comfort and warmth in mind… Perfect for layering through all the season's…
All patterns written in standard US terms. *Sizes: 12/18 months – Toddler – Child – Adult sizes *Any Super Bulky yarn
THIS PATTERN DOES HAVE SOME CROCHET EDGING AND DETAILS
Available from The Velvet Acorn: $5.50
---
By: Jody
Good Natured Fox fabric bundle by Marin Sutton Quilt or Craft Fabric by Moda Fabrics- Fat quarter bundle includes 5 fat quarters. One of each shown in first picture.
Natured Fox Friends in Gray
Natured Timber in Orange
Natured Main in Yellow
Natured Dandelion in Gray
Natured Fireflies in Gray
Available from Fabric Shoppe: $15.00
---
By: Carrie Tomaschko
Here at Sweet Melody Designs we love creating cute art for your little ones rooms. We believe in encouraging the imagination of children and giving them a beautiful place to grow up. It is our hope that our art can have a small part in that wonderful experience.
This is a print of an original piece of art created by me. It is a giclee print printed on high quality, archival paper with archival pigment inks that are rated to last 120 years. This borderless print arrives ready to pop into a frame or matte.
Available from Sweet Melody Designs: $15.00
---
By: Michael Phippes
SILK Fox Necktie – Dapper Fox Tie – Men's Fox Tie
A stylish, handsome fox adorns this original silk necktie. He's suave and sophisticated and wears a tweed jacket. He is the dapper fox.
This listing is for ONE necktie. Please specify which color tie you would like during checkout:
Available from Scatterbrain Ties: $38.00
---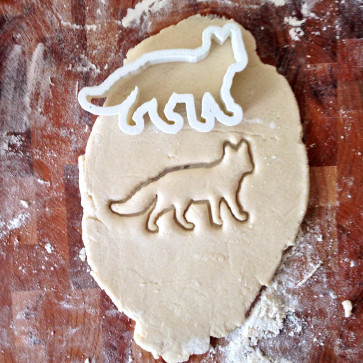 By: Cavid Designs
This fox cookie cutter, illustrates the fine detail of the fur. A fun cookie cutter for all occasions.
Most 3D printed cookie cutters use PLA, a corn starch plastic, that must be hand washed and keep away from moisture to prevent melting and warping. Not so here, Cavid cookie cutters use high strength ABS plastic.
Every cookie cutter design we sell has been tested thoroughly for a nice clean cut and can be cleaned in the dishwasher at the highest temperatures, with out fail. 4.25 inches in length 
Available from Cavid Designs: $4.99
---

By: Keisha Miller
Wooden teething ring measures 2.5″ and is made without the use of any chemicals making it incredibly safe for the most important thing in your life, your adorable baby!
Teething ring is made using a cotton fox patterned fabric and a coordinating gray or orange bubble dot on the opposite side.
Available from Our Adorable Baby: $12.00
---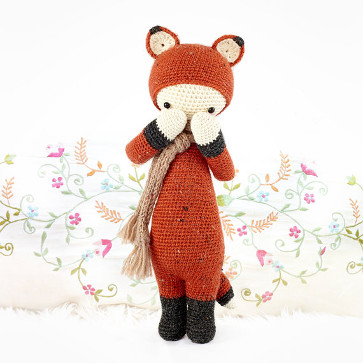 By: Lydia Tresselt Leipzig
She is approximately 10,5 inches tall. FIBI is made out of cosy 4 ply tweed, cotton wool and love. For your little fox you can use every yarn you prefer – she's getting taller or smaller but she's always really cute!
I wrote this crochet pattern for beginners too and I tried to be very detailed in my descriptions. I also included some charts to explain what to do.
This is a crochet pattern PDF – NOT the actual finished doll!
Available from Laly-lala: $6.30
---
I am here to help you create the perfect stamp. If you are looking for a fun, unique, quality stamp, look no further, you have come to the right place!
We just love this fox rubber stamp
This stamp is approx 2″ X 2″
Available from Terbear Collectibles: $17.99
---
By: Michelle G.
All Kirikí patterns are screen printed by hand with vibrant, water-based inks right onto the fabric so no tracing or transferring is ever required!
D.I.Y. Embroidered Doll Kits include:
• Screen printed pattern on unbleached cotton
• Printed backing fabric
• Range of DMC Embroidery Floss
• Eco-friendly stuffing
• Step-by-step instructions
• Screen printed packaging
This listing is for the kit only and does not include the finished plushie. The finished plushie is about 4.5″/10cm tall.
Available from Kiriki Press: $18.00
---
FYI – Wee Folk Art is an affiliate of Amazon.