For the past week, we've been sharing tutorials for making our Forest Gnome family. You can find the tutorials for them HERE and HERE.
To finish off this project, today I am sharing a tutorial on how the make the rustic Gnome Cradle. First, let me start by saying, I AM NO MASTER CARVER! This is about the simplest wood carving around, but, it lends itself well to the forest gnomes!
Before we get started, let's talk a little about equipment. I am not to trusted with sharp pointy things. One birthday Michelle bought me needle felting supplies and Tim bought me carving tools. For the next few weeks I was covered in band-aids. The next year, Tim bought me marvelous Kevlar Gloves that are cut resistant, and I get far fewer ouchies when I'm carving. So highly recommend these!
When I started this project, I couldn't find my favorite carving knife. I use an Old Timer 4 blade Knife all the time. Growing up, my dad used an Old Timer Knife. It had been sharpened so many times the blade got thinner, but my dad swore by it and it lasted a life time. I use this knife mainly for taking bark off branches and other crafting projects. I love it and it reminds me of my dad each time I use it.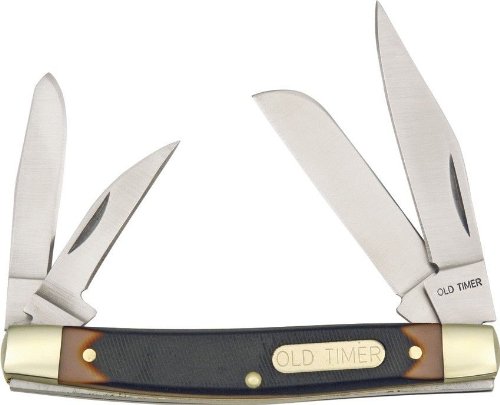 Finally, this is the Mikisyo Five Piece Power Grip Carving Set I use and love. I don't know all the technical terms for the blades, but I've experimented and have used them all!
Okay, let's get started. I find a branch that has a 1 1/2″ diameter. I cut it into 3 1/4″ lengths. You certainly do not need to be exact. Remember, this is suppose to look rustic! The hardest thing about adding the addition to our house was the fact that they had to remove 3 maple trees that we started from seeds. Tim has saved the wood, however, and we will be using the wood to make many projects over the years!
It is your choice as to whether of not to remove the bark. I tend to remove the bark, especially on trees with thick bark and are going to be used as toys, because it seems to come off anyway when children are playing. I use my Old Timer pocket Knife to remove bark.
Before beginning, I set the branch on the table. I find the flattest portion to be the bottom. You do not want the cradle to roll over every time you put a baby in it! If there is no "flat" side, use your knife to create a flat bottom. Then, make a copy of our template, cut it out, and center it on top of the cradle and trace around it.
Now, simply remove the wood inside the marked area. I use an assortment of my tools. In the past I used softer woods. The maple was hard, but I found that I could easily carve it if made shallower cuts into the wood.
Keep carving until you got a good depth for holding your baby gnome.
Sand inside the hole and the cut edges.
The cradle is now ready to rock your baby gnome!