First off… must say… NOT my grandma's recipe… but evidently SOMEBODY's grandma's recipe 🙂 Strawberry Rhubarb Pie has long been a family favorite. For decades I've made it using a standard pie crust. Last week on some internet expedition, I came across this recipe from Food Network…
Since it is their recipe, I'll just send you off to their site to get the specifics 🙂 I made it because I was wild to try the crust. It was superb! Bug, who has been a pie connoisseur for his entire life, said this was the best pie crust he ever had! Who's can argue with a 9 year old boy about food? The crust is a little sweeter and is slightly denser than a traditional pie crust. It was wonderful!
Anyway… the ONLY things I did different was to substitute 4 tablespoons flour for 2 tablespoons instant tapioca since I didn't have any in the house. I punched some flower holes on the top and covered the edge with a strip of aluminum foil while baking so the edges didn't over brown. I used my Emile Henry 9″ pie plate which I LOVE with a passion. It is a little deeper than many pie plates and I often have to add more filling. I didn't need to increase this recipe. It was plenty to fill the pie plate nicely.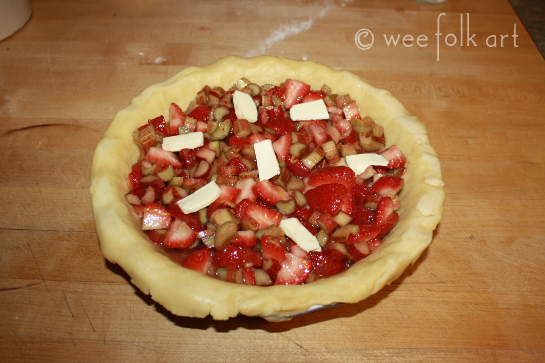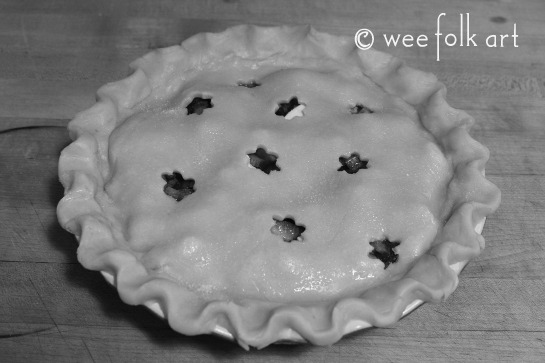 Even if you don't like Strawberry-Rhubarb Pie, give this crust a try! And, if you've never baked with Emile Henry, try this wonderful pie plate. Not only does it bake pies beautifully, I find them a joy to look at. I have 3 of them in different colors. Enjoy 🙂