I must admit I've been a slacker the past few weeks enjoying some guilt free R and R. Although I'm not done slacking completely, I do need to get a few projects done and start making plans for the fall. The first order of business… make a baby quilt for the Little Guy. He is due August 31 and I have a few other projects I want to make for him (and, of course, a couple for the Little Lady so she doesn't feel left out!) so I need to get to work!
I have this wonderful piece of fabric that I bought before Little Lady was born. I was going to make her a quilt, but then Michelle did, so I've kept this fabric put away for the next baby in the family. It is a wonderful print in J. Wecker-Frisch's "Woodsy Wonders" collection. Adorable, right? Unfortunately, I don't believe it is still available. (If you know of a source, I'd love a link 🙂
I plan to use this fabric as the backing, and make a simple diagonal striped quilt front using these colors.
I haven't decided whether I want all the edges finished or leave one side of each strip unfinished so it will fray. I also want to add some of the Woodsy Wonder print on the front… not sure how I'm going to do that either. I'm sure it will come to me as I start working! One way or another, I'll take plenty of photos and turn this into a tutorial 🙂
Actually, I made a diagonal quilt for the gnome house a few years ago 🙂 Directions for this wee quilt can be found HERE.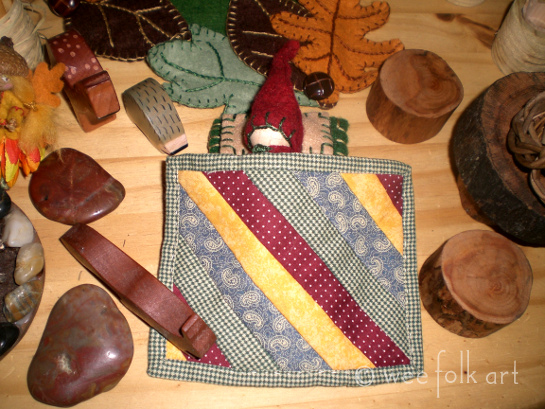 Enough work for one summer evening! Off to take a dip in the pool before bed. Life is good 🙂