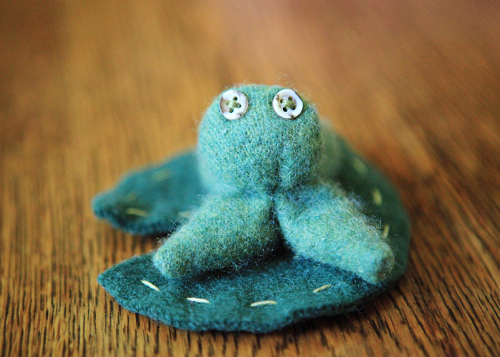 When Rhonda, from Joy Grows, first contacted us with an idea for a guest blog spot, she said, "Hello! I would like to submit my dear little frog tutorial as an idea for a guest blog on Wee Folk Art." I must admit, the more I looked at this little guy, the sweeter he became. I love simplistic toys, and this dear little frog not only looks simple, but is easy enough for your budding sewers to handle. Enough said, except to thank Rhonda, and her photographer, Lindsey, for a lovely tutorial. Please leave a kind word, and make sure you whip up a pond of your own little froggies!

I did not grow up making things. Any 'skill' I have has been recently acquired. When our daughter was just 9 months old, my husband and I attended an open house at the Waldorf School of Atlanta. We had heard good things about their Parent Toddler program and wanted to learn a bit more about this school which was just around the corner from our home. Over the following years we have attended lectures, read books, magazines and we have gotten to know Waldorf students and alum. These experiences, along with the gut confirmation we received back in November 2004 at the open house assured us we were in the right place. As we experienced what for us was a new philosophy on hand crafted things and as I relished in my daughter's joyous reaction to anything I made, we evolved into a family that tends to make before we buy.

I've taken craft classes over the years and have a library of books, but I rationalized that if I volunteered to chair our school's Holiday Fair Enchantment Shop (where children get to shop for handmade treasures) that I would learn much more than any collection of classes could offer. So I took on the challenge of organizing supplies, patterns, workdays and volunteer parents to make over 2000 handmade items. This Cashmere Frog was one of the new items I brought to my year of chairing the Enchantment Shop. It is really easy to make. It takes minimal supplies – small amount of wool stuffing, 2 buttons and a little rectangle of cashmere. If you are a stingy cutter – like me – you can get over 30 frogs from one thrift store cashmere sweater.

Supplies:
Cashmere rectangle
Wool stuffing
2 buttons
Matching thread
Tools:
Scissors
Needle
Straight pins
Rubber band

Supplies.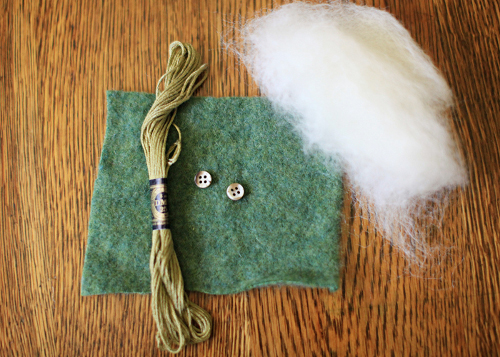 Fold and pin corners.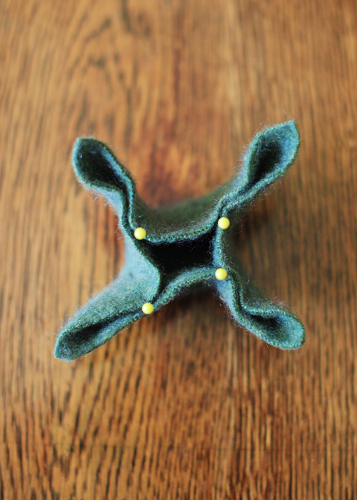 Whip stitch legs.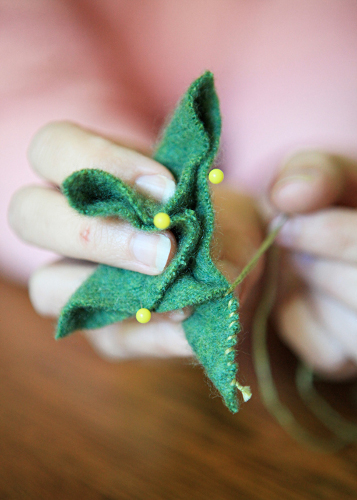 Leave the belly open.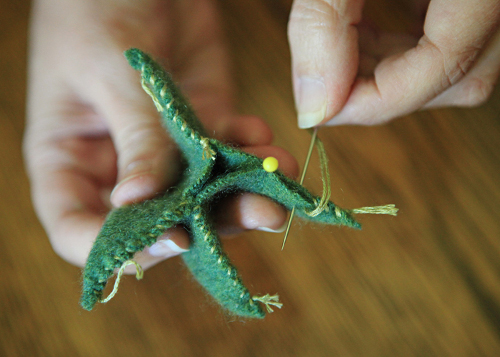 Turn right-side out.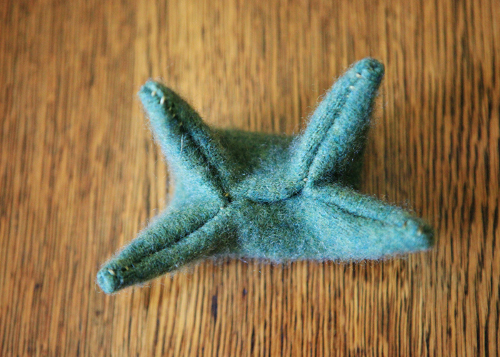 Shape a little ball of wool and place it up inside the frog. Secure this head with a rubber band.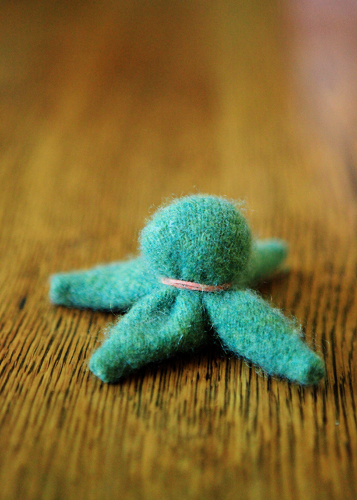 Using 6 strands of floss and starting at the back of the neck, make a gathering stitch around the neck. Tighten till the neck is defined and knot. Remove rubber band.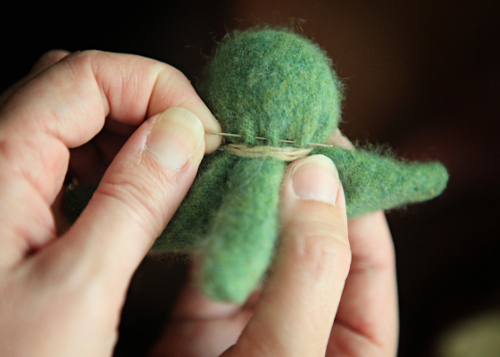 Lightly stuff the legs. Sew belly seam. Tack together the back feet. Pinch head to flatten vertically and then sew eyes up high on the face.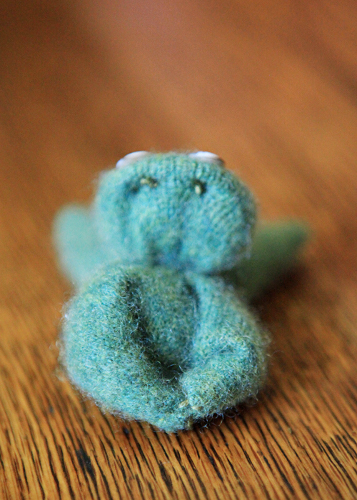 Pretty soon you will have a fun frog family!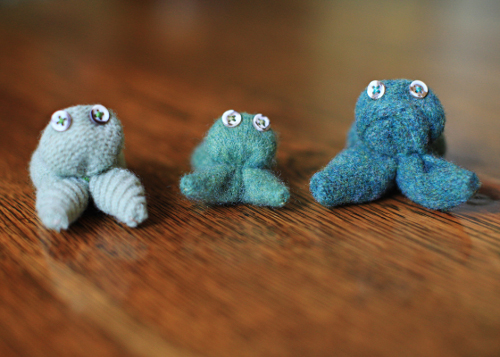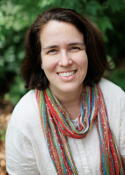 You can read a bit more about me on www.joygrows.wordpress.com. I'm using the blog to chronicle projects I'm doing with my photographer partner Lindsey, of Linden Tree Photography (who did the photos for the Frog Tutorial) and a group I started in February 2010 that shares ideas and supports each other in celebrating the seasons.
©2011 Rhonda Wildman