Edit: This Giveaway is now closed. Winners were announced on Sunday, April 18.
As promised, Michelle and I are pleased to present Hip Mountain Mama's Giveaway. Although Suzy carries a wide array of products, she thought that 2 readers of Wee Folk Art would really appreciate the opportunity to win a set of Stockmar Modelling Beeswax – 12 assorted colors.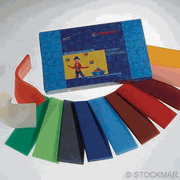 If you or your children have never had the experience of working with modeling beeswax, you are in for a treat. The colors are vibrant and it feels wonderfully smooth while you are working with it. It allows you to add a lot of detail to your crafting.
I'm sure you are dying to win a set for yourself. So, what do you need to do? First, visit Hip Mountain Mama. Take a few minutes to look at all the incredible things she has to offer. Pick a product that you think is totally cool. (I personally am eyeing her 3-Tier Stainless Steel Tiffin Set for all the nice weather outings we have planned.) Then come back here, leave a comment telling us what you found most interesting. It is that simple.
Want additional chances to win? Of course you do. Simple blog about the contest OR Facebook OR Twitter about it and earn an additional entry for each. POST SEPERATE COMMENTS FOR EACH ENTRY telling us where you spread the word. The contest runs from Wednesday, April 14 through Sunday, April 18, at 9:00 pm, est. Two winners will be drawn at random, their names will be announced on the blog, and the winners will be emailed. As soon as you reply with a mailing address, Hip Mountain Mama will have your prize in the mail.
Please Note: Winners must contact us within a week of the drawing with a mailing address or a new winner will be selected.
As a little extra bonus, Suzy has graciously offered WFA readers a 10% coupon on all orders over $50.00 for the month of April. Just type "wee" in the coupon code.
So, get out there and do some snooping at Hip Mountain Mama. Then head back and leave a comment. After that, just sit back, cross your fingers and hope 🙂 Michelle and I would like to thank Suzy and her family for hosting this generous contest. Hope everyone has fun and gets to see how cool Hip Mountain Mama's site is!