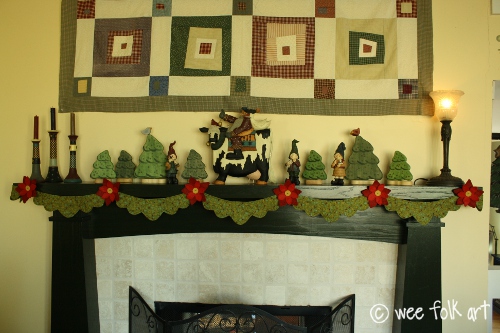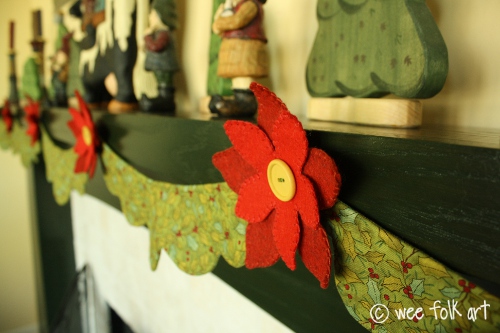 EDIT: The contest is now closed. The winners will be announced Monday, November 15. Good luck to all!
Back in 1980 I first caught a glimpse of a fabric garland in the book Treasury of Christmas Crafts and Foods. It was a large garland, strung around an entire room, and I vowed to make it. Well, here it is, 30 years later, and each and every year I'd pull out the old book, which always opened to that page, and I'd say "This year!"


Finally, swallowing a hearty dose of reality, I realized I would never make a fabric garland that spanned an entire room, BUT, I could redesign one that spanned my mantel! So, using my beloved garland as an inspiration, I designed a garland that was just right. Plus, given my love of working with felt, I created felt poinsettias to embellish the garland. This year, I made the garland, finally taking it off my to-do list after 30 years!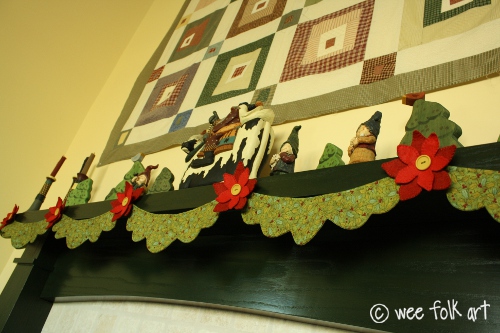 So you can well imagine, when Michelle and I teamed up with Julie, from Prairie Point Junction, and started talking about a Give-Away, I knew immediately what we wanted to do. I wanted to share the pattern for my Poinsettia Garland and Julie agreed to provide materials for 2 kits! YAY! Each winner will receive materials to make approximately 9′ of Poinsettia Garland. The kits include:
1 Wee Folk Art Garland Mini Kit
Kit includes 1/3 yard each of Barnyard Red and Red wool blend felt, six wooden buttons, and four skeins of coordinating floss. (A $9.50 value)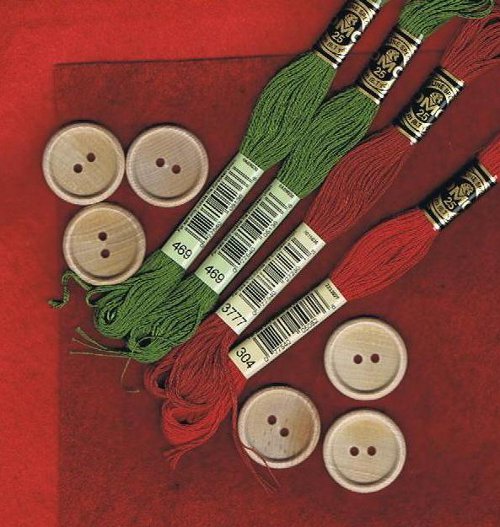 AND
1 Wee Folk Art Garland Fabric Selections:
Choose from the following 100% cotton green prints to complete your garland. Each garland requires 1 1/2 yards (1.5 yards) of fabric. (The value varies slightly depending on fabric selection.)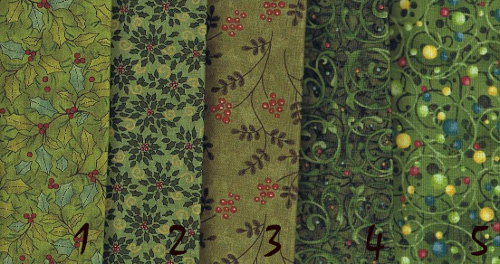 (My garland was made with fabric #1 but I LOVE them all!) The pattern and directions can be found HERE.
Everything is included to make approximately 9′ of garland (6 poinsettias and 7 sections of roping) except paint for the wooden buttons, the batting, and sewing machine thread.
Julie has put together kits for purchase at her website HERE. And remember, as always, Julie provides Wee Folk Art readers a VERY generous 20% off their entire order… everyday! Just use the code WEEFOLKART at check out to get your discount.
NOW… about the Giveaway. There are several ways to enter this Giveaway and each gives you another chance to win.
1] Post a comment here (be sure to include a name… nicknames are fine).
2] Link to us through your blog, FaceBook, or Twitter. Post one additional comment for each link. Wow! That's up to 3 more chances to win! Make sure to include linking info.
3] Then, head over to Prairie Point Junction, visit their blog, and leave a big, juicy THANK YOU to Julie and her crew, then run back here and tell us you did, and yep, another chance to win!
So, if you were counting… you can enter FIVE times! Cool beans, right?
The contest will run from today, Wednesday, November 10 through Sunday, November 14, at 9:00 p.m. EST when 2 lucky winners will be chosen at random. Winners will be announced on our blog Monday, November 15.
Additionally… if it is possible you haven't been to Prairie Point Junction yet, it's high time you did! Since I discovered them, they have been my primary supplier of felt and other supplies. And remember, every day is a savings day at Prairie Point Junction if you are a Wee Folk Art reader! Just use the code WEEFOLKART at check out and with all the wonderful products available, I'm sure you'll be making good use of the discount… I know I do 🙂
Good luck to one and all. And thanks again to Julie and her wonderful staff, for helping us say HAPPY HOLIDAYS with this giveaway!
Again, the pattern and directions for the Poinsettia Garland can be found HERE! Enjoy!